The 2020 Million Dollar Chase $1,000,000 prize will be heading west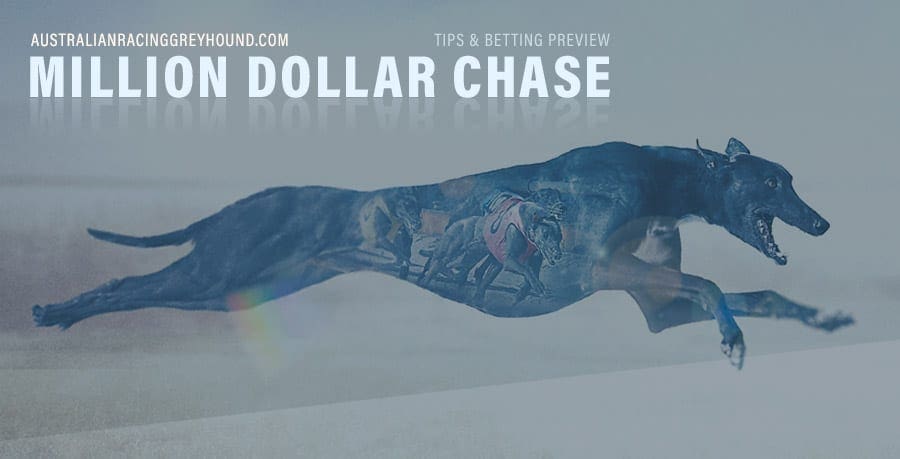 What
Million Dollar Chase Final
Where
Wentworth Park, Wentworth Park Rd Glebe NSW
When
Friday, October 16, 2020
Prizemoney
$1,000,000 to the winner
Group Status
None
Conditions
Open to all greyhounds through qualifying
Watch Live
AustralianRacingGreyhound.com has run the numbers over the Million Dollar Chase (MDC) Final field after Friday's semi finals, and all the data points to the $1,000,000 first prizemoney heading back to West Australia with Tommy Shelby and trainer Steve Withers.
That Tommy Shelby has come out on top of the MDC final ratings should be no surprise after an imposing best of night 29.58 all the way win in his MDC semi final. The son of Fernando Bale gets the benefit of lining up in the final off the extreme outside draw which would normally be a major negative in a feature race final. The MDC box draw has however gifted the early speed race pattern all in Tommy Shelby's favour.
The only other greyhound capable of going with Tommy Shelby early is local rising star Flying Ricciardo. Unfortunately Kristy Sultana's greyhound has drawn box three, immediately outside the Darryl Thomas trained Xerri and South Australia's hope Shadow Mist. While Shadow Mist, probably doesn't really appreciate the rails draw, both Xerri and Flying Ricciardo will be vying for the inside early lead.
Xerri is the veteran of just 13 starts, and has had just the two starts at Wentworth Park. That inexperience showed just a little in last Friday's semi final win, when headed by Stardom early in the race and that saw Xerri just wanting to move a half a dog width wider on the track through the first corner. Come Friday night and Xerri will have pressure from Flying Ricciardo at that exact point of the race, as Flying Ricciardo likes to run a "swooping" arc though the Wenty first corner to set up momentum in to the back straight.
With the early pace likely to come together, and all drawn the inside three boxes of the Million Dollar Chase Final; Tommy Shelby has nothing to beat early but slow beginners Wgaing War, Wallbanger, Awesome Catch and Handsome Prince from boxes four to seven. Ominously, in his three career starts at Wentworth Park the West Australian greyhound has drawn off the track just once in a heat of the Group 1 Vic Peter Classic when recording a 5.33 first section on the way to a best of night 29.44 win. The dog affectionately known as "The People's Dog" is drawn for a repeat performance of that dominant win.
2020 Million Dollar Chase Betting Preview & Strategy
All the best online bookmakers are betting on the MDC final, and we can happily get set on Tommy Shelby to win the final at an attractive price. The "Secret Greyhound Ratings" algorithm has priced a Tommy Shelby win in at $2.81 and we're being offered $4.00 about his chances at most of the greyhound bookies. At that price we can have five units on Tommy Shelby to win.
Xerri and Flying Ricciardo's chances of figuring on the podium will be decided by how much interference they cause each other through the first corner. Bookmakers have Flying Ricciardo too short in the market to be a betting proposition, mostly due to his popularity and profile in NSW through his outstanding record and the popular Sultana family. Corporate bookies are asking us to take $3.40 about his chances when we've priced him at $3.58, representing no value.
Xerri on the other hand is surprisingly being sent out at $7.50 while his real chances (based on the ratings) are correctly priced at $4.10. AustralianRacinggreyhound.com is suggesting a four unit bet on Xerri at that price.
Moving out to the run on greyhounds, Waging War, Wallbanger and Awesome Catch are the only ones representing value. The Million Dollar Chase betting strategy suggests one unit on Waging War at $23.00, 0.25 unit bet on Wallbanger at $21.00, and 0.1 unit bet on Awesome Catch at the $26.00.
The AustralianRacinggreyhound.com Million Dollar Chase final betting strategy is to cover five greyhounds to win only for a total investment of 10.35 units. The likely predicted Tommy Shelby win will result in a 20 unit return, for a very handy 9.65 unit profit. Our Million Dollar Chase tips present suggested betting options for all five greyhounds that represent value in the current MDC odds markets.
Million Dollar Chase Tips