Tony Brett shooting for fifth Group 1 Winter Cup win in 2017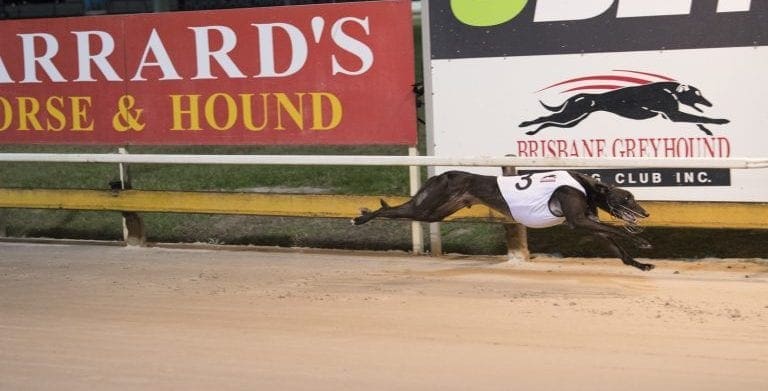 TONY Brett will be aiming for his fifth success in the Group 1 Winter Cup (520m) when his boom youngster Fast Times lines up in next Thursday's $75,000 event.
The son of Barcia Bale and Clockwise qualified for the final when registering an all-the-way success in his heat on Thursday night, defeating a classy field that included Golden Easter Egg winner Striker Light in 29.76.
Brett said he wasn't shocked to see the exciting pup race so emphatically, defeating his rivals by more than four lengths on the line.
"Down the back I thought he could have been in trouble when Striker Light landed right behind him as she looked like she was going to go underneath him – but once he got the better of her and started to put some ground on her he really kicked clear," Brett told Australian Racing Greyhound.
"From there I knew nothing would run him down because he does get to the line pretty well – in the end it was a really dominant run and I think he will take plenty of confidence from it.
"The biggest thing with him is making sure nothing knocks into him in the first few metres. If he can get clear running for those first two or three strides he can really accelerate and that's what he did on Thursday night."
Fast Times took his record to 10 wins and three minor placings from 16 starts with the stunning victory and will now move into box four for the decider – a draw from which he boasts a 29.75 personal best over the track and trip at Albion Park.
Brett said the box draw is a concern, with Fast Times not renowned as a brilliant beginner.
"The draw around him is important – he has Tahlia's Way inside him who hasn't been beginning brilliantly, Outside Pass is in the two and she missed the start in her heat and Cosmic Bonus is in the one.
"None of the greyhounds on his inside are going to be looking to get off the track which will suit him, but the worry is Nangar Rock on his outside – he can run pretty much identical sections to Fast Times the whole way around.
"When he jumps he wants to move up the track slightly which is going to make things interesting off box four in the final.
"I think the way the box draw has come out it really opens the race up for Ando's Mac who looks well drawn out in the eight."

However, despite the ordinary draw, Fast Times is still given a big shot at the title by his Grandchester conditioner.
"He is a genuine chance this week – it wouldn't surprise me to see him win it because he has got the ability. He just needs a bit of luck and for a few things to go his way.
"He is a good race dog too – he doesn't have to lead but with that being said he can't give them too much of a start running 29.80 or better out in front. If that happens he wont be able to catch them."
Brett, who has trained four winners of the Winter Cup in the past – Iso Octane (2011), Glen Gallon (2012/2013) and Flash Reality (2014) – also said Fast Times is capable of going faster on the clock if he does everything right.
"He had oodles of ability – he has plenty of talent when he is on song," Brett said.
"It wouldn't surprise me to see him go even quicker. I think he can come home a bit stronger – he had 12 days off leading into the race so I think he will take some benefit from the heat run.
"Whether or not we see him go quicker in the final is the question – but I think he is going to be a 29.60 dog around there."
2017 @GarrardsHnH Winter Cup box draw!

Very intriguing event next Thursday night!@racing_qld @GerardDaffy @UBET pic.twitter.com/im3Xn5M3NC

— Brisbane Greyhounds (@BrisGreys) June 29, 2017
Meanwhile, in more good news from the Brett camp, 2016 Group 1 Brisbane Cup winner Thirty Talks is back in work after sustaining a serious injury to his back muscle when leading the Silver Chief Classic at The Meadows in January.
"He had his first trial from in front of the 395m boxes at Albion Park on Tuesday and he went super and has pulled up good.
"He feels great and has been running the house down at home – its just a matter of keeping him sound and building him back up now."
Brett believes the son of Where's Pedro and Unfinished could return to his best form and is excited to see what happens over the coming months.
"He is doing everything right at this stage and I don't think he has lost anything – he is looking good.
"He may even be back in time for the Nationals – that might slot in nicely but we can't have any setbacks so we'll have to take it one day at a time."
More Greyhounds News