Trainer misses chance at $175,000 after Wentworth Park abandoned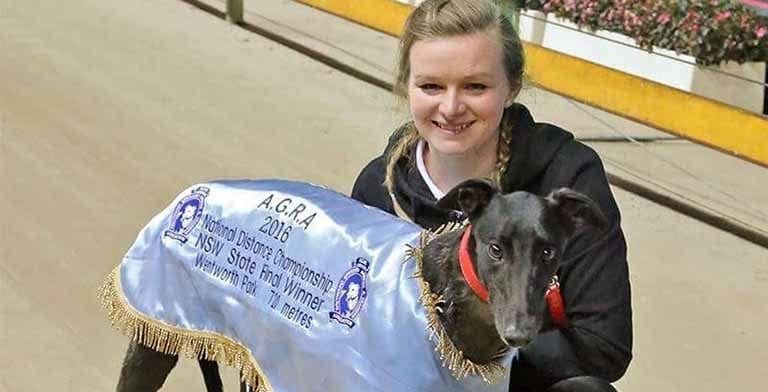 A SYDNEY trainer's dreams of competing in the world's richest staying race have been crushed after Saturday's Wentworth Park meeting was cancelled due to the poor state of the track.
Kayla-Jane Coleman prepares talented NSW bitch Where Art Thou which was set to finish off her preparation for the Group 1 Sandown Cup heats next Thursday by competing over the 'half-mile' at Wenty on the weekend.
However, the meeting was abandoned after race five when trainers protested the track was unsafe for racing, with remedial works deemed futile.
The cancellation has hit hard for Coleman who says her bitch needed the run, which was meant to be her first start over 700 in more than a year, to be fit enough to compete in the Sandown Cup heats.
"I gave her an easy week this week because I knew she'd be backing up from her first 700 Saturday to Thursday and I wanted to make sure it didn't flatten her because I also had to consider the travel to Melbourne after racing on the weekend," Coleman told Australian Racing Greyhound.
"Because I couldn't race her on Saturday night that means she hasn't had enough work to go down for a 700 on Thursday.
"I could have given her a trial on [Sunday] but that would have meant an even closer back up and I probably would have only been able to give her a 600 which isn't quite enough for her going into a 700.
"She needed to have a hard hit out and push through that fitness barrier to blow her lungs out to be fit enough for the Sandown Cup heat."
Coleman says she has now been forced to stay at home rather than contest the $175,000 series – a race she has been targeting for more than a year.
"I could just go to Sandown and chuck her in a heat but that's not how you do things," she said.
"It's meant I have had to make the decision not to go – for a group race you can't go into it without the correct preparation.
"Last year she was racing over 700 and I sent her down for the Sandown Cup and she blew a pin in training.
"After I brought her back she came on season and then blew the other pin in the lead up to the Sale Cup.
"I have nursed her back and since then the plan for her this whole preparation has been the Sandown Cup.
"I have put everything into planning for this race – it is all down the drain now so what do I do?"


Coleman said it is unacceptable that the state's main track, which was harrowed last Thursday, cannot be maintained at a safe level for racing week in week out and called for the authorities to re-assess the new methods of preparing tracks.
In recent times, Greyhound Racing NSW (GRNSW) has instructed that all tracks be prepared softer in order to reduce injury rates, however this has also led to an increase in cancelled meetings.
"I'm not a curator and I don't want to be a curator," Coleman said.
"It's hard complaining about it when I don't know the real answers – but they should because that's their job.
"I know they are trying to make tracks safer and I don't have a problem with that because it improves the welfare of the dogs, but I don't think softer tracks are safer.
"It's like having eight V8 supercars trying to take off in loose gravel – the sand isn't packed down enough – I think it causes more injuries because you have eight dogs running into a corner at 60km/ hour and bumping into each other when they can't get traction.
"Obviously it can't be perfect every week but there needs to be some consistency because one week its soft, one week its firm, one week its perfect, one week its too wet – the tracks aren't holding up like they used to.
"Someone needs to stand up and take charge and decide that they are not going to keep doing things the way they are because its obviously not working.
"It's not like we had freakish weather – it is unacceptable."
With her plans shattered, Coleman says she is devastated to have missed out on the opportunity to compete in the nation's pinnacle staying race, but says she also feels for all other trainers who have had their plans ruined.
"Myself, I don't get sent good dogs from other people – I breed my own, race my own and this might be the last chance I get of racing in group races.
"Don't get me wrong, I am grateful that I have got dogs good enough to go in the big races, but to have my plans ruined because the track was terrible at no fault of my own is devastating.
"It costs us trainers big time – last night I could have won $5,000 – but because she didn't get the chance to race it has potentially cost me [$175,000].
"She might have gone down there and failed in the heats, she could have also gone down there and raced really well – now I will never know and I won't get compensated for that.
"But the Sandown Cup isn't even the point. I am blowing up because I had plans, but every person who was at Wentworth Park last night should have had the chance to race their dogs.
"Trainers put a lot of hard work into our dogs to get them right on race day and we deserve to be able to race on safe tracks – it doesn't matter whether you are targeting a group race or a grade five."
The official statement from GRNSW stewards following the cancellation of the meeting was as follows:
"Following the running of race 5, it was apparent that the racing surface had become shifty and spongy in certain sections of the track. Following an inspection, attempts were made to consolidate the surface and restore condition of the track to an acceptable level for racing to continue. When greyhounds and handlers arrived at the starting boxes for race 6, a further inspection revealed that restoration attempts proved ineffective and the track condition remained the same in a deteriorating state. Stewards then made a determination at 9:45pm to abandon the remainder of the meeting from race 6 onwards…"