Trooper Tears races in to Launching Pad contention with brother Trapper Tears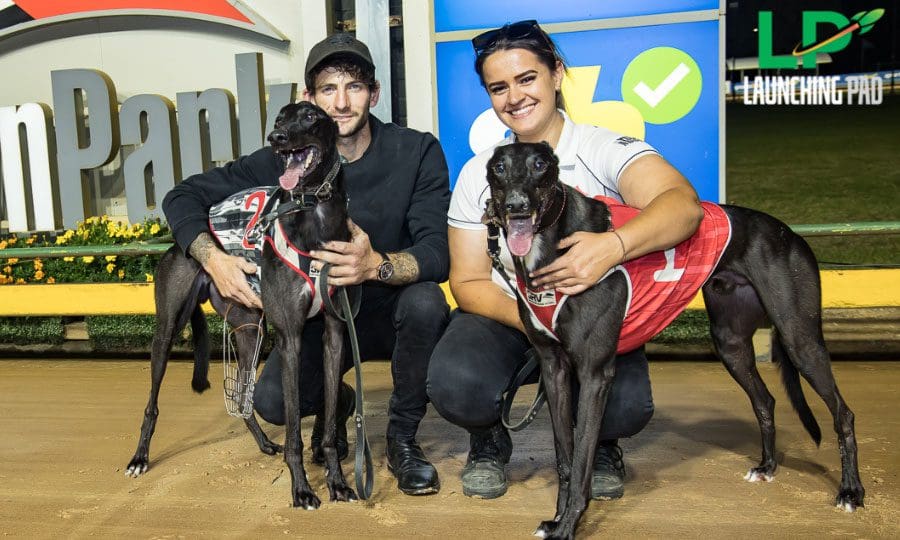 At Sandown Park on Thursday evening, Trooper Tears put on a spectacular display taking time honours for the four Semi Finals of the 2023 Group 3 Launching Pad.
Clocking a very quick 29.01 seconds, the juvenile greyhound breezed through his semi leading all the way, and taking race favouritism ahead of next Thursday night's $225,000 final.
Trooper Tears, who is not yet two years old; is from the April 2021 litter by Goodesy out of Freaky Tears with the dam a litter sister to Here's Tears and a full sister to Tornado Tears.
The time represents one of the quickest runs at Sandown for the 515m journey in recent times, and takes Trooper Tears record to six wins from 11 starts with another 5 minor placings.
2023 Group 3 Launching Pad Semi Final 4 – Trooper Tears T: Rob Britton
---
Rob Britton trains Trooper Tears for the Zsa Zsa Syndicate and has had the greyhound for his past six starts after transferring to Victoria from the New South Wales kennels of his breeder Michael Ivers who started the dog five times for his first four wins.
But the Launching Pad race favourite won't be alone in the $125,000-to-the-winner final with litter brother Trapper Tears also qualifying for the final when running second in last night's second semi final behind Dundee Rebel.
Like Trooper Tears, Trapper Tears transferred down to Britton's Lara Kennels after having his first six starts for Ivers, resulting in one win and four minor placings from six starts.
Both greyhounds have been a bit of a surprise to Britton, but he concedes Michael Ivers always had confidence in them
"They've been a little bit of a surprise packet to me," he said.
"Even though Michael liked them a lot, I didn't realise they could run the times they can.
"I think Trooper Tears is possibly the best one, but Trapper Tears is stronger, and he might get over more ground later on.
"It's in the breed to stay, but being by Goodesy might change the dynamic. They might have a little bit too much brilliance to stay."
Britton took a similar path with champion stayer Tornado Tears who ran fifth in the 2018 Launching Pad final before embarking on his staying career. Tornado Tears was owned, bred and trained in the same interests.
Greyhound bookmakers sent Dundee Rebel out at +1140 to win the second semi final of the Launching Pad over Trapper Tears who started at -111.11, but the Geoff Scott-Smith trained greyhound put the contest away, driving hard to an unassailable lead through the first corner.
2023 Group 3 Launching Pad Semi Final 2 – Dundee Rebel T: Geoff Scott-Smith
---
Dundee Rebel, by Feral Franky out of Dundee Calypso; has had 24 starts for seven wins and seven minor placings and ran the equal second quickest of the Launching Pad semi finals when closing out the Sandown 515m journey in 29.35.
Queensland visitor Starline Express (Fernando Bale x Spooky Sensation) matched Dundee Rebel's winning time in the opening semi final of the Launching Pad running 29.35 when leading all the way from box four.
2023 Group 3 Launching Pad Semi Final 1 – Starline Express T: Reg Gardoll
---
Starline Express has the most established group racing credentials going in to the Launching Pad Final having finished second behind Victa Damian in the 2023 Group 1 National Derby at Wentworth Park, and sixth behind Jay Is Jay in the 2023 Group 2 Queensland Derby at Albion Park.
Reg Gardoll has trained the well-travelled youngster to seven wins and six minor placings from 14 starts.
Victorian trainer Lyn Smith qualified the West Australian bred and owned chaser Meteor Monelli to win the third semi final, leading all the way from box two in 29.38 seconds.
2023 Group 3 Launching Pad Semi Final 3 – Meteor Monelli T: Lyn Smith
---
Smith has managed Meteor Monelli's career since August 2022 after WA trainer Morgan Turner started the greyhound twice at Cannington for two second placings.
The son of Zack Monelli and Frida Monelli has now had 20 starts for seven wins and eight minor placings, with all of those being second places.
The Launching Pad series is basically a "slot race" with a $2,000 nomination fee that lasts three weeks for greyhounds with no more than six wins and less than 31 starts.
Last year's Launching Pad winner was Wow She's Fast whose deeds on the track have become legend and has now raced on to become the first greyhound in history to win over $2,000,000 in prizemoney earnings.
2023 Group 3 Launching Pad Final
2023 Sandown Launching Pad Final Box Draw & Field

Sandown Park515mGroup 3 Restricted$150,000 to-the-winnerThursday April 6 2023

2

Trooper Tears

T: Rob BrittonF: 1221Career: 11: 6-5-0Prizemoney: $49,380

3

Dundee Rebel

T: Geoffrey Scott-SmithF: 1311Career: 24: 7-4-3Prizemoney: $44,900

4

Al's Entity

T: Paul AbelaF: 5122Career: 7: 2-2-2Prizemoney: $40,110

5

Starline Express

T: Reg GardollF: 2121Career: 14: 7-6-0Prizemoney: $87,130

6

Victa Alby

T: Tony RasmussenF: 1412Career: 17: 7-3-2Prizemoney: $32,405

7

Trapper Tears

T: Rob BrittonF: 1122Career: 13: 4-5-2Prizemoney: $26,040

8

Meteor Monelli

T: Lyn SmithF: 2711Career: 20: 7-8-0Prizemoney: $50,111

Reserves

9

False Confidence

T: Aaron DebattistaF: 3843Career: 17: 6-0-7Prizemoney: $46,340

10

Blazing Dodge

T: Chloe DewF: 4133Career: 17: 5-2-3Prizemoney: $18,455
---
---
Similar Greyhound Racing News