Tzouvelis praises Gadsby's Road after upset Townsville Cup win
QUEENSLAND trainer Tom Tzouvelis has no immediate feature race plans for his promising greyhound Gadsby's Road (Glen Gallon x Gotcha Coota Aug '14) after the black speedster scored a narrow victory in Tuesday's Group 3 Townsville Cup (498m).
Stepping fairly from box one, Gadsby's Road found a nice spot behind leader Bruton Miss (Bit Chili x Surf On Tap Jan '14) in the early stages, finding the lead around the home turn and holding off a late challenge from Swap Ya (Fear Zafonic x Cels Honey May '13) to score in 28.90.
The win surprised punters who had sent Gadsby's Road to the boxes at double figure odds. Most of the money surrounded leading trainer Tony Brett's trio of greyhounds – Zabdon Ferrari (Magic Sprite x Awesome Knocka May '14), Split Image (Where's Pedro x Unfinished May '14) and Opal Nera (Dyna Tron x Black Sambuca May '15).
Brett's best result was a third with Opal Nera, with his other two greyhounds missing the start and not having much luck from the awkward corner start.

Tzouvelis, who only has a small team of greyhounds in work, said the win even surprised him.
"You need a bit of luck with corner start racing and that showed on Tuesday night," Tzouvelis told Australian Racing Greyhound.
"We were under no illusions going into the race – we knew he wasn't the best dog in the race – but we thought we had a place chance.
"Tony seemed to have a mortgage on the race. I didn't think that all three of his dogs could have bad luck, but that's how it turned out."
Gadsby's Road has now won seven of his 24 starts with seven minor placings, with his prize money earnings now closing in on $40,000.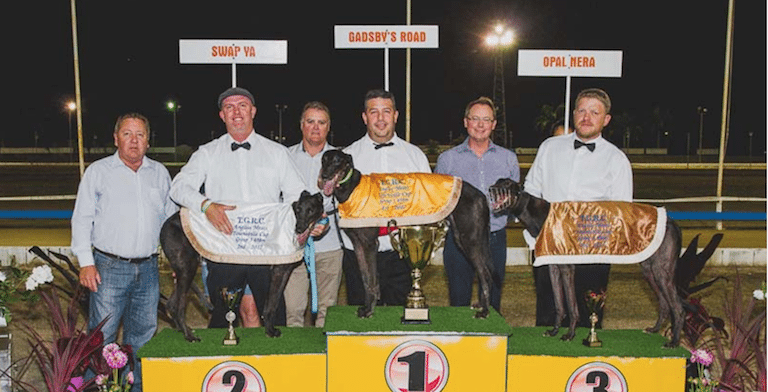 It was a big thrill for the greyhound's owner Kenneth Anderson – providing him with his first group success.
"Ken called me out of the blue one day and asked me if I'd have a go with him. He had a few starts for another trainer and while he came to me in good condition it took him a little while to settle in.
"We started him off in the sprints because he wasn't finding the line for us until he settled in, but he has just kept getting better and better which is great."
Tzouvelis said he will now head back to Albion Park with Gadsby's Road before making any feature race plans.
"He has pulled up well after the race so he will have an easy week until next Thursday," he said.
"He is still a fifth grader at Albion Park and I don't think we have seen the best of him there yet, so we'll try and win his fifth grade there before we do anything else.
"After that we'll sit down and think about what's next – we might have a go at the Lismore Cup or have a look around and see what else is on at the time."

It has been a massive 2017 for Tzouvelis, winning the Group 3 Darwin Cup and the Ipswich Derby and he is hoping there is more wins in store, having sent two greyhounds across to South Australia to contest the upcoming SA Oaks and Derby.
"It's been a great year. We have a good quality of dog which has made a difference.
"Every year we manage to get around 100 – 150 winners, but they have always been bread and butter dogs.
"This year we have tried to focus on quality rather than quantity and it seems to be paying off."
More Greyhounds News