Bartolo remembers his Group 1 Melbourne Cup quinella 11 years on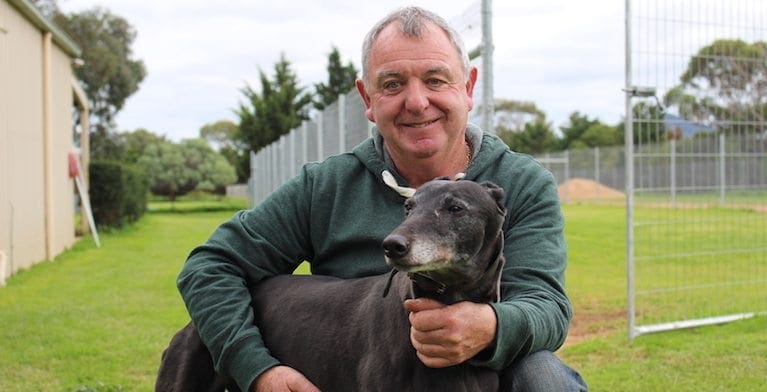 TO win a Melbourne Cup would be a dream come true for any greyhound owner or trainer. To quinella the race with littermates you've bred, reared and race yourself is a feat that would be, well, hard to put into words.
And more than a decade after achieving that feat, it's a position that Paul Bartolo still finds himself in. In 2006, littermates Betty's Angel (Brett Lee x Leprechaun Yap No '04) and Miss Mini Mouse created history by becoming the first litter sisters to quinella the world's richest greyhound race. It is a night still vivid in Bartolo's memory, but one he still can't put into words.
"You sort of go blank," Bartolo said.
"I still can't explain it, it's like you're on another world. It was a funny feeling, unexplainable really, I just couldn't believe it."
Betty's Angel came into the Melbourne Cup having already tasted group 1 success in the Sapphire Crown three weeks earlier, and Miss Mini Mouse entered the final as the fastest heat winner. Both were well supported in the market, but despite the punter's support, Bartolo was not confident of winning the race after drawing box 4 for Betty's Angel and box 6 for Miss Mini Mouse.
"I didn't have any expectations at all because history shows the number of winners from those boxes is very low, which was good in a way because there was no pressure," Bartolo said.
"I just kept everything exactly the same, it was just an honour to be in it and if we ran last we could still say we were in a Melbourne Cup final."

Paul handled Miss Mini Mouse in the final and his son Ray was responsible for Betty's Angel. With his wife Diane and a huge contingent of family and friends cheering on from the sidelines, Betty's Angel shanghaied out of box 4 to take an early lead.
Miss Mini Mouse followed her down to the rail and from there the litter sisters were never challenged, racing to an historic Melbourne Cup quinella in a then race record 29.51 seconds. It was at that moment the enormity of the achievement dawned on Paul.
"Going into the race I was pretty relaxed to tell you the truth because I didn't think I could win it, so it was just like a normal race really.
"That is until we won, then something happens to you. I didn't even know we'd won it, I had to ask Ray 'did we just win that' and he said 'yeah'. We were on a high like I've never experienced in my life.
"Because you treat the dogs like family. It'd be the same if your kids won something big or special, it's the same feeling, just so proud."
The Bartolos took home $193,000 on the night – $150,000 for Betty's Angel's win and $43,00 for Miss Mini Mouse finishing second. However that wasn't the reason the win meant so much to the husband and wife training duo.
"It's not just about the money. The money is nice, but you just feel so proud because you've bred them, reared them, got them to the track," said Diane.
"We named her (Betty's Angel) for my mum who had passed away the year before. Although she never went to a meeting, she loved the dogs and would always ask how they were.
"Even when she was dying, I went to visit her in hospital and I had just had a litter of pups born, she said 'you better get home to your babies'.
"I said to Paul we should name one for mum, and I was wracking my brain trying to think of a name and Paul said how about 'Betty's Angel'?"
Added Paul, "Then Miss Mini Mouse beat her in a trail and I said I think we've named the wrong one we should change it. We didn't, and it paid off in the end really."
One of the best greyhound's of her era, Betty's Angel retired having claimed three group 1 wins and $440,000 in prize money. Additionally, she was also named the 2006 Victorian and Australian Greyhound of the Year.
Betty's Angel and Miss Mini Mouse were members of an extraordinary litter that included the likes of group 1 Paws Of Thunder winner Leprechaun Pace, Fast Indian and Global Warming.
The line has continued to throw sensational greyhounds. In her next litter, to Spiral Nikita, Leprechaun Yap threw talented chasers Bo Frazier, which won the Rookie Rebel, and seven time group finalist Talk's Cheap.

Additionally, Leprechaun Pace also went on to be a high-class producer as the dam of Group 1 Perth Cup winner Oaks Road.

All seven members from the Brett Lee x Leprechaun Yap litter won races, combining for a total of 76 wins from just 216 starts and $848,755 in prize money, a figure that balloons beyond $1 million when adjusted for inflation.

Paul knew he had something special as soon as the litter returned from being broken-in.

"The whole litter was running race dog times when they were 13 months old," he said.

"Over the old 347m at Geelong, I thought there was either a problem with the clock or we had something pretty special."

Six months later his belief was confirmed when, at just 19 months of age, Betty's Angel, Miss Mini Mouse, Leprechaun Pace and Fast Indian won their heats of the Vic Breeders maiden at The Meadows. Betty's Angel stopped the clock in 29.76 in the final race of the day, a mark that still stands as the fastest maiden win at the venue.

She'd go on to win the final two weeks later, beginning a remarkable run that has seen the Bartolos claim a phenomenal eight metropolitan VicBred maiden finals over the next decade.

It was also the first of many feature finals the Bartolos experienced with their wonder-litter, but there was one race that stood out above all others.

"The Melbourne Cup was different," Paul explained.

"It's the biggest race in Australia and the race that everyone wants to win. And the crowd – there was a massive crowd at Sandown that night."

"I don't even remember coming home," said Diane. "I hope we get to experience it again."

The 2017 Group 1 Melbourne Carnival kicks off at Sandown Park this Thursday night with the running of two Preludes over the 515m distance.

The first Prelude is race six and is set to jump at 8.52pm.


Warning: count(): Parameter must be an array or an object that implements Countable in /home/australianracinggreyhoundzzz/webapps/app-australianracinggreyhound/wpress/wp-content/plugins/Odds-Compare/vendor/guzzlehttp/guzzle/src/Handler/CurlFactory.php on line 67