Britton's underrated sprinter ready to make an impact in Launching Pad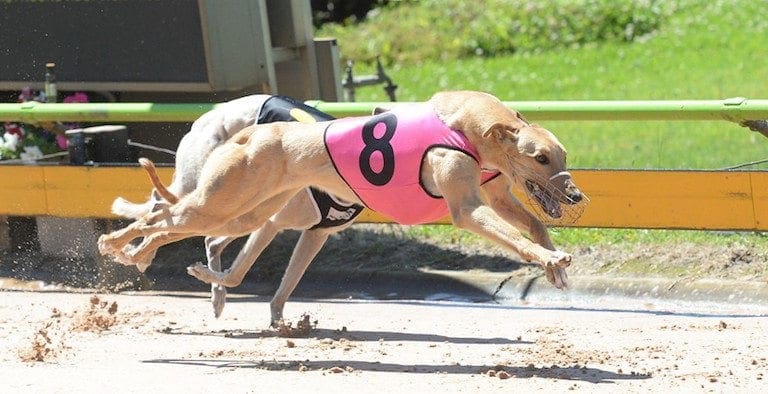 ROB Britton believes his front-running sprinter Slingshot Gypsy (Fernando Bale x Paw Sa Prize Feb '16) has what it takes to go all the way in the Group 2 Launching Pad (515m) at Sandown Park.
The underrated bitch, which ran second in the Group 1 National Futurity earlier this year, was impressive in her heat of the feature last week, leading all the way off box six in a handy 29.64.
It was just her second start since the Futurity final at the start of February, with Britton happy with how his youngster is progressing.
"Right through the Sydney series she improved ability-wise," Britton told Australian Racing Greyhound.
"We took her up for the Futurity knowing she had that great early speed, but she certainly improved her times throughout the series – she seems to have really matured since then."
Slingshot Gypsy brings up the Double, showing Brilliant early Pace: https://t.co/kZdnpK8JQi https://t.co/1LUNSqjtRh
Slingshot Gypsy, a winner of six from 12 with five placings, moves into box one for her semi-final this Thursday night where she will take on a quality field including Beast Unleashed (Barcia Bale x Little Miss Hap Apr '16) and Bago Bye Bye (Barcia Bale x Keira's Charm Feb '16).
While she may not be the fastest greyhound in the race, Britton says her early speed is sure to help her figure in the finish.
"She has got some really good habits – her box speed gives her a major advantage and I could see her going a long way in the series.
"She might get run down – but if you are out in front then she is the dog they have to catch.
"Good habits win good races – especially for young dogs and I can see this series being won in 29.50 or 29.60 so it certainly gives her a great chance."

Britton has two other hopes in the $150,000 Launching Pad series, his other leading contender being the exciting Saint David (Cosmic Rumble x Mepunga Kristy Sep '15).
The black dog returned from a three-month break in his heat, bouncing straight to the front and smashing his rivals by five and one quarter lengths in a best of night 29.40.
He will also start from box one in his semi-final, aiming to make it five wins from 10 starts.
He has always shown ability, winning his maiden in 29.39 at Sandown, however following that performance he put in a few below par runs. Now, Britton feels Saint David is maturing into a nice dog, having now won his past three starts.
"We've had a couple of issues with him, but we took him back to Geelong and gave him a couple of runs on the finish on arm – that made a massive different and it has certainly helped him.
"After that he copped a small injury, so he was on the sidelines again – but he came out on Thursday and showed how good he is when everything is right.
"He hasn't got the brilliant early speed of Gypsy, but he has a massive motor and if they give him clear room to move he certainly can gallop."
A Very Good Night at Sandown Greyhounds with 2 Wins and a 3rd – First Up was Saint David, after a long Injury… https://t.co/EJmz1hp6X4
Rounding out Britton's trio of chances is Tornado Tears (Fernando Bale x Tears Siam Feb '16) – a litter brother to handy performers Rippin' Sam and Fernando Express.
The former NSW chaser never got into his heat last week, finding trouble off box seven before running home to finish fourth. He has come up with an identical draw for his semi-final, with Britton not expecting too much until he steps up in trip later in his career.
"He has come down here mainly to see how he goes over more ground, but he was eligible for the series so we decided to put him in it," Britton explained.
"Unfortunately, he has drawn box seven for the heat and semi-final which doesn't really suit, but if he happened to get a good run into the race he can definitely run some time."
Four semi-finals of the Group 2 Launching Pad will be run and won at Sandown Park this Thursday night.
More Greyhounds News