Champion Stayer Lizrene Added To Hall Of Fame

GRV today released the names of another four of the 36 inductees – Chris Flint, Ken Carr, Henry Harrison & Lizrene. This brings the number of releases to six, with the remaining 30 inductees to be announced on July 12th.
Hall Of Fame Inductee : Lizrene
Distance racing is a demanding art form – the ultimate test of endurance, courage and stamina.
And greyhound racing enthusiasts have been privileged to witness a passing parade of staying greats – a host of celebrated and evocative names including inaugural 1973 Victorian Greyhound of the Year, Lizrene.

Whelped in April 1970, Lizrene – one of nine pups (5 males; 4 females) – was trained in Dandenong by the late Peter McGuinness.
"We owned her sire, Prince Kua, and decided to keep him for stud purposes. A friend of ours had her dam, Joanne Lu, and it was a bloodline we wanted to use," said McGuinness' wife, Roma, of Noble Park.
Prince Kua only served two brood matrons before he and one of the dams he mated perished tragically in a kennel fire. This left only the litter out of Joanne Lu to carry on his bloodlines.
Retaining three brindle pups (2 males; 1 female), Peter McGuinness christened Lizrene as "Cindy".
"She was always a cheeky little thing, and the runt of the litter… She was quite different to the rest of the pups, always running and yapping at the moon."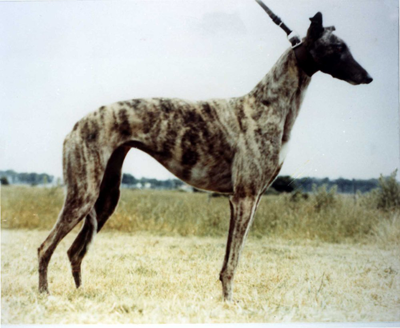 Lizrene raced on 97 occasions for 56 wins, 19 seconds and 12 thirds, being only unplaced 10 times. She amassed $61,208 in stake money – a then Australian record.
She won 23 races at Olympic Park and 22 events at Sandown Park (a record she held jointly with former champion stayer Jack) meaning more than 80% of her wins were at both city tracks.
Lizrene ranks with the all-time distance greats but also displayed versatility finishing third over the sprint trip in the 1971 Melbourne Cup.
"She knew where the finish line was… She wasn't quick early but had a brain," Roma said.
"When she won her second successive Sandown Cup, it took Peter three days to get over it… Sandown was Peter's 'home away from home', so it was very special."
Surprisingly, Roma reckons Lizrene's second to Ragsie in the 1972 Wentworth Park Gold Cup in Sydney was her best performance.
"She was narrowly beaten, it was very emotional… She was so determined and never gave up.
"But she knew when she was beaten; she would drop her head returning to the kennels."
Lizrene's finest hour arrived as the recipient of 1973 Victorian GOTY honours.
A feature article on Lizrene was even penned in The Australian Women's Weekly (May, 1974), such was her public adulation.
"Lizrene got places out of sheer determination and hard work," Peter McGuinness said at the time.
"She was set on winning."
Lizrene whelped four litters with a cumulative total of 25 registered offspring.
Her first two litters (by 1974 Victorian GOTY, Temlee) were sold for $3000 each, with two 13-month-old pups fetching $12,000.
"Lizrene's induction into the Victorian greyhound racing Hall of Fame is unbelievable, absolutely amazing," Roma said. "It's great she has been remembered after such a long time."
Lizrene died in April 1981, aged 11.
Notable Acheivements
Won 1972 Group 1 Sandown Cup
Won 1973 Group 1 Sandown Cup
Won 1972 NCA Cup – Olympic Park
Won 1973 NCA Cup – Olympic Park
Won 1973 Sandown Park Distance Championship
Won 1973 Olympic Park Distance Championship
Won 1973 Anniversary Trophy – Newcastle
2nd 1972 Wentworth Park Gold Cup
3rd 1971 Melbourne Cup
The 36 Hall of Fame inductees are in three broad categories:
The Pioneers (8) – recognised by the selection committee as having shaped greyhound racing's early days.
The People (15) – includes trainers, breeders, owners, administrators and other prominent personalities.
The Greyhounds (13) – includes achievements on the racetrack and at stud.
The six revealed inductees are :
RAY HERBERT –TRAINER [PIONEER] – champion trainer from the 1920s-'60s who won a record 10 Waterloo Cups on the coursing circuit.
BYAMEE –GREYHOUND [PIONEER] – A spectacular coursing greyhound from the 1950s who won three Waterloo Cups and was trained by Ray Herbert.
CHRIS FLINT –ADMINISTRATOR [PIONEER] – Hard-hitting administrator from the 1930s-'50s who abolished proprietary racing and was the founding Chairman of Greyhound Racing Victoria.
HENRY HARRISON -ADMINISTRATOR – Well-connected administrator who was particularly influential as chairman of the Sandown Greyhound Racing Club for 23 years up until 1987.
KEN CARR – ADMINISTRATOR – Forward-thinking administrator of the 1970s-'90s with the Melbourne Greyhound Racing Association and Greyhound Racing Victoria.
LIZRENE – GREYHOUND – An outstanding stayer from the early 1970s trained by Peter McGuinness.
To coincide with the Hall of Fame function, an official Victorian greyhound racing industry Hall of Fame website will also be launched on July 12.
More Greyhounds News