Chris Flint Named In GRV Hall Of Fame

GRV today released the names of another four of the 36 Hall Of Fame inductees – Chris Flint, Ken Carr, Henry Harrison & Lizrene. This brings the number of names released to six, with the remaining 30 inductees to be announced on July 12th 2009.
Hall Of Fame Inductee : Chris Flint – Pioneer Administrator
If Chris Flint was alive today he'd be 110 years old.
A hard-hitting Barrister and Solicitor, Flint was responsible for some of the most significant administrative decisions in the history of Victorian greyhound racing after following his father into the administration of the sport.

"Chris brought greyhound racing out of the dark ages", Adrian Flint, a nephew of Chris, recalls.
Perhaps the best example of Chris Flint's foresight was in 1956 when, as Vice-President of the sport's then controlling body, the National Coursing Association (NCA), Flint had the satisfaction of seeing legislation passed that abolished proprietary racing and brought all racing under the control of one body. It was not to be the NCA but a new Greyhound Racing Control Board (now Greyhound Racing Victoria), of which Flint became the first Chairman.
The abolishment of proprietary racing created anguish, particularly among race clubs like White City, Maribyrnong and Napier Park. However, Flint wasn't afraid to tread on people's toes if it meant he could achieve something he believed in, and something that would benefit greyhound racing.
"If anyone got into an argument with him he'd verbally cut them to pieces. He wasn't someone you'd want to cross. He was a switched on barrister who was always impeccably dressed in his Jodhpurs and Harris Tweed Jacket. We nicknamed him 'The Squire'. He was a fairly big man who had a photographic memory, and he was an excellent public speaker. He was never afraid to upset the apple cart", Adrian recalled.
Chris Flint's daughter-in-law Joan Flint, 85, who was married to Chris' son Geoff, recently said of him… "Chris was an unusual man and was very hard to get along with. I remember when he was working as a solicitor in Melbourne he arrived at work one day to find that a suitcase had been left for him. He opened it up and it was full of snakes. He called the zoo to get them to take them away but they didn't believe him. They eventually came and took them away", Joan said.
While Chris Flint's outspoken nature may have earned him a few enemies, he also had a generous side, as Joan revealed… "He bought Geoff and me our first house, which was in Kyabram."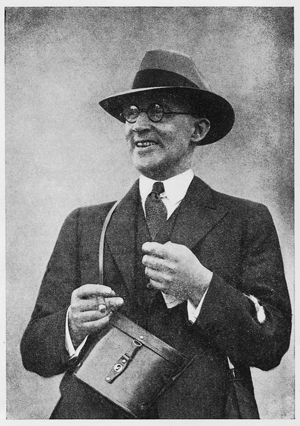 That generosity extended into Victorian greyhound racing, as evidenced by what Flint was able to achieve. His greyhound administrative career began in 1933 as Secretary of the NCA, before stepping into the role of Vice-President in the 1940's. He also served as President of the Australia & New Zealand Greyhound Association [ANZGA] and reached an even higher pinnacle as the first Chairman of the Greyhound Racing Control Board, as he worked to establish a new industry.
His passion for greyhound racing combined with his knowledge of the legal system enabled him to achieve a number of ideals including bringing the control of the then popular field coursing, and mechanical hare coursing under the NCA banner.
Flint's time at the NCA was turbulent. He was not averse to resigning on a point of principle, which he did over the choice of venue of the 1945 Waterloo Cup. However, Flint bowed to pressures and returned.
When approved in Parliament, the GRCB came into effect and held an historic meeting on May 26th, 1955 with Chris Flint named Chairman; and the other four members being Eric Herbert, Frank Kelly, Dave Heneberry and Roy Maidment.
On top of his greyhound administrative achievements, Chris Flint was also busy at home. He lived on and managed 11,000 acres of land in Darraweit Guim, an hour north of Melbourne.
"Chris had about 10 people working for him on 11,000 acres in Darraweit Guim, and then in his last couple of years the land was subdivided and he managed 4,000 acres of it and called that land Amesbury House", Adrian recalled.
"I was terribly proud of him because he did a remarkable job on the property. When he first lived there the land was devastated by rabbits and water erosion. He planted trees and cleared the rabbits. He really turned the place around", he added.
Chris lost his long battle with ill-health on October 4th, 1958, having submitted his resignation to the Government as Chairman of the GRCB two weeks earlier.
Notable Achievements
Elimination of proprietary racing
Legalisation of mechanical hare
Introduction of totalisator betting
Invaluable contributor to compiling a new code of track rules upon the formation of the Greyhound Racing Control Board [GRCB]
Helping unravel the multitude of problems confronting the GRCB in its initial years

.
The 36 Hall of Fame inductees are in three broad categories:
The Pioneers (8) – recognised by the selection committee as having shaped greyhound racing's early days.
The People (15) – includes trainers, breeders, owners, administrators and other prominent personalities.
The Greyhounds (13) – includes achievements on the racetrack and at stud.
The six revealed inductees are :
RAY HERBERT –TRAINER [PIONEER] – champion trainer from the 1920s-'60s who won a record 10 Waterloo Cups on the coursing circuit.
BYAMEE –GREYHOUND [PIONEER] – A spectacular coursing greyhound from the 1950s who won three Waterloo Cups and was trained by Ray Herbert.
CHRIS FLINT –ADMINISTRATOR [PIONEER] – Hard-hitting administrator from the 1930s-'50s who abolished proprietary racing and was the founding Chairman of Greyhound Racing Victoria.
HENRY HARRISON -ADMINISTRATOR – Well-connected administrator who was particularly influential as chairman of the Sandown Greyhound Racing Club for 23 years up until 1987.
KEN CARR – ADMINISTRATOR – Forward-thinking administrator of the 1970s-'90s with the Melbourne Greyhound Racing Association and Greyhound Racing Victoria.
LIZRENE – GREYHOUND – An outstanding stayer from the early 1970s trained by Peter McGuinness.
To coincide with the Hall of Fame function, an official Victorian greyhound racing industry Hall of Fame website will also be launched on July 12.