Fanta Bale smashes more records by winning Group 1 Super Stayers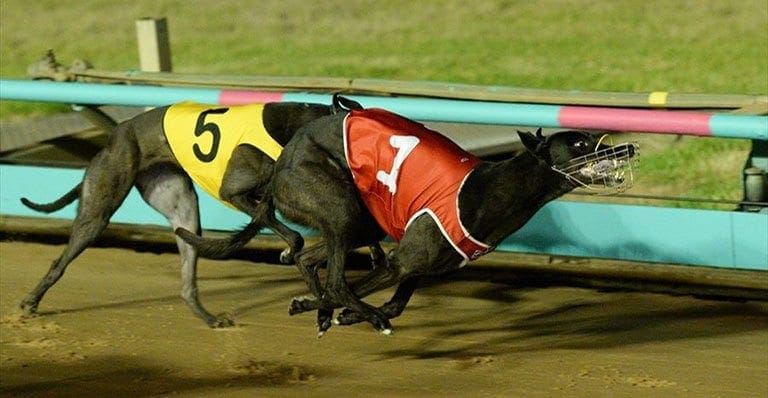 FANTA Bale (David Bale x Ucme Typhoon Aug '14) stamped herself as the greatest chaser the sport has seen with a brilliant win in Saturday's Group 1 Australian Super Stayers (725m) at The Meadows.
Trained by Rob Britton, the black powerhouse was ideally drawn in box one, barging her way to the front along the fence in the early stages.
Although she had found the front relatively easily early on, the champion greyhound had to work hard for the win, battling throughout with Sale Cup winner Quick Jagger (Dyna Nalin x Saving Bundles Jul '15) and holding off a challenge from him and race roughie Sharp Diamond (Kinloch Brae x Pah Leeze Jul '15) to win by 0.63 lengths in 43.62.
Kennel representative Peter Riley praised the bonny bitch following the event, which was worth $100,000 to the winner.
"I was a bit nervous," Riley conceded.
"She jumped well, but some very good dogs jumped well with her. Quick Jagger, Rippin' Sam were up there – Rippin' Sam found a bit of trouble but Quick Jagger was on her hammer the whole way 'round.
"But she just tries so hard – you can't ask any more of a dog like that."
Fanta Bale becomes the highest prizemoney earner in greyhound racing after winning the Super Stayers Final at @TheMeadowsDogs. pic.twitter.com/dw9XoX0QpF

— Trent Langskaill (@trentlangskaill) March 3, 2018
Fanta Bale may not be the fastest greyhound of all time, but she now boasts several records which would undoubtedly put her at the top of calculations when discussing the best dogs to have graced the track.
Saturday's win saw her become the highest prize money earner in greyhound racing history. Her earnings now sitting at a whopping $1,365,175 for Britton and owner Paul Wheeler, who also owns the only other greyhounds to break the $1 million barrier, Fernando Bale and Dyna Double One.
She has also won nine group 1 races – a new record. Her big wins have been in the 2017 Group 1 Australian Cup, the 2016 Group 1 Hume Cup, the 2017 Group 1 Rookie Rebel, the 2017 Group 1 Sandown Cup, the 2017 Group 1 Albion Park Gold Cup, the 2017 Group 1 National Distance Championship, the 2017 Group 1 Bold Trease, the 2018 Group 1 Zoom Top and the 2018 Group 1 Australian Super Stayers.

Additionally, she has also won the 2017 Group 3 Top Cat Video Cup, the 2017 Group 3 Sydney Cup and the 2018 Group 2 Summer Distance Plate. All up she has won 42 races with nine seconds and five thirds from 62 starts.
She is also unique in that she is the only greyhound to have won a group 1 over 500, 600 and 700m.
Riley wasn't holding back how proud he was following the race, praising the three-and-a-half-year-old for all that she has done throughout her career.
"How can you argue with the stats that she's got? Nine group 1 wins, prize money [record]…she's won 42 from 62 and she just tries her heart out, she really loves racing."
REPLAY: FANTA BALE made history tonight! Check out her winning chase in the 2018 SKY RACING #SuperStayers @themeadowsdogs. #GreyhoundRacing pic.twitter.com/idZdNKt0ff

— Greyhound Racing Vic (@GRV_News) March 3, 2018
Fanta Bale's rising star kennel mate Rippin' Sam (Fernando Bale x Tears Siam Mar '16) was touted as the main danger to the favourite, but had to settle for fourth after finding trouble.
Riley still has high hopes for the youngster, which recently ran second to Fanta Bale in the Group 1 Zoom Top.
"He found a little bit of interference and he was a little bit excited," Riley explained.
"With a bit more experience I think he'll turn into a really nice stayer."
2018 Group 1 Australian Super Stayers results
1st – Fanta Bale (1) – Rob Britton – $1.80
2nd – Quick Jagger (5) – Chris Halse – $12.70
3rd – Sharp Diamond (6) – Wayne Vassallo – $85.40
4th – Rippin' Sam (4) – Rob Britton – $2.20
5th – Magic Hornet (3) – Ray Burman – $70.40
6th – Bolt Like Bekim (2) – Rob Britton – $62.30
7th – Mick's Angel (8) – Allan Meyer – $92.40
8th – Azkaban (7) – Seona Thompson – $22.60
Margins: 0.63 x 0.56
First section: 4.95 (1)
Second section: 15.94 (1)
Third section: 29.59 (5)