Harold Matthews Inducted To Hall Of Fame

Greyhound Racing Victoria (GRV) tonight launched its Victorian Greyhound Racing Hall of Fame at Sandown Greyhound Racing Club.
Harold Matthews has tonight been announced as one of the inaugural 36 inductees in to the Victorian Greyhound Racing Hall Of Fame.
Hall Of Fame Inductee : Harold Matthews (Administrator)
Huge crowds attending greyhound races in Melbourne's CBD is something today's generation would find difficult to fathom.
However, this was the norm at Olympic Park in Swan Street during the 1960s, 70s & '80s, and the person at the helm for much of it was Harold Matthews in his role as Chairman/Manager of the Melbourne Greyhound Racing Association [MGRA].
Matthews held that position from 1955-'79, and prior to the opening of Olympic Park as a greyhound venue in 1962, Matthews was in charge when the MGRA began racing five kilometres to the north west at the North Melbourne Football Ground [Arden Street].
The opening race meeting at North Melbourne was held on 7th October, 1957 with immortal greyhound Rookie Rebel featuring in the main event on the 10 race card. First prize in that race was 75 pounds [enough to buy a new car], while 83 bookmakers were in attendance, showing the paramount importance of 'the punt' in those days.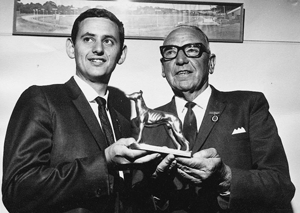 However, it was at Olympic Park that Matthews' stocks as an administrator really grew. He oversaw changes in technology, administration and developments at the track, with his work so impressive that the $5.5Million two-tier grandstand at Olympic Park was named in his honour.
Incidentally, Matthews didn't enter the world of greyhound administration until he was in his fifties, and his life before then was just as impressive.
A champion footballer, he represented St. Kilda in 136 Victorian Football League [now the AFL] matches from 1925-36, and captained the club for two seasons. He also represented Victoria in football.
"He was named as Vice-Captain of Victoria, and once captained the team for half a game when [Collingwood legend] Syd Coventry went off the ground injured", Matthews' son Bruce said recently.
"Dad's nickname in football was "Circ", which was short for Circus because he was always up to practical jokes."
Football aside, Matthews also worked as a builder for more than 30 years.
"Dad built a lot of houses in the Brighton area. He tried out for the army but failed his medical because of a minor heart condition. But he wanted to be involved with the Defence Force so he built a lot of the huts for the army near Melton and huts for the air force in Point Cook", Bruce said proudly.
Harold was married to Myrtle, and as well as Bruce they also had a daughter named Shirley.
Bruce worked at the MGRA under his father for many years, and described his dad as "approachable and very well liked, but at the same time he didn't take any nonsense."
"I was a carpenter and helped build the structures at the old North Melbourne track, and I later worked at Olympic Park predominantly as the Maintenance Officer from 1962 until the track closed in 1995", he said.
Bruce fondly remembers a promotional football match once being played between Melbourne's two metropolitan greyhound clubs, Olympic Park and Sandown Park.
"It was played for fun. [Former champion South Melbourne full-forward] Bob Pratt owned a few greyhounds and coached Sandown that day, while dad coach Olympic Park. I can't remember who won but I know it was close. It may have even been a draw", he laughed.
Among those that pulled on the boots for Olympic Park that day was the late Ken Carr, an outstanding greyhound administrator in his own right.
"Dad actually gave Ken his start in greyhound administration and groomed him to take over from him as Chairman of the MGRA. Ken then went on to become the CEO of the Greyhound Racing Control Board [now Greyhound Racing Victoria]", Bruce said.
In describing his father as "a good dad", Bruce spoke about one of his favourite childhood memories.
"One day when I was playing football for Brighton Grammar under 12s against Ivanhoe Grammar, he piled 17 of us boys into his 1948 Pontiac", Bruce said with a chuckle.
Harold Matthews passed away in 1983 aged 81, but like the memories of the glory days of greyhound racing at Olympic Park, he remains a cherished part Victoria's sporting history.
Notable Acheivements
Chairman Melbourne Greyhound Association 1955-79
Awarded a Member of the British Empire [MBE] in 1977, which is now known as an Order of Australia Medal [OAM], for his contribution to greyhound racing
Represented St. Kilda in 136 Victorian Football League matches
Represented Victoria [Vice Captain] in Australian rules football
The 36 Victorian Greyhound Racing Hall of Fame inductees are in three broad categories:
The Pioneers (8) – recognised by the selection committee as having shaped Greyhound Racing's early days.
The People (15) – includes trainers, breeders, owners, administrators and other prominent personalities.
The Greyhounds (13) – includes achievements on the racetrack and at stud.
The 36 inductees are as follows:
PIONEERS [8]
Noel Banks – Administrator
Byamee – Coursing Greyhound
Silvester Doyle – Administrator
Chris Flint – Administrator
Ray Herbert – Trainer
Roy Maidment – Administrator
John 'Jack' McKenna – Administrator
George Schofield – Administrator

GREYHOUNDS [13]

Bold Trease – Racing Greyhound
Brett Lee – Racing Greyhound
Chariot Supreme – Breeding Greyhound
Cheltenham Lass – Racing Greyhound
China Trip – Racing Greyhound
Head Honcho – Breeding Greyhound
Highly Blessed – Racing Greyhound
Kantarn Bale – Racing Greyhound
Lizrene – Racing Greyhound
Odearo – Racing Greyhound
Rookie Rebel – Racing Greyhound
Temlee – Breeding Greyhound
Wee Sal – Breeding Greyhound

PEOPLE [15]

Graeme Bate – Trainer
Fred Booth – Studmaster
Ned Bryant – Trainer
Ken Carr – Administrator
William 'Bill' Conroy – Administrator
Rod Deakin – Breeder
Jim Gannon – Veterinarian
Henry Harrison – Administrator
Dave Hodgson – Canine Chiropractor
Paul Hogan – Breeder/Trainer
Stan Lake – Administrator
Harold Matthews – Administrator
Ron Nestor – Administrator
Bill Pearson – Media
Margaret Thomas – Administrator
All future Victorian Hall of Fame inductees will be announced at the annual Victorian Greyhound Industry Awards, with a maximum of four inductees in any given year.