Sandown Cup heats betting preview and tips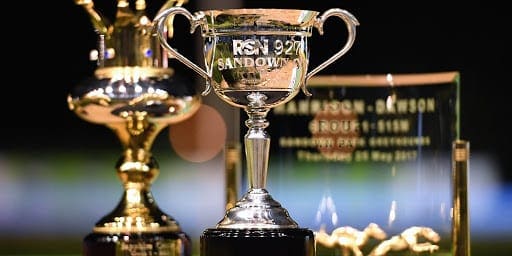 Sandown greyhounds on Thursday night plays host to the premier staying race on the Australian greyhound racing calendar, the Sandown Cup. The Sandown Cup is one of the oldest and most prestigious races on the greyhound racing calendar and the honour roll for the feature is about as good as it gets.
Hall of fame greyhounds Lizrene and Bold Trease have both won the Cup and are two of five greyhounds which won the race more than once throughout their careers. The first dual winner was Paul's Thunder in 1970 and 1971, with the great Lizrene taking out the 1972 and 1973 runnings.
Irma Bale won back to back editions of the race, scoring determined victories in 2012 and 2013, while million dollar earner Sweet It Is also triumphed twice in the years 2014 and 2015.
Fanta Bale took out the race in 2017, while Tornado Tears who won the 2018 version has returned from a long layoff to try and win the cup again in 2020. 2019 winner Rajasthan will also be lining up to try emulate Sweet It Is and Irma Bale in winning back to back cups in recent history.
With four heats on offer, only first and second in each heat will go through to the $175,000 to the winner final.
Sandown Cup Heat 1 Betting Preview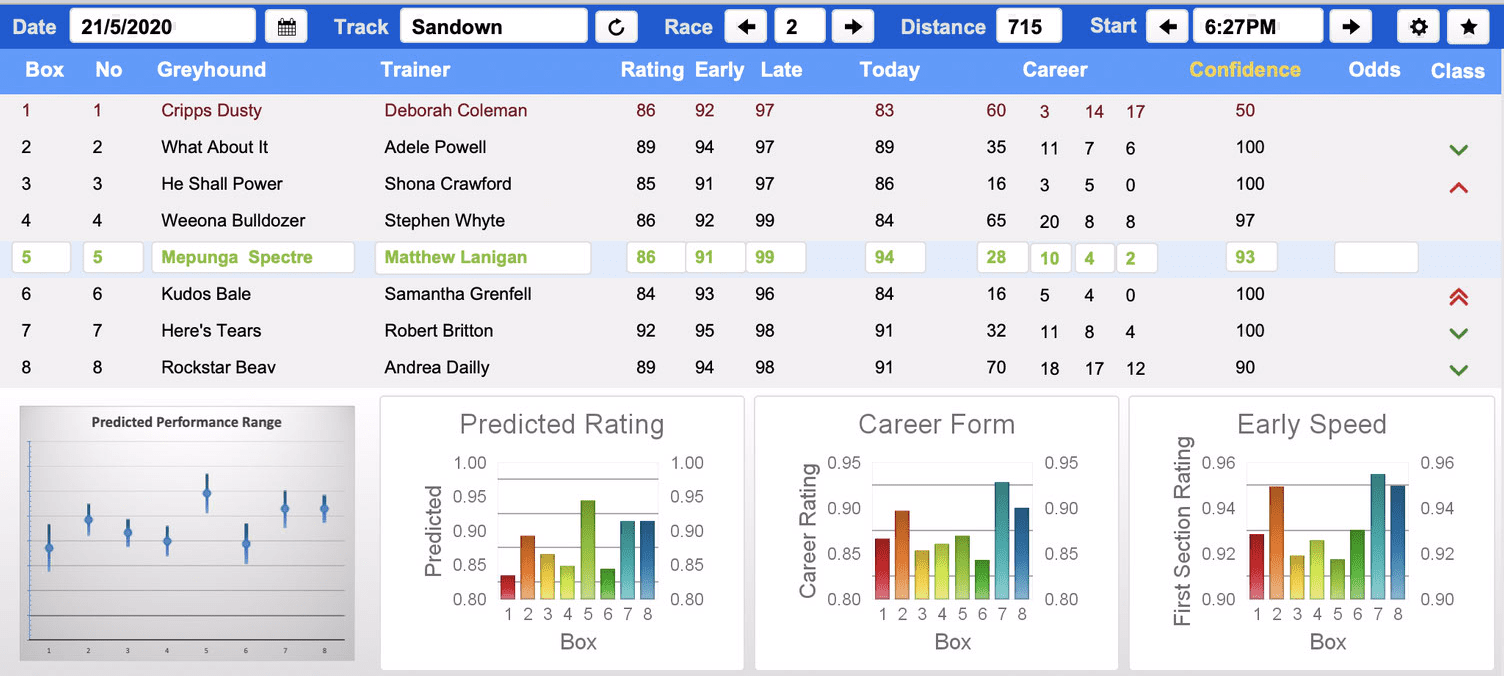 Track record holder Here's Tears has attracted most of the attention from bookmakers and punters alike and is a short favourite at $2.20. His recent form has been well below that which saw the record run, with only his last start getting anywhere near that form. Worryingly he will be having his 17th run this prep without a break, and despite a glimpse of form last week it would be impossible to have him favourite.
The Andrea Dailly trained Rockstar Beav has been working up to a race of this class. His last five starts have all been very highly rated and he is a greyhound that holds form once he finds it. Being an on pace runner, he looks most likely to get the early cross in on Here's Tears which would see that greyhound normally fade back in the field.
Mepunga Spectre has a last start win to his credit over Rockstar Beav and looks to get every favour in this race despite the middle draw. Mepunga Spectre looks the likely leader in the race and while yet to win past 680m and on debut at the Sandown 715 trip, the Matthew Lanigan trained bitch is coming in to the race in a purple patch of form.
Traditionally they prepare fairly quick tracks for these feature races, and for that reason Mepunga Spectre looks likely to handle the journey easily from the front, with Rockstar Beav sitting just off her heels.
Sandown Cup Heat 1 Tips
Can't have Here's Tears as a bet at $2.25, he is at best a $4.00 chance in the race. Rockstar Beav is rock bottom odds at $2.75, while bookmakers are offering $10.00 and $1.90 about Mepunga Spectre to win and place.
At the odds we have to be on Mepunga Spectre who we have priced $2.75. We like the chances of her running out the trip and are prepared to have a good bet at the value. There is as much as $34.00 available all in on the Sandown Cup final futures and we'd suggest securing some of that while it is available. The other likely qualifier Rockstar Beav is $12.00 in those markets.
Sandown Cup Heat 1 Selections & Best Bet
| | | |
| --- | --- | --- |
| FIRST | SECOND | THIRD |
| 5. Mepunga Spectre | 8. Rockstar Beav | 7. Here's Tears |
Sandown Cup Heat 2 Betting Preview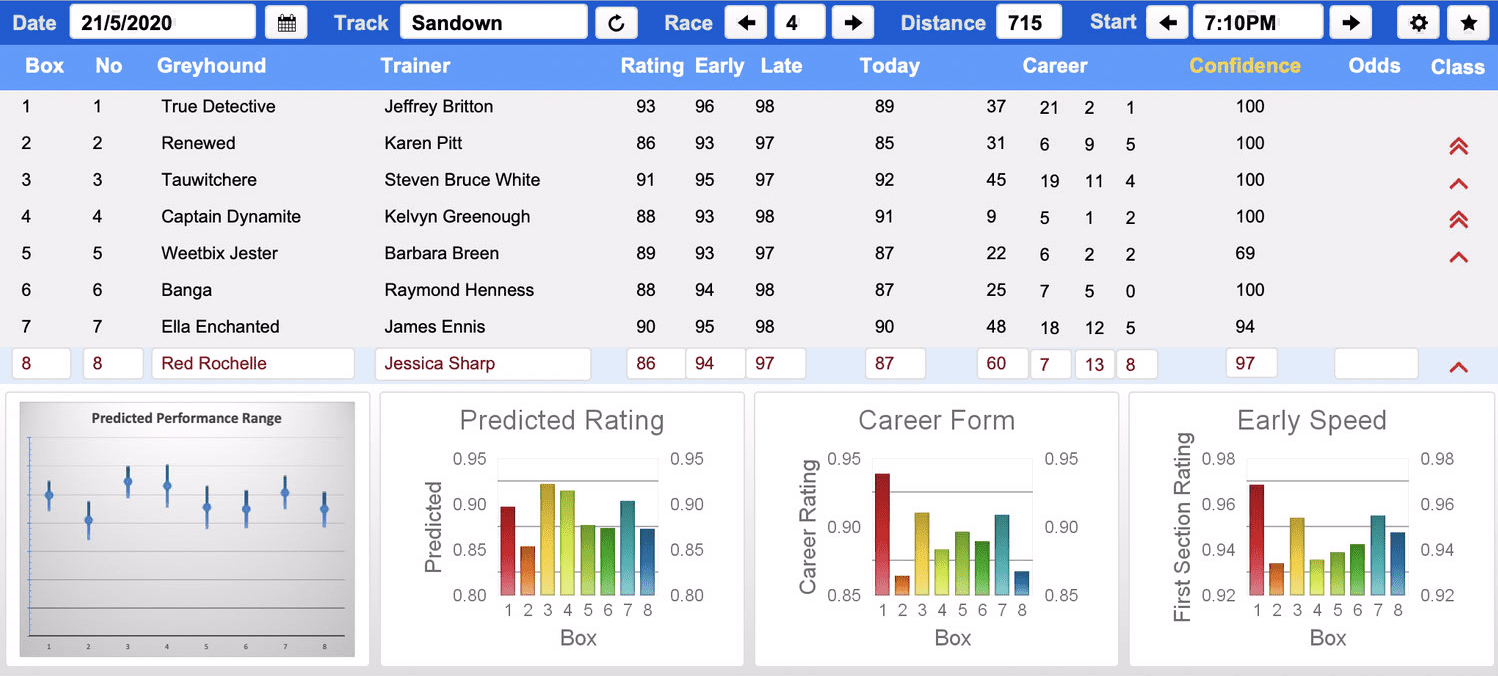 Really intriguing contest in heat two of the Sandown Cup, with Tauwitchere looking like nuisance value in the race, by setting the early pace and then dropping out late. Captain Dynamite will be tackling the Group 1 heats at just his 10th start having won five races from 525m up to his staying debut just over a week ago running 41.76 here at Sandown. The greyhound has the early pace to go with Tauwitchere and will see her off late.
One concern with Captain Dynamite is that Tauwitchere will cause him interference as they both have a mild swooping style of running getting a few dogs off the fence in the straights before cutting down on the corners. The other risk is that Captain Dynamite is a greyhound looking to run time again coming off a fast staying debut. The risk is slightly offset by the 11 day gap between runs, but nonetheless fast debut staying wins can often flatten greyhounds not matured to running the trip.
Ella Enchanted is the other likely on pace runner and should get all favours in behind the leading pair. The Jamie Ennis trained greyhound has been down on form since resuming from a four month spell though and is facing the starter at her eighth run this prep. She is a long way on form from the greyhound that ran 41.49. Ella Enchanted might be well placed to take advantage of any interference among the leading pair, but otherwise is not a genuine winning hope although capable of filling a hole.
The Jeff Britton trained True Detective goes well from box one and comes in to the race seventh up off a one month spell. Another who is racing just below his best form, although he does have wins over Ella Enchanted and Rajasthan to his credit this prep. Looks likely to be on the rise form wise, and while he'll probably peak on final night he looks very well placed in this heat to qualify for the big dance the following week.
Sandown Cup Heat 2 Tips
True Detective is not a betting proposition as $2.60 best price favourite for this race, and even the $8.00 futures bet for the final offers no value. Tauwitchere is $13.00 best, Captain Dynamite $3.10 and Ella Enchanted going out $7.00.
While this race will prove to be a spectacle to watch, the betting markets have made it a tough race to find a bet. Ella Enchanted could have represented some opportunity as a place bet but the $1.50 is putrid odds. Captain Dynamite shapes the most likely bet at $3.10 as we have him priced at $3.00; but for the reason above we need to go lightly.
Sandown Cup Heat 2 Selections & Best Bet
| | | |
| --- | --- | --- |
| FIRST | SECOND | THIRD |
| 4. Captain Dynamite | 1. True Detective | 7. Ella Enchanted |
Sandown Cup Heat 3 Betting Preview
Mister Harlewood is being promoted as the next big staying star and nothing about this race will dispel that notion. The Jeff Britton trained greyhound has won all four of his starts past the 700m mark either leading or sitting second early. More impressively, he has exceeded his expected rating at each of his past five starts, and is racing sixth up off a 23 day freshen. Drawn to lead, nothing in this race will catch him.
Of the rest, Just Terms can show enough toe to race behind Mister Harlewood, but could face traffic from Blazing Cartier, Look Fancy Nancy, Blue Shadows, and even Angry Trip early. If able to see clear air she could make it through to next week's final, but has raced down on form at her past two starts.
Look Fancy Nancy is a greyhound on the up having won four of her past five starts, including a last start win at her staying debut at Richmond over 717m. She has continued to improve her rating at each start, and while this is a fair class jump, she does look a genuine stayer who can race handy in running. Transferred from her NSW trainer David Smith to Victoria's Jamie Ennis, she looks to get every hope to make it through to next week's final.
Sandown Cup Heat 3 Tips
Mister Harlewood just wins, but they are asking you to take $1.65 in a Group 1 heat where there is plenty of depth. Equally the $4.00 on offer with the all in futures markets looks very marginal.
There is $2.75 best price the place on offer for both Just Terms and Look Fancy Nancy. Look Fancy Nancy is $18.00 in futures markets while Just Terms is $21.00.
Happy to be with the momentum greyhound on the way up, and back Look Fancy Nancy to run a place with a small futures bet at the $18.00.
Sandown Cup Heat 3 Selections & Best Bet
| | | |
| --- | --- | --- |
| FIRST | SECOND | THIRD |
| 1. Mister Harlewood | 4. Look Fancy Nancy | 5. Just Terms |
Sandown Cup Heat 4 Betting Preview
Final heat and 2018 Sandown Cup winner Tornado Tears takes on 2019 winner Rajasthan. Rajasthan returned to form with a last stride win at Sandown here on Sunday in a mixed 4th/5th grade stake, but that hardly stacks up as Group 1 form. The Rob Camilleri trained greyhound had been diabolical at his previous three starts, racing well below his rating. He hasn't won a staying race since August 2019 when he beat Tornado Tears in the Victorian National Distance Championship final. While capable of finishing thereabouts, he won't be winning this either.
Tornado Tears is impossible to measure in this. Undoubtedly "blessed" with an enormous motor, he needs absolutely everything to go his way to produce it. The Rob Britton trained greyhound is first up here off a three month spell since finishing down the track in the Group 3 Miata at Cannington. While most greyhounds wouldn't cope with a first up tilt over 715m off that spell, Tornado Tears is not a greyhound that can endure long preps as it mentally or physically jades him. Importantly Britton has used this tactic once before when Tornado Tears raced first up for four months winning the Group 1 Zoom Top at The Meadows. Have to have faith Britton has him right for this, but the old boy is another year older.
Submission, Rajasthan, New Punchline and Zipping Clifford look the likely pace in the race, which could spell trouble for the three drawn the inside of the track. Zipping Clifford is fairly one paced but is more than capable if no one gets in his way. If he finds a way to near the front, he will still be batting away with 50m to go. He has managed to produce higher than expected ratings at each of his last six starts and is only having his sixth start over the staying trip here. The Jeff Geall trained greyhound is still learning his craft as a stayer and is on the rise.
Sandown Cup Heat 4 Tips
Rajasthan is poison odds at $3.20, we have him priced $6.50. There is $4.40 best price on offer about Tornado Tears where we have him a $3.00 chance on best form. Zipping Clifford is being sent out $21.00 despite the fact we have marked him $8.00
Couple of betting options here. If you can take the leap of faith in Rob Britton and Tornado Tears then $4.40 and $26.00 in the futures is great value. Alternatively Zipping Clifford represents great each way value at $21.00 and $3.70 best.
Happy to play both for a profit and back Tornado Tears to win, and Zipping Clifford small the win and heavy the place. Also taking both in the futures, although Zipping Clifford at $31.00 in that market represents less value.
Sandown Cup Heat 4 Selections & Best Bet
| | | |
| --- | --- | --- |
| FIRST | SECOND | THIRD |
| 5. Tornado Tears | 6. Zipping Cliffford | 2. Rajasthan |
More Greyhounds News