Sandown Launch Sandown Sixes Promotion

The Sandown Greyhound Racing Club is giving patrons the chance to dine for free with the launch of its Sandown Sixes promotion.

From 1 August, anyone who books a table of six or more at Sandown Park will have the entire value of their booking refunded if three dogs wearing number 6 win on the night they attend.
Based on results over the past five years, the chances of three sixes getting up on an 11 race card on a Thursday night at Sandown Park is approximately 9/1 – good odds in anyone's language!
And even if three 6s don't get up, guests will still enjoy a night out at Australia's premier greyhound venue. It's effectively a free bet that could net a business or sporting club thousands of dollars.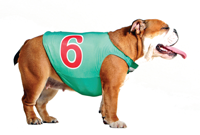 The management at Sandown Park is a little nervous. Fortunately, the rules don't allow the Club's mascot to be included as a runner (pictured).
Some conditions do apply, so visit www.sandowngreyhounds.com.au for full details.
More greyhound news