Vic Bred final victory a career highlight for team Sharp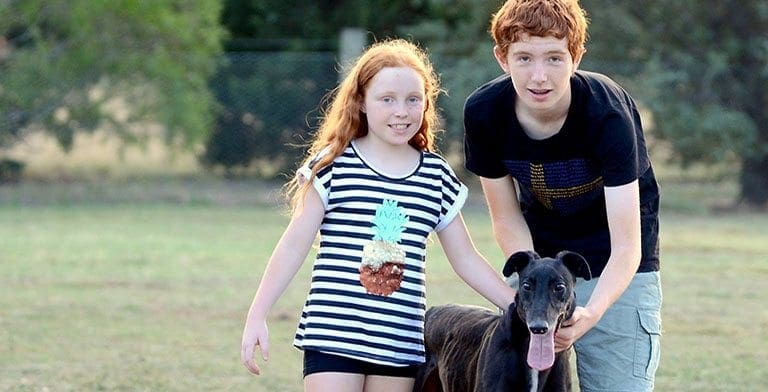 LARA trainers Jessica and Jason Sharp celebrated a career highlight at The Meadows on Saturday night when their classy youngster Oronsay won the Group 3 Vic Bred Maiden Final (525m).
Starting from box six, Oronsay was quick to leave the traps, rolling straight to the early lead over Brueghelino (box two) and her litter mate Angel Dash (box one).
The black and white bitch led by three lengths down the back and, despite getting tired in the run to the line, was able to do enough to hold off Brueghelino to score by 0.11 lengths in a handy 30.13.
Sharp, who has 70 greyhounds in work with her husband Jason, said it was a huge thrill to land her biggest win after almost a decade within the industry.
"We are very happy – it was very exciting as it was our first ever group win," Sharp told Australian Racing Greyhound.
"We have been training for nine years now, but only five of them have been full time.
"You can never be too confident, but we were very happy with her heading into the race – she had done a good job the week before and in her heat.
"It has always been a dream of ours to win a group race and although it wasn't a major group 1, it is still that one step up from a city race and has just given us that really big boost to keep doing what we are doing."
A daughter of Walk Hard and Dirty Angel, Oransay, as well as her entire litter, was given to Sharp to train by her owner and breeder Sam Bonaccurso when he decided to hang up the collar and lead.
Of the seven pups in the litter, six have now won races whilst the remaining pup was re-homed through the Greyhound Adoption Program.
Now with two wins and two minor placings from six starts, Sharp is excited to see what Oronsay can do in the future, but says she does not want to get too carried away.
"They are all coming along nicely, but of course we will have to wait and see – you can't take anything for granted in this industry, you have to take each day as it comes.
"But hopefully a couple of them, including her, have bright futures."
Sharp also praised the work of her children Liam 15, Dylan 14 and Mia 10, as well as their kennel hand Jye, following the victory.
"It is a real family affair for us and our three kids – everybody has to put in and go through the ups and downs," Sharp said.
"The kids become very attached to the dogs, they know them all, and they help us out a lot.
"They enjoy coming to the races and now our eldest son is starting to handle some of our dogs at the track and he is doing a great job."
Despite the many challenges which come with training greyhounds, Sharp said moments like Saturday night re-inforce why they are involved in the industry.
"It has been tough at times and there is still probably a long road ahead, but even when you are hanging on by your teeth it is just something you don't want to give up.
"It's a passion so you stick with it hoping things will work out and it looks like things are finally starting to pay off.
"It makes you feel like all the hard work is worth it and gives you a reward – it just gives you hope for the future."
More Greyhounds News