Will Dundee Calypso become an Australian Super Stayer?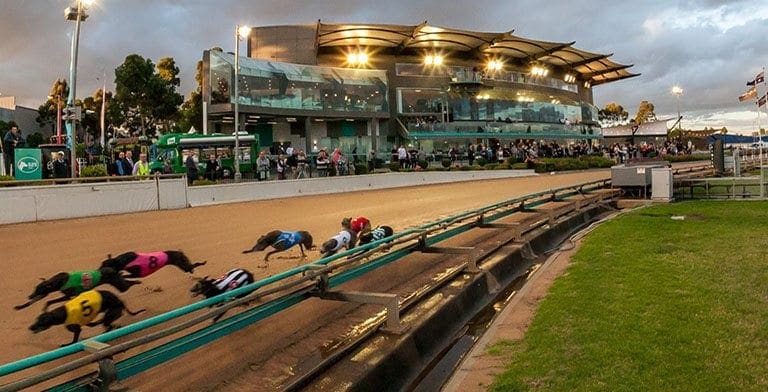 DUNDEE Calypso will be aiming to emulate the feats of her star kennel mate Dundee Osprey by winning a group 1 when she contests Saturday's Australian Super Stayers (725m) at The Meadows.
Trained by Geoff Scott-Smith, Dundee Calypso comes into the final following a credible third in her heat of the $100,000 event last week, finishing just over four lengths behind the winner, Trip To Eden.
Scott-Smith said he was rapt with his bonny bitch's performance at just her fourth run over the staying trip since resuming from an injury enforced break late last year.
"She was very pleasing – I thought she ran the trip out well whereas prior to that short letup I was finding that the last 50m was finding her out," Scott-Smith told Australian Racing Greyhound.
"She hasn't had a lot of starts over the 700 and each time she goes over the distance she seems to run it out a little bit stronger.
"She just seems to be improving a little bit all the time."
The daughter of Barcia Bale and Crown Glory will start from box one in the decider where she will take on a sensational field including the country's best stayer, Burn One Down.
While conceding she probably isn't up to the standard of some of her opponents in the final, Scott-Smith says Dundee Calypso should benefit from the box draw.
"She is probably five or six lengths off being a top class stayer, but she makes up for it because she is determined – she is a very hard chaser and she is quite smart in a field," he said.
"Box one is beautiful – it is the best box she could get because she is always looking for the fence.
"She is going to need all the luck she can get, but drawing box one will definitely help her out."

After drawing middle and wide boxes at her past five runs, Scott-Smith is hoping his charge will be able to use the inside box to hold a forward position on the fence.
"If she can hold her spot on the fence that will make a lot of difference – I am not expecting her to win but I think she can at least run a place," he said.
"She matched motors with Burn One Down at Cranbourne for the first 600m and then he just took off – but with that being said there probably isn't a dog in Australia that could go with him at the moment.
"It is probably a bit beyond her to win it when you are looking at times, she would need a bit of trouble behind her.
"With that being said it doesn't take much to lose four or five lengths when you get held up or in trouble, so I am hoping she can get up near the front and then anything could happen.
"It would mean the world to win because even when I broke her in she has always been a mad keen chaser – she is a special little girl."
Meanwhile, after scratching kennel star Dundee Osprey from last week's Group 1 Australian Cup heats, Scott-Smith says the champion greyhound is recovering well.
"After the Rookie Rebel he pulled up limping the next morning. He got a few whacks during the race and he may have jarred up a bit because the track was very quick.
"He seemed to come good during the week – but on Saturday morning he came out of the kennels a bit proppy so I didn't want to run him in the heats.
"If he wasn't 100 per cent I wasn't going to run him – but he is ok now – two days later he was tearing around the yards like nothing was wrong with him.
"If I had of run him I could have made it worse."
Scott-Smith said the three-time group 1 winner will now be aimed at the heats of the Group 1 Golden Easter Egg (520m) at Wentworth Park on April 1.
"He has been racing since he was 18 months so he has been up racing for a fair while with only little breaks here and there.
"I will give him a couple of weeks off now and get him set for the Golden Easter Egg – he may have one start in the lead up – but that is the main goal with him now."
The Group 1 Australian Super Stayers is race six at The Meadows on Saturday night and will jump at 8:38pm.
Group 1 Australian Super Stayers – latest odds
1 – Dundee Calypso $14
2 – It's A Fling $11
3 – Trip To Eden $4.80
4 – Obi Kenobi $35
5 – Teddy Monelli $6
6 – Burn One Down $1.60
7 – Azurite $31
8 – Alera Bale $12
Reserves
9 – Jaimandy Hatty $11
10 – Zipping Zeus $7