Gerogery Bushfire Survivors Need Homes

They were quick enough to dodge the Gerogery bushfire when it hit town, but not quick enough for the racetrack.
Now dog lover Mary-Jane Jaksetic hopes Solly, Anna, Cyan and Daisy can dodge another uncertain future by finding a good home.
The Gerogery woman rescued the quartet of greyhounds from a rearing and racing kennel.

"It is so sad, ……because they had become a liability rather than an asset," Mrs Jaksetic said.
"The old girl raced and had a litter of pups but the other three never even made it to the racetrack.
"I took them in hoping that I could find them a home.
"I have been advertising and have had any number of calls but so far no takers."
Mrs Jaksetic believes people have the wrong perception of greyhounds.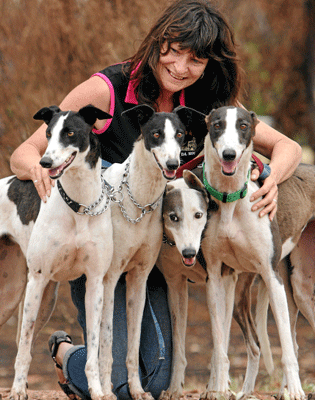 "They see them with muzzles and think they have to be vicious when in fact they are anything but," she said.
"They are the biggest sooks, they are low maintenance and the original couch potato.
"I'm a dog trainer and have dealt with aggressive dogs but you can do anything to this lot and they'll still lick you."
Mrs Jaksetic said the dogs survived the December wildfire that destroyed her neighbour's home in Gerogery.
"It was the hardest thing I have ever had to do," she said.
"The police knocked on my door and said the fire was about to hit and I had to get out — they said there wasn't time to grab the dogs.
"We jumped in the car and smoke was black, you couldn't see a thing and yet somehow the fire spared them."
If you can provide a home for the dogs phone (02) 6026 0674.
Original Source : Brad Worrall, The Border Mail.
Original Photo : Kylie Goldsmith