Zammit calls for quicker greyhound rehoming period in NSW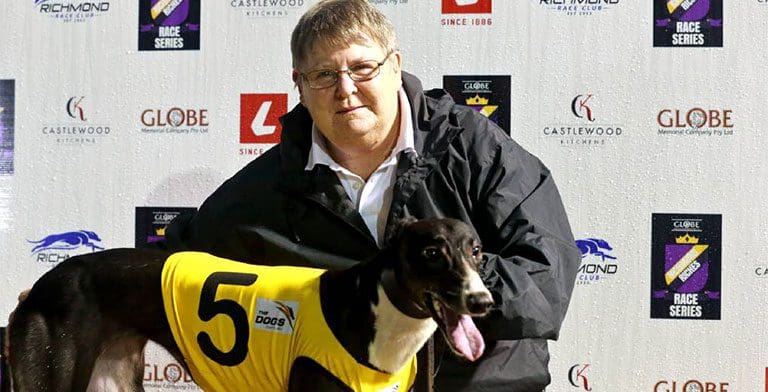 Veteran Londonderry owner-trainer Joanne Zammit believes much work still needs to be done on the wait times for rehoming racing dogs into New South Wales' Greyhound Adoption Program.
She is currently frustrated at having to wait up to six months for her former competitors to find new loving homes, despite her best efforts.
"We're struggling to get dogs into the adoption program. That's a major issue," she told Australian Racing Greyhound.
"If we can't get dogs into the adoption program, we can't turnover (our kennels).
"We bred two litters and we're racing those two litters. I waited six months and I was told I was one of the lucky ones to get a dog into the program."
Zammit, who has been conditioning racing dogs for 30 years, believes the wait times to get former competitive greyhounds into new homes are affecting everyone in the industry.
"It is a long time. It's like a merry-go-round, isn't it?" she said.
New South Wales' Greyhound Welfare and Integrity Commission (GWIC) states the following on its website:
"Greyhound owners are responsible for rehoming any greyhounds that they do not wish to retain.
 
"The Commission's Greyhound Rehoming Policy specifies the requirements that greyhound owners must meet in attempting to rehome greyhounds that are retired from, or otherwise unsuitable for, racing.
"Failure to meet these obligations may result in disciplinary action."
Despite Zammit's attempts to have her dogs cared for after their racing careers finish up, the backlog on finding caring new owners has led to a common feeling of anxiety among trainers in NSW.
"If we can't move dogs on where their careers are finished, and if we can't care for them ourselves, then everyone down the line – it affects their jobs," she said.
"I don't think they (governing bodies) understand this.
"I've got old dogs on my property that I'm still looking after. But there just comes a time when you've got to move them on.
"It's hard because of the regulations. You've still got to care for them the same way you do for a racehorse."
Australian Racing Greyhound contacted GWIC with questions regarding the concerns Zammit has put on the record.
The regulatory body said it often consults with racing industry participants on the difficulty of rehoming greyhounds.
"It is a greyhound owners' responsibility under the Greyhound Code of Practice and the GWIC Rehoming Policy to rehome a greyhound at the end its racing career," a GWIC spokesperson said in a statement.
"A trainer is only responsible where they are also the owner of the greyhound. GWIC regularly consults with industry participants, and other industry bodies, and is aware of the difficulties that greyhound owners experience in rehoming their greyhounds.
"The management of industry rehoming programs is the responsibility of GRNSW, through its Greyhounds As Pets and associated outreach programs.
"The Commission is currently consulting with industry stakeholders in relation to reviewing its rehoming policy.
"In early 2022, GWIC introduced a local rule which assists trainers to ensure that owners take responsibility for rehoming their own greyhounds. Where trainers are experiencing difficulties with owners not meeting their obligations, they should contact GWIC on 13 49 42."
GWIC said it does not take disciplinary action against participants who have met the requirements of the rehoming policy but have been unable to rehome a greyhound.
"GWIC is responsible for ensuring that greyhound owners rehome their greyhounds in accordance with the Greyhound Welfare Code of Practice and GWIC Rehoming policy," the spokesperson said.
"The Commission investigates alleged breaches of the Policy and may take disciplinary action against a participant where a breach is proven. The Commission does not take disciplinary action against participants who have met the requirements of the Rehoming Policy but have been unable to rehome a greyhound."
GWIC said it communicates with greyhound owners if they are experiencing issues rehoming their dogs.
"GWIC regularly communicates with participants regarding the Greyhound Rehoming Policy and rehoming issues," the spokesperson said.
"The Commission uses a variety of media including publications on its website and in print, its 'Inside Rail' newsletter, on Facebook and via email.
"The Commission also liaises directly with participants and holds regular meetings with the Greyhound Breeders Owners & Trainers Association (GBOTA) and Greyhound Racing NSW in relation to rehoming."
Meanwhile, Zammit was delighted with Cosmic Billy's comfortable three-length win in a free-for-all race over 320m at Richmond on Sunday night.
It was his 10th victory from 25 starts, taking his career earnings up to $18,300.
"Very impressed because I thought he was a bit outclassed," she said.
"He gave a lot away maturity-wise and start-wise."
Zammit said she wasn't sure where to aim Cosmic Billy next.
His only city start so far in his young career saw him finish sixth over 280m, running 16.43 seconds after a crowded start from box two on November 23.
"I really don't know, to be honest," Zammit said.
"He was going to have a crack at the Wentworth Park (Summer) Series. I trialed him there and he went 16.2.
"I put him in and he had no luck. And I thought 'no, bugger it I'm going back to my home track'.
"I brought him back and he's won two straight. He's only just turned two.
"He was two at the end of October. So he's still got one and a half years to two years ahead of him."
Similar Greyhound Racing News