Zinzan Brooke sensational in Group 3 Healesville Cup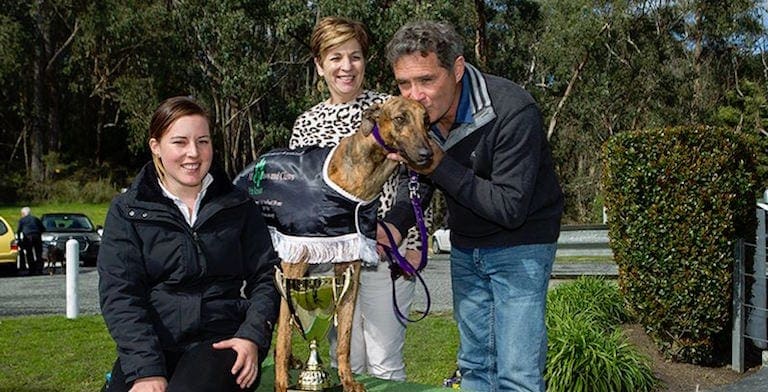 BROOKE and Jamie Ennis pulled off a training masterstroke on Sunday afternoon when Zinzan Brooke (Knocka Norris x All Fired Up Jan '14) saluted in the Group 3 Healesville Cup (350m).
After winning his heat the week prior in a fast 18.90 off box six, Zinzan Brooke appeared beautifully drawn in box two for the $25,000 to the winner event.
Jumping well, the brindle powerhouse stalked the leaders in the early stages before unleashing a powerful finishing burst to score by just under a length ahead of Aston Dee Bee (Barcia Bale x Aston Elle Apr '15) in 18.89.
Owner Wayne Thomson, who trained Zinzan Brooke throughout the early stages of his career in Queensland, was rapt with the performance.
"It was an extraordinary field but he was drawn on the right side of the track and the luck went our way," Thomson told Australian Racing Greyhound.
"He is a very special dog and I can't commend Jamie and Brooke enough for the job they have done with him – that's why he is down there – they have just done a brilliant job with him."
The win was especially impressive given Zinzan Brooke hadn't started in six months prior to the heats of the Healesville Cup series, his last start being en enormous win in the Group 2 Shepparton Cup on July 29.
"He wasn't 100 per cent right going into the Shepparton Cup final so he just had a bit of a break after the win and they got him right," Thomson said.
"Full credit to them – they got him spot on for the series and it couldn't have worked out any better."

Thomson, who missed being on course for the Shepparton Cup victory, was elated to be on course on Sunday to see his pride and joy cross the line in first spot.
"Jamie wasn't overly confident going into the Shepparton Cup so we didn't go down," Thomson said.
"But we knew he had a good chance on Sunday so we made the trip and win, lose or draw I would have been happy to experience it – Healesville is a great track.
"It was nice to see the dog too. We stayed away prior to the race, but afterwards we gave him a big hug.
"He is a funny dog – he doesn't like the limelight – he is a real professional. I think he just wants to go there, do his thing and get his chicken nuggets on the way home."
Zinzan Brooke has now raced 35 times, amassing 26 wins and two placings, with his prize money earnings now in excess of $137,000.
Thomson has labelled the greyhound a 'miracle' in the past, having overcome surgery to fix a twisted stomach which was then stitched back into place as an unraced pup.
Following the victory on Sunday, Brooke Ennis said Zinzan Brooke will now target the Adelaide Cup, the Geelong Cup and Melbourne Cup if all goes to plan.
Thomson said he is happy to leave all the decisions with Team Ennis, stating that his performer doesn't have anything left to prove to him.
"Anything he does from here is a bonus," Thomson said.
"He is a miracle dog to have even made the track after what he went through as a young dog let alone be winning group races – it doesn't matter what happens from here as long as he is safe and happy we are happy."
Similar Greyhound Racing News