Better Call Caul: Double bubble for Sutcliffe at Shelbourne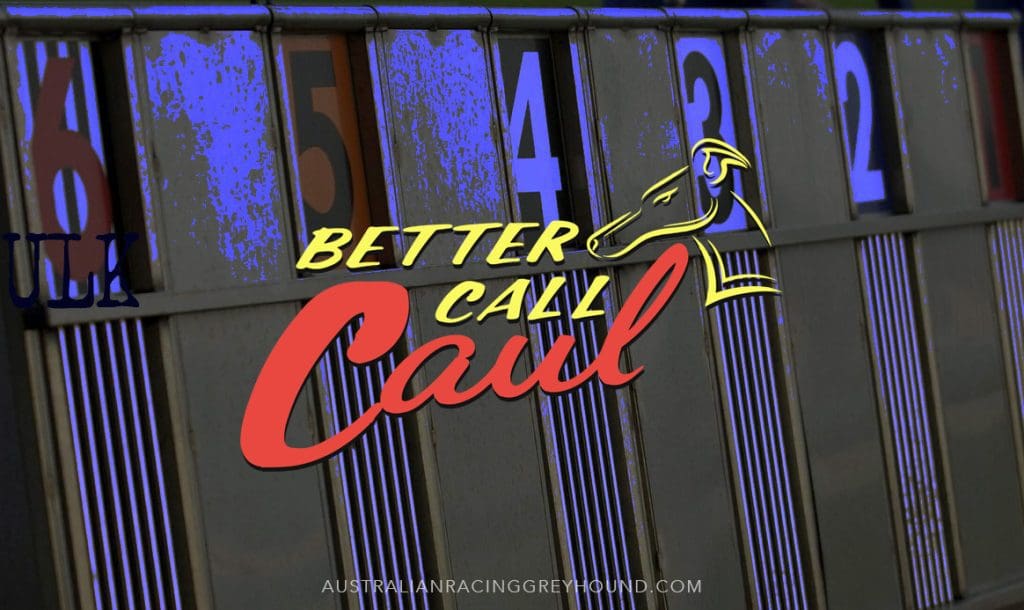 Leading Irish trainer Patrick Guilfoyle had an excellent treble at Shelbourne Park on Saturday night over three different distances, two of which belong to Australia-based owner Peter Sutcliffe. The opening leg of the Guilfoyle treble come in round two, heat two of the Corn Cuchulainn when Magical Poppy got the ball rolling. Flying from boxes Poppy led by a couple around the opening two turns ahead of Ballinabola Lola and began to press on up the home straight for the first time, by the third bend Poppy had established a five-length lead over Lola with Droopys Soldier in third some seven lengths off the leader. Ballinabola Lola, Droopys Soldier and Toolmaker Beach tried down the far side, but they could never get anywhere near to challenge Donal Guilfoyle's classy lady and she stayed on strongly to win going away in a superb 41:02. She had ten lengths in hand on Ballinabola Lola with Droopys Solider a further length back in third. It was one of the fastest runs over the trip in the past five years at Shelbourne, only Redzer Afdfert has gone faster back in 2019.
The second leg of the treble came in semi-final two of the Shelbourne Champion 550. The Other Kobe went to traps odds on to take the this but Patrick Guilfoyle's rapidly improving Vincenzo had other ideas. Predictably it was The Other Kobe who showed all his early pace to lead up the inside from Vincenzo and Newinn Homer. Hoodoo Brown went up the inside of Newinn Homer at the opening bend to take third, but after receiving a slight clip from behind Hoodoo was never going to get to the duelling leaders. Like last week Kobe had a narrow lead over Peter Sutcliffe's charge at the third bend and it played out identically once again. Vincenzo took it up turning for home, The Other Kobe tried to rally but Vincenzo was too strong stopping the clock in a blistering 29:30, Hoodoo Brown held off Oakfront Cadet to take third. 
Peter Sutcliffe was not finished yet and he registered a double on the night when his Explosive Boy gave trainer Patrick Guilfoyle a fabulous treble on the evening. On his day he is one of the Irelands best and if continuing to start like he did, he may well be Irelands best! Flying into the first bend off a 4.68 sectional Explosive Boy led up the strong running Sentimental Lad by two as they rounded the opening bends. Passing halfway it was clear Explosive Boy was going to have a real battle on his hands as Sentimental Lad closed the gap to a length on the third bend. As they turned to face home Explosive Boy dug deep to hold off the wide running Sentimental Lad by a length. The front two emerged with real credit. The winning time was stunning 30:75. It was a fine night for the Guilfoyle kennels, and many congratulations to all involved.
Tinnock Solis caused a mild surprise in the opening heat of the Corn Cuchulainn when getting up late to deny hot favourite Crafy Kokoro. Michael Devereux's charge has been mixing it with the best over this distance for quite a while now and she has firmly put a marker down as a leading contender for outright honours. Starting fast on the outside, Solis led up around the opening two turns before being headed by Crafty Kokoro passing the stands, Dark Ava was now starting to close on the leading pair back in third. As they raced down the far side Kokoro continued to lead and Tinnock Solis was now under pressure from Dark Ava who joined her for second at the fifth bend. However, Tinnock Solis was not done yet, she ran the last two bends perfectly to get to the shoulder of Crafty Kokoro and stayed on strongly to get there near the line, in a career best time of 41:50. Crafty Kokoro ran well just a neck behind in second, Dark Ava took the remaining qualifying position. 
Ballymac Belvult and Generous Angel dominated the market in the third heat, but it was to be John O'Connor's Ballybreen Blaze who ran out a most deserving winner. The market looked to have it spot on passing the stands as Ballymac Belvult took it up to head Generous Angel passing the stands with an improving Bling Bling Paul back in third. At this stage Ballybreen Blaze was just at the tail of the field eight lengths off the leader. Halfway down the far side Belvult still had a couple in hand over Generous Angel but suddenly Ballybreen Blaze went from last to third and was really engaging top stride as the fifth bend approached. Swinging wide into the home straight John O Connors powerful lady swept past the leading duo and came home a comfortable winner in 41:83. Ballymac Belvult just held second from Generous Angel. The winner could have a bright future, it is worth noting, she was not stopping after the line either!
The first semi-final of the Shelbourne Champion 550 was won by Droopys Nice One for recent Oaks winning trainer Murt Leahy, who continues to have his runners in top form and Droopys Nice One was once again a very impressive scorer. It was Twoinarow who was first to show up from Droopys Nice One with Deadly Showtime going up well on the inner. The complexion of the race changed here when Deadly Showtime clipped the back of Twoinarow, and this allowed Droopys Nice One to establish a clear lead down the far side over Pablo Escobark who now moved into second ahead of kennel companion Deadly Showtime. The leader was gone beyond recall and had a six-length lead at the third bend for John Coleman over the strong running Pablo Escobark. At the line Droopys Nice One was four lengths to good for Pablo Escobark, who ran on strongly with Ballymac Ben taking third in a brilliant 29:32. The final takes place this Saturday night with all six qualifiers featuring prominently in the outright betting for the upcoming Irish Greyhound Derby.
---
Shelbourne Champion 550 Final draw & predictions
Pablo Escobark
The Other Kobe
Hoodoo Brown
Vincenzo
Ballymac Ben
Droopys Nice One
The Other Kobe looks a certain leader, and all eyes will be on what follows him around the opening turn with Vincenzo and Droopys Nice One most likely to do so. Hoodoo Brown and Pablo Escobark will be finishing best of all, and the draw may well work in their favour. Slight preference for me is for The Other Kobe to make all.
The semifinals of the 2022 Corn Cuchulainn will also take place at Shelbourne on Saturday night. Ballymac Belvult is fancied to take the first semi, while it is hard to get away from Magical Poppy in the second semifinal.
---
Special run by Coolavanny Hoffa
After a thunderous downpour before the start of our third race, dogs went to traps and we may have witnessed something incredibly special. Coolavanny Hoffa had shown plenty of promise in previous outings and was a real eye-catcher for me winning around here last time. Yet he bettered that performance, and in some style too. Quickly away from five he led up from Roxholme Duke in six and soon began to move clear of his rivals. Main market rival Droopys Optimum took a tumble at the first bend when making ground after a slow start. Others were caught up in the subsequent traffic and it was effectively a two-dog race from here on in. Hoffa then proceeded to turn it into a race against the clock and he simply flew to the third turn and never let up. Crossing the line eight lengths ahead of Roxholme Duke in a rapid 28:10. The track was far from ideal and given any semblance of a normal track you would have expected Mark and Michael O Donovan's charge to have broken the 28 seconds barrier. Nonetheless it was a superb performance. At $34 in the antepost market for the Irish Greyhound Derby, he makes plenty of appeal.
---
UK: Hove takes centre stage as Regency approaches
It's pretty quiet on the English scene this weekend after the recent English Greyhound Derby. However, Hove hosts a decent card on Saturday night where there will be plenty of clues on offer for the upcoming Hove Regency and the Sussex Cup.
---
This week's best bets
Irish Greyhound Derby – September 24, 2022
Greyhound
Coolavanny Hoffa
*Odds correct at time of publication
Similar Greyhound Racing News