Greyhound race is the second most bet upon racing code in Australia, behind the thoroughbreds and has a huge following right across the country. Our greyhound racing betting guide will run you through the basics of how to bet on greyhounds, the best companies for greyhound betting, greyhound racing bet types and give you an introduction to successfully betting on the greyhounds in 2022.
---
---
Greyhound racing betting introduction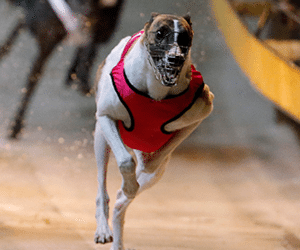 Greyhound racing is a key medium for betting and is the second-most popular code in Australia, with more than $3 billion wagered on it in the 2015-2016 financial year.
Greyhound racing is conducted in every state and territory and is prized for its short turnaround on a punter's investment; once betting is closed on a race the result is often known within 20-45 seconds.
A maximum of eight greyhounds compete in each race, each wearing a different-coloured stretch vest, with all pursuing a mechanical lure around a circular or oval-shaped track.
Sounds simple, right? In theory it should be: pick the fastest dog and put your money down, and it will win because it has run the best time in a jump-out, or last start. But like thoroughbred racing and harness racing, there are many variables. The box draw is crucial to a dog's chances and stats back this up. Is a dog coming back from a lay-off? What age is the dog? The list goes on.
Of course, one of the most important aspects of betting on greyhounds is getting the best odds. Signing up at multiple bookmakers allows you to check odds, get better access to future markets and gain access to the promotions they might be offering on specific events.
This page will take you through: the best bookies for having a punt on the dogs; how to get started if you are new on the scene; the basic strategy, with links to more in depth articles, of greyhound racing wagering; and the history of greyhound racing and how it become to be such a popular sport.
---
Next greyhound betting races
| | | | |
| --- | --- | --- | --- |
| | | Gawler - Race 2 | Now |
| | | Warragul - Race 1 | 6m |
| | | Warragul - Race 1 | 11m |
| | | Richmond - Race 1 | 14m |
| | | Richmond - Race 1 | 15m |
| | | Grafton - Race 1 | 18m |
---
Best betting sites for greyhound racing

Best betting sites 2022
With the recent advances in online betting and the emergence of numerous online racing and sports betting sites, there is plenty of value to be found when betting on greyhounds.
Often promotions will be run on one meeting, or a regular night of racing hosted at the bigger tracks like Wentworth Park and Sandown Park. However it is illegal to promote any new account offers at online betting sites. This is because of the Australian gambling laws, which are among the most strict in the world. Betting on greyhound racing online is exceptionally safe with regulated sites because of these measures.
Find a quality greyhound betting site in 2023 is a simple process with upwards of 15 different bookmakers accepting bets on this sport. It really does pay to shop around for odds, with there often big differences between prices at different bookmakers. Our greyhound odds comparison service is the best in the business and will help you always get the price.
---
How to bet on greyhounds online
Through setting up accounts with each of our top online bookmakers, you will be able to closely examine and compare the odds that are on offer and cash in on any special promotions they may be running. The bookmakers we recommend all have strong followings in Australia and are owned by respected international or home-grown companies.
Registering for an account is a quick and simple process, requiring just your basic information such as name, date of birth, address, an account name and password. There will also be a verification process which means you need to give the correct details when signing up at a bookmaker.
The bookies we endorse are all regulated by Australian jurisdictions and some of the safest bookmakers online, so they must comply with the highest standards to remain in operation.
Once it is fully registered you are then able to deposit cash into your new online betting account.
Some greyhound betting sites offer a sign-up promotion where they will match the amount you deposit or first bet. Ensure you know how to claim your bonus bets before making your initial deposit.
---
Greyhound betting tips
Australian Racing Greyhound is home to some of the best greyhound betting tips on the web, with our in-house form collated by our own technology. This is complemented by expert tipsters that know their stuff.
---
Types of greyhound racing bets
One of the biggest improvements when betting on the greyhounds in Australia has been the advancements in the bet types available. For instance, win and place bets were the staple in greyhound racing betting for many years, however now things like same race multis have revolutionised greyhound bet types.
Win: This is betting on a dog to win a race. For instance you might put $20 on the dog in box 1 at $5. If the dog wins you would receive a payout of $100.
Place: This is betting on a dog to finish first, second or third. You will receive the price the chosen dog is paying for a place. You need to be aware that if there are fewer than eight dogs in the field there may be no third dividend.
Quinella: This bet types has you selecting the top two dogs in any order. The payout depends on the odds of the dogs that finish first and second.
Exacta: This bet type is like a quinella except that you must get the dogs in order. Most online bookmakers only offer this variation of the exacta on greyhound racing.
Trifecta: The trifecta is picking the first three dogs past the post. There are different types of trifectas which include box trifecta, standout trifecta and roving banker trifecta. The box trifecta is the most common in greyhound racing, which means you pick three dogs or more and they can finish in any order. Obviously, the prices of the dogs which run the placings will influence the dividend dramatically.
First Four: You must get the first four dogs past the post in this bet type. Most Australian bookies have options where you can select the dogs in order or put the first four boxed. The odds are more lucrative when you pick the dogs in order.
Mystery betting: This is offered by some bookmakers, but the basic premise is that your bet is chosen for you. Sportsbet is one bookie that offers all the above-mentioned bet types in the "mystery bet" format.
Getting the best greyhound racing odds
It pays to shop around, or in our case, it pays to find the best odds. We always recommend having several different bookmaker accounts on the go. For instance Bet 365 has better futures odds than any other bookie, even though its website is second-rate in comparison with a bookmaker such as BetEasy. Come race day it might be BetEasy or Luxbet which are offering the best odds on the favourite. The more online bookmakers you are signed up at the greater the chances of snaring something at value odds.
Most online bookmakers offer Midi Div for greyhound racing which pays the second-highest dividend from across the three TABs for win, place and each-way bets. Two of the better bookmakers to offer this are BetEasy and Sportsbet.
Fixed-odds betting is also immensely popular with greyhound punters, making it important to compare prices among the online bookmakers to ensure you are getting the best possible odds about your chosen runner.
Additionally, many of our recommended bookies also offer special promotions. Upon sign-up they generally give new punters a welcome bonus. Once you are a member you will regularly be sent out promo emails offering you boosted odds or a special bet type on big events.
Greyhound betting strategy
Box statistics are often overlooked when punting on the dogs. For instance, the winning percentage of lower boxes is higher than those drawn on the outside. You would think each of the eight boxes would have a 12.5 per cent chance of winning, but in reality this is not true. Whether it is the slightly longer distance the outside boxes force the dogs to run, or the fact that there is
more issue with interference with the dogs in the middle boxes is a matter of opinion. At Wentworth Park the dog drawn in box one wins 18.5 per cent of the time, much higher than if every box had an equal chance. Obviously this is just a sample at one track, but there is merit in knowing the box statistics before placing bets.
Checking the greyhound ages can also be beneficial. Usually a male will peak at around two, while bitches won't reach their prime until around the three-year-old mark. For instance if you see a dog is four years old but hasn't raced since he was three, you would never take his exposed form as gospel, because the greyhound may have gone from his prime to over the hill in the space of 12 months.
If a greyhound's odds are slashed in the minutes leading up to a race in Australia, this is an indicator someone has crunched a certain dog in the betting, usually someone in the know, which can prove to be good mail.
Some punters believe if the track is heavy, or it is raining, light dogs will struggle, and they will swear by this belief. But then there are the people who poke holes in this theory every time it rears its head. But we think it is probably smart to steer clear of light dogs when they draw an inside box, because they tend to get knocked around on the bend.

Greyhound racing betting history
The first greyhounds arrived in Australia in 1770 with botanist Joseph Banks, who sailed to our great land with Captain Cook on the Endeavour. The first time greyhounds were used for sporting pursuits in Australia was for coursing during the 1860s. Back then native animals were used as the prey until hares were later introduced from England. The first coursing event was held in South Australia in 1867 and it became a popular pastime for many Australians. The use of live prey in coursing was later made illegal in Australia with the final event being held in SA in 1985.
Modern greyhound racing as we know it traces back to coursing, with racing on the first circular/oval track commencing in America in 1919 after Owen Patrick Smith invent the mechanical hare, often referred to as the "tin-hare". The first race in Australia using the mechanical hare was at Epping Park (later known as Harold Park) on May 18, 1927, after the Jack Lang Labour Government amended the Gaming and Betting Act to allow legal wagering. Tin-hare racing at Epping Park proved immensely popular with regular crowds of 20,000-30,000 at the meetings and more than 180 bookmakers on site.
Greyhound racing soon began to attract opposition from many conservative and religious groups which were against public gambling. In October 1927, the incoming Bavin conservative government amended the Gaming and Betting Act to make it illegal to bet after sundown, also refusing to issue any further licences to operate greyhound racing. This move severely hampered the growth of the sport before another almighty blow came in 1928 when the Supreme Court ruled mechanical-hare racing did not meet the conditions of coursing under the legislation, therefore there was to be no more betting activity on the new-found sport. Later that year the courts also ruled all betting on greyhounds was illegal because there was no provision for bookmakers at coursing events to pay tax on their bets.
These changes left the industry hoping for a change of government which came in 1930 with the return of Jack Lang. The sport was legalised the following year with the Harold Park-based Greyhound Coursing Association re-licensed and re-commencing racing in December 1931.
A long-overdue second metropolitan licence was granted in 1939 when the NCA began leasing the crown-owned Wentworth Park for greyhound racing. By the end of that year greyhounds were racing at both Sydney metropolitan tracks as well as 45 country courses. Greyhound racing did not just remain in NSW; coursing and mechanical-lure racing proved to be popular in all states around Australia.
Greyhound racing has survived over the years and stands proud as the second-most popular sport for betting in Australia. More than $3.1 billion was wagered on it during the 2013-2014 financial year.
The popularity of greyhound racing has continued to grow with the introduction of tote betting proving immensely popular. With full Pay TV coverage now on most meetings, punters can place a bet on the greyhound races from the comfort of their own homes, at the pub, or on the go wherever they are through their phone, without having to be on-course.