Crash Bandicoot gives Azzopardi second Vic Peters in three years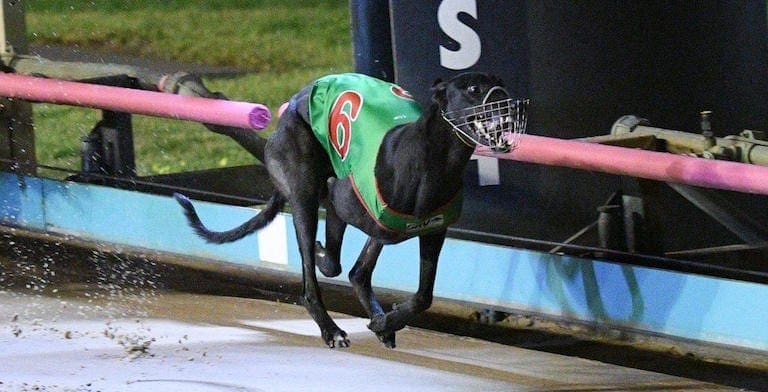 CRASH Bandicoot (Collision x J'S Robin Jul '15) recorded the biggest win of his career with a dominant victory in Saturday night's Group 1 Vic Peters Classic (520m) at Wentworth Park.
Stepping from box six as an $8 chance, the Anthony Azzopardi-trained greyhound jumped beautifully, but got caught wide around the first turn and was shuffled back to fourth spot.
Down the back the black dog found clear galloping room and began stalking the leaders, darting back to the fence swinging for home and railing underneath leaders Allonsy Grace (Johnny Fire x Brigette's Grace Jul '15) and Shallay Pallay (Barcia Bale x Set To Shine Jul '15) to take the lead.
Approaching the line Crash Bandicoot slipped into top gear, striding clear to win by two and a half lengths over Chasin' Crackers (Fabregas x Lady Arko Aug '15) in 30.21.
Allonsy Grace rounded out the trifecta, whilst race favourite Bekin Street (Bekim Bale x Serisier Street Sep '15) never got into the race after a slow beginning.
Azzopardi, who also won the Vic Peters in 2015 with Zambora Brockie (Nitro Burst x Flying Liddy Sep '13), praised Crash Bandicoot post-race for the determined win.
"[Box] six was a bit of a downfall with this dog, but he jumped perfect tonight – that's probably won him the race really," Azzopardi said.
"Up the back, he's so super strong, I knew he'd be hard to beat from there – he just had to get around them that's all.
"He just needed that little luck to get underneath [around the home turn].
"It was a big win too – he didn't get it his own way."

Crash Bandicoot, which is owned by Hayley Moffit, has now won 11 races from 26 starts with seven placings and more than $110,000 in prize money earnings.
Azzopardi said he has always had ability and believes he could make a top-line dog once he matures.
"He is a very good dog. In time I think he will get better, but at the moment…he is just a young dog,
"He needs to learn to settle down a little bit because he is a bit over-keen, but when he gets his rhythm he'll be a nice little dog."
WATCH ? Crash Bandicoot railed his way to victory in the Vic Peters with a peach of a run at Wentworth Park pic.twitter.com/PBWJk45y1j
The Victorian trainer, who also won the Group 1 Adelaide Cup last month with Raw Ability, said the world's richest greyhound race, the Group 1 Melbourne Cup, will now be the target for Crash Bandicoot.
"You can't go past the Melbourne Cup – it's a trainers dream to win," he said.
"I think he's got the ability, I'm not going to say he'll win the Melbourne Cup, but I have got to put him in it because he can run 29.30 at Sandown.
"He has to be drawn well, but he is a group 1 winner now so I don't have to worry about the Preludes…we'll see what happens."
The heats of the Group 1 Melbourne Cup will be held at Sandown Park on November 17.
More Greyhounds News