Salad Dodger gives Anthony Azzopardi a shot at back-to-back Shepparton Cups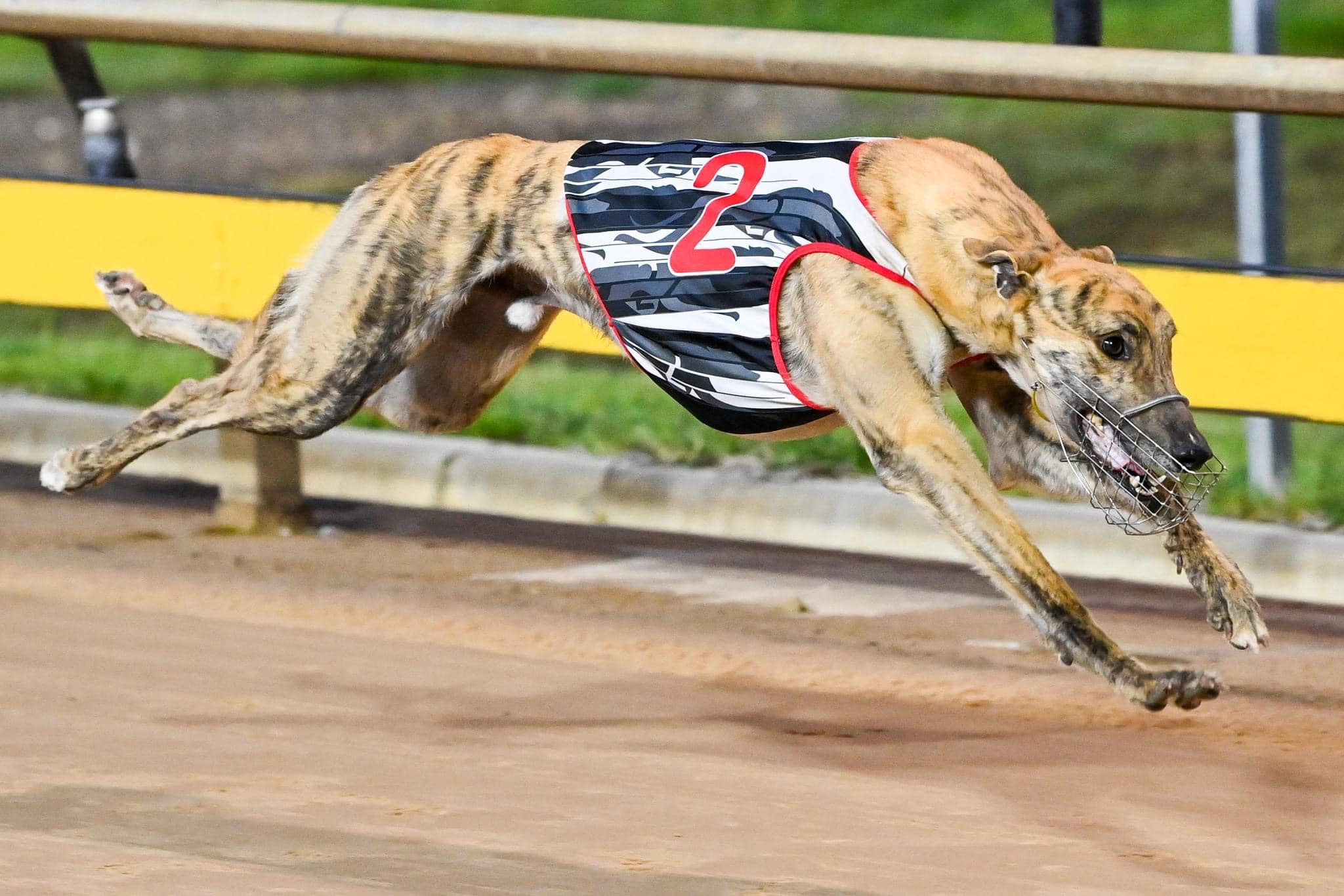 The Anthony Azzopardi-trained Salad Dodger last night demonstrated a courageous finishing burst to set the pace, qualifying fastest for the 2023 Group 2 Shepparton Cup Final in best of the night figures and give Azzopardi a chance at back-to-back Shepparton Cups.
Coming in to the race having been beaten in track record time by She's A Pearl in the 2023 Group 3 Temora Cup final, Salad Dodger was able to reel in 2023 Group 2 Horsham Cup placegetter Matt's Hope in the shadows of the post running 24.93 for the 450m journey.
Salad Dodger, who is owned by Aiden Lee and was bred by NSW breeder Bradley Barnes; is a son of Azzopardi's 2019 Melbourne Cup winner Whiskey Riot and from broodbitch Winsome Sandy who hails from the prodigious John and Minnie Finn bred damlines.
Going in to the $47,000 to the winner 2023 Shepparton Cup Final, Salad Dodger will have to overcome his box five draw in the final if trainer Anthony Azzopardi is to win his second consecutive Group 2 Shepparton Cup, having won last year's final with outside chance Substantial.
Salad Dodger has won 16 of 41 starts with a further 16 placings earning $116,655 in career prizemoney.
Salad Dodger will be searching for his first Group success having previously been twice placed in Group 3 finals and was runner up to Typhoon Sammy in the 2022 Bendigo Cup.
2023 Group 2 Shepparton Cup Heat 2 (450m) – Salad Dodger (24.93) T: Anthony Azzopardi
---
Sale greyhound trainer Chris Tilley will be the only trainer with multiple chances in the 2023 Shepparton Cup Final after training a winning double in the heats winning Heat 3 with Always A Thrill (25.15), and the last of the four heats with Fire Hose in 25.12.
Both Tilley's greyhounds had the advantage of the red box in last night's heats and will get every chance in the final having drawn boxes two and three respectively for Saturday's Group 2 decider.
Always A Thrill and Fire Hose are litter brothers from the mating of Aussie Infrared and Okawa In Black, and both were retained in ownership by breeder Greg Fardell.
2023 Group 2 Shepparton Cup Heat 3 (450m) – Always A Thrill (25.15) T: Chris Tilley
---
2023 Group 2 Shepparton Cup Heat 4 (450m) – Fire Hose (25.12) T: Chris Tilley
---
The opening heat of cup was won by Lektra Heckler for young Pearcedale trainer Jake Loverso in 24.96.
Prolific owner and breeder Phil Lenehan trained the son of Zambora Brockie and Lektra Viki for his first 10 wins and 12 placings before sending the greyhound to Loverso to train.
In seven starts for Loverso, Lektra Heckler has won all seven races, four of them in best of the night times.
Lektra Heckler will start Saturday's final inside Salad Dodger from box four.
2023 Group 2 Shepparton Cup Heat 1 (450m) – Lektra Heckler (24.96) T: Jake Loverso
---
2023 Shepparton Cup Final Box Draw & Field

Shepparton45mGroup 2$47,000 to-the-winnerSaturday March 25 2023

1

Fernando Mick

T: David GeallF: 1152Career: 103: 35-22-16Prizemoney: $853,776

2

Always A Thrill

T: Chris TilleyF: 2251Career: 35: 10-9-9Prizemoney: $58,275

3

Fire Hose

T: Chris TilleyF: 1341Career: 24: 10-5-1Prizemoney: $51,686

4

Lektra Heckler

T: Jake LoversoF: 1111Career: 39: 17-10-2Prizemoney: $51,846

5

Salad Dodger

T: Anthony AzzopardiF: 5121Career: 41: 21-4-1Prizemoney: $116,655

7

Indy Fido

T: Tom DaillyF: 2162Career: 70: 12-13-9Prizemoney: $105,368

8

Matt's Hope

T: Michelle MalliaF: 1232Career: 65: 30-10-8Prizemoney: $115,313

Reserves

9

Tinker Norm

T: Craig BurnsF: 1233Career: 24: 11-4-3Prizemoney: $56,705

10

Jungle Panther

T: Jeff GeallF: 5113Career: 64: 26-10-10Prizemoney: $166,370
---
---
Similar Greyhound Racing News