Tears flow as Jacob Biddell trains his first winner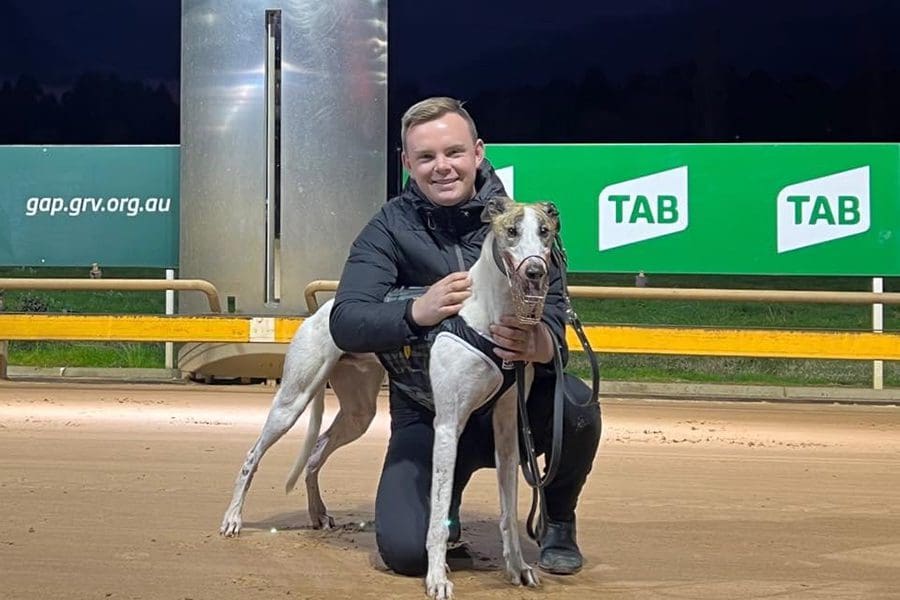 Former racing track work rider Jacob Biddell no doubt shed plenty of tears at Warragul last night, after training his first winner with Teflon Tears saluting over the 400m.
Stepping beautifully from box 7, the son Fernando Bale and Tears Siam led throughout in an impressive display to score by 2.25 lengths in 22.81. It was the white and brindle chaser's 11th career victory from start 34.
Biddell has only recently taken up greyhound training, with Teflon Tears having his first start for the Victorian-based mentor back in April. One big advantage he has is a plethora of knowledge from his experience with the horse racing industry, which no doubt will see him notch up plenty of winners in the years to come.
"Being a horse racing trainer is hard work, you need a full team of staff and a lot of money behind you, where training greyhounds you can kind of do it on your own merit and give it a go yourself."
"For me, the reason I got into it was I've had off the track horses, so I got an off the track greyhound who was retired and absolutely fell in love with him and then I thought these are such a great breed and thought why don't I give training them a go."
"I've got some friends who are greyhound trainers in jockey Campbell Rawiller, who was one of the first people I reached out to and he gave me an idea of what he does, but he's also still learning himself as well."
"I've taken different information from different people and made it into my own."
Biddell had initially never considered training greyhounds, but eventually decided to obtain his trainers licence, and had never even boxed a dog or been to the greyhound races before.
"I signed-up and the person who I brought Teflon Tears off was very sweet and down to earth and asked me if I had my licence yet, to which I said no I need to put a dog out of the boxes in front of the stewards. They gave me a dog to do it and went from there."
"I work mine like a horse, just not as hard. I walk them for about 40 minutes, then I gallop them and walk them, gallop and it all depends on when they're racing and now they're in a pattern and they like it."
"Definitely the pattern aspect has been one of the biggest thing's I've been able to transition across from the horse racing industry into my training. The routine aspect they love and getting to the kennels at the same time every morning."
"Everytime my dogs gallop or have a trial, I wrap their legs in a medicated-type mud that I learned from my time in the horse racing industry and it just helps with any swelling."
Another special connection Jacob still maintains with the horse racing industry is his relationship with star jockey Jamie Kah. Biddell resides on her property and conducts his training operations alongside her, with Kah taking a keen interest in greyhound racing and has purchased ownership in Biddell's current crop of chasers.
"I've known Jamie for a really long time, we were both in Adelaide and I met her as a teenager."
"She convinced me to come over to Melbourne and that I would really like it, so I did."
"Later down the track, she brought this beautiful property in Summerville and got it all set-up, with a track, a straight, a horse walker and all the stuff you need to train racehorses."
"I told her I was thinking about giving greyhound training a go and she said if I was interested I was more than welcome to go and live with her and train them on her property."
"When I found Teflon Tears I sent her a message and she said if you buy him I'll buy a share, but you have to sell shares in him to all the other jockeys."
"If I've got a dog and I think it's sore, I'll go up to Jamie and ask her what she thinks and she'll look all over it and say I think it's sore here."
Biddell, like all of us, dares to dream and would love to win the greyhound edition of the Group One Melbourne Cup, due to the prestige and history associated with such a special race. Given his fantastic start to greyhound training, perhaps a Biddell greyhound Melbourne Cup victory, along with a Jamie Kah Melbourne Cup winning ride is not as far-fetched as it may seem.
Similar Greyhound Racing News