Towcester greyhounds to race again after two-year closure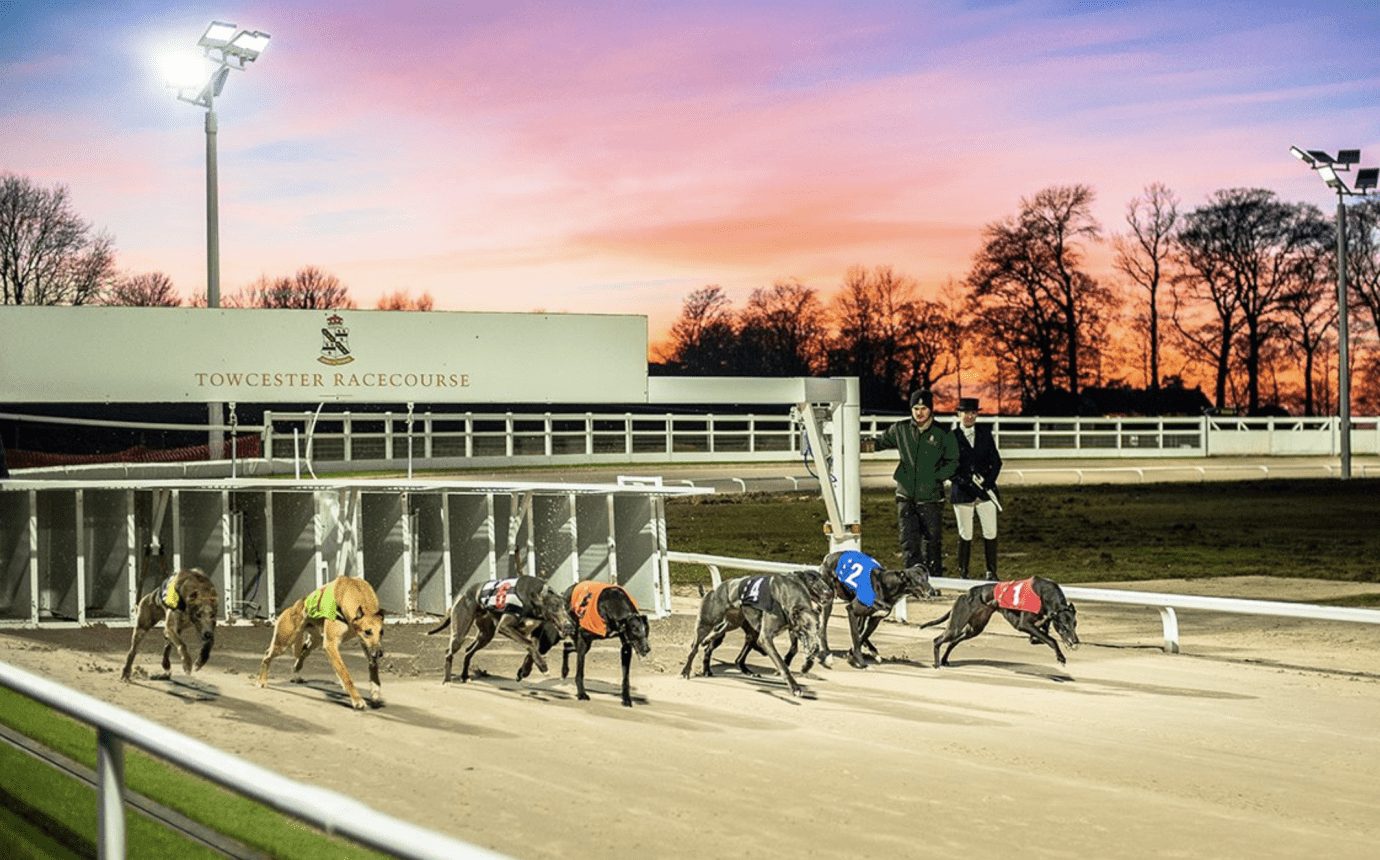 In a huge boost for UK greyhound racing, the Towcester greyhound track, the "Ascot of greyhound racing", is to resume racing after being shutdown for almost two years. The Greyhound Racing Board of Great Britain (GBGB) and new owners Henlow Racing yesterday announced the exciting return of Towcester which is scheduled for 1st June 2020.
Kevin Boothby owner of Henlow Racing said, "As a greyhound man and dog lover, I am thrilled to be able to bring racing back to Towcester and I must thank Mark Bird and the GBGB staff for their practical help and cooperation in making this come to fruition. These are bizarre and worrying times, but hopefully the return of the finest greyhound track in Britain will bring hope for racing supporters everywhere."
The return of Towcester had originally been scheduled for 18th Aril 2020, but the COVID-19 pandemic and delays in Henlow Racing licence approval has resulted in that date being pushed back to June.
Henlow Racing also runs Henlow Greyhound Stadium in the UK. Henlow has been working closely with GBGB over the past few months to satisfy all requirements of the licence application. This has included meeting all necessary integrity and welfare standards as part of GBGB's UKAS-accredited inspection process for racecourses.
With the licence now successfully approved, trialling can shortly resume at the track ahead of a proposed return to racing behind-closed-doors from the 1st June. Alongside all GBGB licensed tracks in England, this will take place with strict biosecurity controls in line with the latest government advice as well as GBGB's phased COVID-19 Operational Policy.
Whilst spectators will therefore not be allowed at the racecourse in person for some time yet, this news is expected to be widely welcomed by racing fans across the country as they look forward to online coverage from next month.
Boothby said, "All of this is being achieved with welfare of the greyhounds as the highest priority. This is being achieved both in the complete renovation of the racing circuit, plus our continued commitment to the re-homing of our ex-racers."
Mark Bird, Managing Director of GBGB, said, "As we begin to emerge from what have been worrying times for us all, this is another significant vote of confidence in the future of our sport and comes at a time when the greyhound community is gearing up for a safe return. Reopening Towcester is a strong signal of our sport's continuing popularity and restores greyhound racing in its most elegant setting to an area of the country that has always loved it.
"This is not a decision that anyone has rushed into and has been subject to many months of planning and a rigorous licensing process. But, particularly at a point when good news like this is much needed, this is an excellent return to the sport of a favourite track and further confirms we are turning a corner from the last couple of months.
"Since Towcester previously closed, there has been a lot of speculation and debate around potential re-openings. What is so important in Kevin Boothby taking on the licence is he is someone that knows the sport, appreciates the practicalities involved and understands how even in this climate Towcester can operate successfully. I know that everyone across the sport will wish Kevin and his team well as they bring back racing from Towcester to the sporting calendar."
Towcester formerly hosted the pinnacle event of the UK greyhound racing year, the Greyhound Derby.