Wow She's Fast slaughters Speed Star series field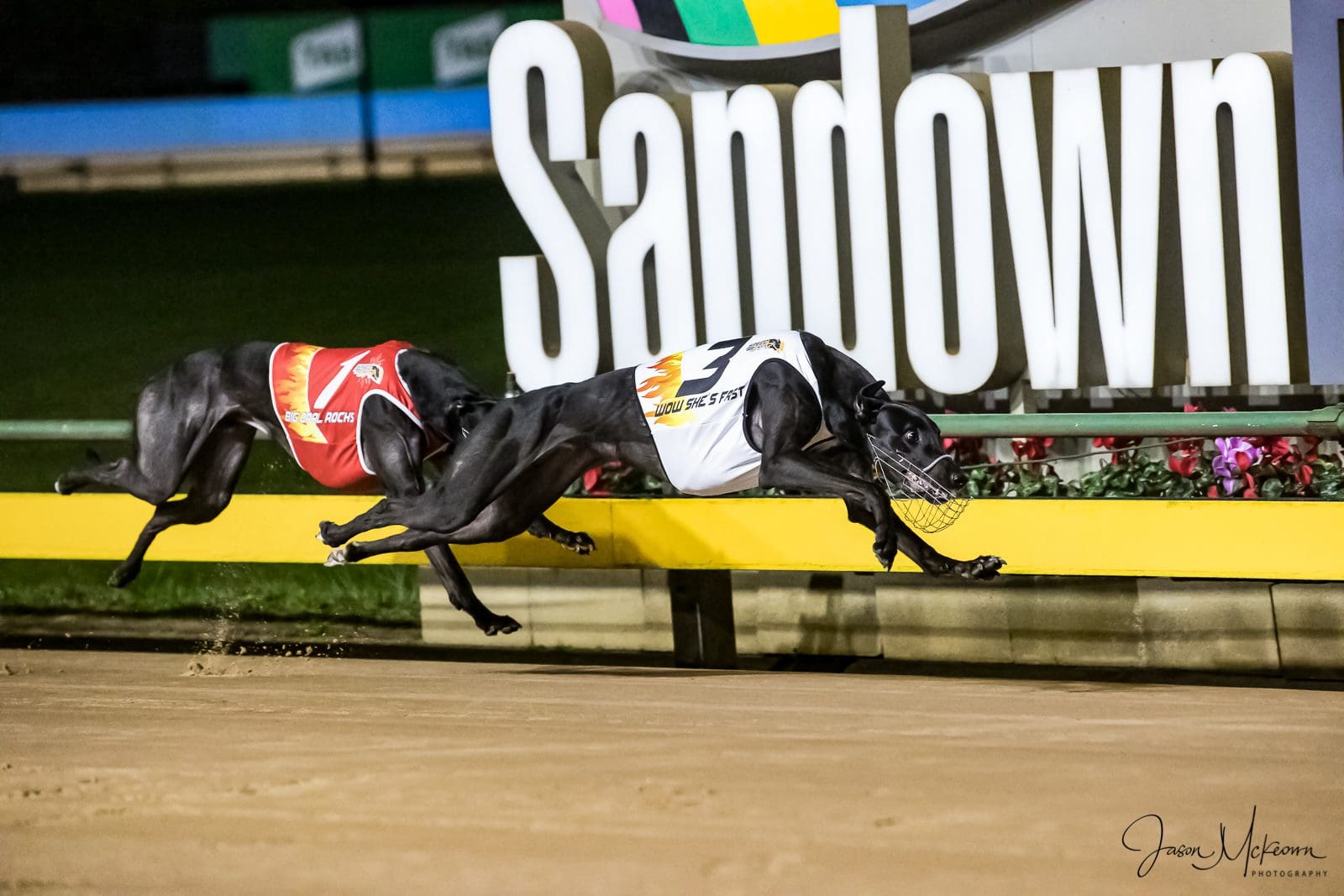 The increasingly popular Speed Star races in greyhound racing are winning over spectators after Wow She's Fast again proved why she is one of Australia's most popular greyhounds on Thursday night.
Wow She's Fast defeated Big Opal Rocks in the Bill Collins Speed Star event by running the fastest match race of the night in 29.11 over the 515m journey.
The champion bitch paid $1.35 with greyhound bookmakers which to us looked healthy odds.
The Speed Star concept is a feature event where two greyhounds race against each other in a match race with the fastest runner of the series declared the winner.
This type of racing is attracting healthy wagering and increasing popularity with racegoers more than open to seeing the concept become even more frequent.
Horse racing enthusiast and punter, Peter Bonner, told AustralianRacingGreyhound.com that he believed two dog racing could become a regular on greyhound racing calendars.
"I follow the horses more so than the greyhounds but I must admit I am attracted to this type of racing…it's good," he said.
"It's head to head betting and you don't have to concentrate as much when watching the actual racing and there is less interference obviously.
"I think it's something the greyhound board could look at by making more of these events, even for country class greyhounds you know."
2022 Bill Collins Speed Star Series Heat 1 (Sandown, 515m) – Rapaki Rocks (29.51)
---
2022 Bill Collins Speed Star Series Heat 2 (Sandown, 515m) – Dusty Bourbski (29.71)
---
2022 Bill Collins Speed Star Series Heat 3 (Sandown, 515m) – Levitation (29.55)
---
2022 Bill Collins Speed Star Series Heat 4 (Sandown, 515m) – Wow She's Fast (29.11)
---
Angle Park's Howard Ashton Final
Gavin Harris trained the winner of the week's South Australian feature event being the Group 3 Howard Ashton Final
Springvae Max (box six) finished strongly to defeat All Purpose in a time of 30.42 over the 515m journey.
Springvae Max is out of Barcia Bale x Springvale Bryne and is owned and bred by the Harris family.
On a successful night for Harris, Springvale Rex finished in third position.
2022 Howard Ashton
---
After the last race at Angle Park, the box draw for next week's Shane McQueen box draw was conducted with Spring Harbour (box one) drawing favourably for Ben Rawlings.
Mt Gambier Cup Winner On A Roll
At Mount Gambier, in-form trainer and Mount Gambier Cup winning trainer, Jason Newman, won the annual Michelle Niele Memorial over 600m with Departure Gate.
Michelle Niele was a popular figure at the Tara Raceway track before she passed away of cystic fibrosis.
While South Australia's best maiden win of the week was also at Mt Gambier with a greyhound trained by Brian Weis of Portland.
Agent Meatball won impressively in a hot time of 29.63 over the 512m distance at Mount Gambier and regulars to the track know, a maiden that runs that time, usually goes on to have a pretty handy career.
2Mt Gambier Maiden & 5th Grade Race 9 May 22 2022 (512m) – Agent Meatball(29.63)
---
Similar Greyhound Racing News