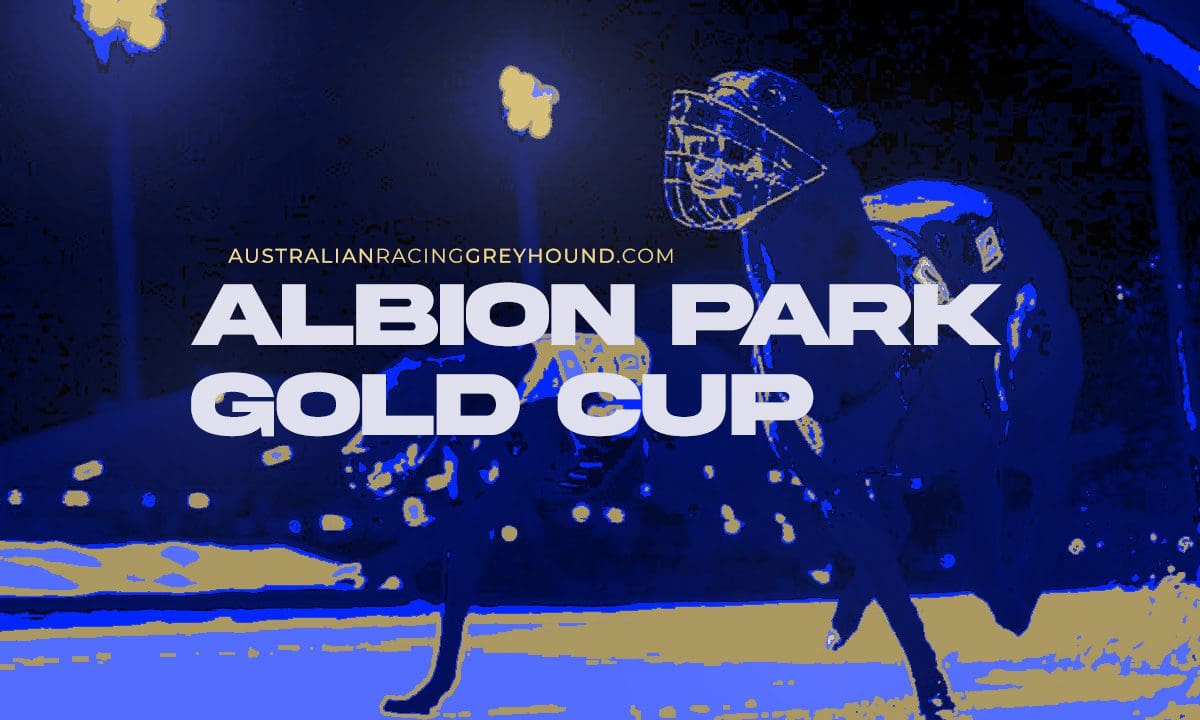 The Albion Park Gold Cup is the sole group 1 event run over the staying trip at Brisbane's premier greyhound track.
The Gold Cup is the first group 1 throughout the Brisbane winter carnival and is run in June each year, with the other main event being the Group 1 Winter Cup which is held in July.
---
Best bookmakers for betting on the Group 1 Gold Cup
As it is a group 1 race offering a hefty winner's purse, only the best stayers contest the Gold Cup series, meaning there is plenty of betting interest on both the heats and final.
All of our recommended bookmakers offer fixed odds betting for the final, allowing punters to shop around and find the best odds about their selected runner.
Most of our bookies also offer fixed odds betting on the heats, while some even offer all-in markets on the winner of the final prior to the running of the heats – giving you the chance to win big by snaring some inflated odds if you think you can spot the winner.

Albion Park Gold Cup Bookies
---
History of the Albion Park Gold Cup
The Gold Cup was inaugurated back in 1974 when taken out by Captain Winter. Back then, racing was still held at the Gabba, with the event known as the Gabba Gold Cup until 1980 when major sponsorship was taken over by SGIO and Woolworths for one year apiece.
It switched back to its original name between 1981 and 1988 when it was then called the FAI Gold Cup for four years, before being rebranded as the Albion Park Gold Cup when racing moved to the current Brisbane circuit in 1993.
VIP Petfoods were the sponsor of the Cup from that point until 2002, with Cartwright Property Group then coming on board to support the event.
Since its inception the race has been won by some of the greatest stayers the sport has seen such as Mandarin Girl (1977), Miss Cruise (1995), Boronia Blossom (1996), Miss Brook (2006), Miss Grub (2007), Chinatown Lad (2008), Queen Lauryn (2009), Nellie Noodles (2010), Destini Fireball (2013), Xylia Allen (2014) and Fanta Bale (2017) while Dotie Wilson is the only greyhound to have won the event twice, claiming the title in 1975 and 1976 respectively.
---
Recent years of the Group 1 Gold Cup
Tornado Tears won the 2018 Group 1 Gold Cup, winning the race in record time from box six. Sizzling around the Park in a track record 41.33sec, the Robert Britton-trained stayer claimed his second Group 1 title and delivered an 11th win from 19 starts.

2018 Gold Cup results

June 14, 2018. June 14, 2018 Albion Park Brisbane. First Prize $75,250
Winner: Tornado Tears (Fernando Bale x Tears Siam) February 2016 Black and White Dog
Owner: Millmi (SYN) Trainer: Robert Britton
Time: 41.33 Margins 4.5 x 0.75
Others in finishing order: Jalapeno, Rippin' Sam, Ebby Ripper, Gelantipy Gold, Benali, Cyn's Magic, Shoes To Fill L/S

Fanta Bale won the most recent edition of the Group 1 Gold Cup, springing from the traps like a gazelle and leading throughout to stop the clock in 41.78. Trained by Rob Britton and owned by Paul Wheeler, it was her second win from as many starts over the track and distance, having claimed her heat the week prior in a blistering 41.66.

2017 Gold Cup results

June 15, 2017. June 15, 2017 Albion Park Brisbane. First Prize $75,250
Winner: Fanta Bale (David Bale x Ucme Typhoon) August 2014 Black Bitch
Owner: Paul Wheeler Trainer: Robert Britton
Time: 41.78 Margins 6.5 x 2.75
Others in finishing order: Big Easy Red, Cyndie's Magic, Teddy Monelli, Dundee Calypson, Starzsa Light, Jalapeno, Obi Kenobi.

An eight hundred dollar proved to be one of Australia's best staying prospects after My Boy Brodie claimed the 2016 Group 1 Gold Cup (710m) at Albion Park.Prepared in NSW by father and son training team Trevor and Jordan Rice, the son of Radley Bale and Giggling went into the final as a $6 chance following his 42.14 heat win the week prior.

Despite an ordinary beginning from box two, My Boy Brodie was able to work his way through a scrimmage on the first turn to sit in third spot with a lap to go. The blue fawn dog started his run down the back, unleashing a powerful finishing burst on the home turn to charge through along the inside to score by half a length over race favourite, Cyndie's Magic (box six) in 42.17.

2016 Gold Cup results

June 9, 2016. Albion Park BGRC First Prize $75,250
Winner: My Boy Brodie (Radley Bale x Giggling) Born: Feb 2013 Blue Fawn Dog
Owner: Scott Dooley, Trainer: Trevor Rice.
Time: 42.17. Margins: 0.75 x 0.75.
Others in finishing order: Cyndie's Magic, Lovelace, Obi Kenobi, Dublin Bull, Vegas Bound, Ring The Bell, Abby's Magic.

Dzeko scored her maiden group 1 victory in the 2015 edition for trainer Samuel Dart, with the daughter of Radley Bale and Rematch defeating a quality field including the likes of Mulloway (2nd), Lady Toy (3rd), Zipping Maggie (4th) and Cyndie's Magic (6th) to score by three quarters of a length in 42.44. Read a full recap.

2015 Gold Cup results

June 11, 2015. Albion Park BGRC $84,700
Winner: Dzeko (Radley Bale x Rematch) Born Oct 2012 Black Bitch
Owner: S Dart and M Jordan, Trainer: Samuel Dart.
Time: 42.44. Margins: 0.75 x 2.25.
Others in finishing order: Mullaway, Lady Toy, Zipping Maggie, Reality Ghost, Cyndie's Magic, Cosmic Vee Bee, Hougenie.

Xylia Allen confirmed her champion status with a victory in the 2014 Albion Park Gold Cup, working hard from box rise to score her first staying group 1 in 41.71.

It was the fourth win at the highest level for the black bitch which had already taken out the Peter Mosman Classic, the Sapphire Crown and the National Sprint Championship throughout her decorated career.

2014 Gold Cup results

June 12, 2014. Albion Park BGRC First Prize $75,000
Winner: Xylia Allen (Turanza Bale x Tayah Bale) April 2011 Black Bitch
Owner: Janice Wheeler: Trainer: Jenny Hunt.
Time: 41.71 Margins: 3L
Others in finishing order: Know Class, Infinite Wish, Eleazor, Mepunga Tiara, Mullaway, Set Her Again, Golfing Army.
Gold Cup honour roll
Gold Cup Honour Roll
Year
Winner
1974
Captain Winter
1975
Dotie Wilson
1976
Dotie Wilson
1977
Mandarin Girl
1978
Dusty Ginny
1979
Mockacindy
1980
Gini's Choice
1981
Final Dream
1982
Picture This
1983
High Monakii
1984
Shy Deena
1985
National Star
1986
Clover Park
1987
Shy Nimbus
1988
Gary's Hope
1989
Mary Casey
1990
Rocket To Tubrid
1991
Cobbalena
1992
Elusive Odie
1993
Pilgrim's Star
1994
Trojan Tears
1995
Miss Cruise
1996
Boronia Blossom
1998
Totally Ablaze
1999
Questions
2000
Amazing Dancer
2001
Hotshow Vintage
2002
Total Denial
2003
Dooley's Mist
2004
Toss O'Reilly
2005
Last Quoted
2006
Miss Brook
2007
Miss Grub
2008
Chinatown Lad
2009
Queen Lauryn
2010
Nellie Noddles
2011
Bobby Boucheau
2012
He Knows Uno
2013
Destini Fireball
2014
Xylia Allen
2015
Dzeko
2016
My Boy Brodie
2017
Fanta Bale
2018
Tornado Tears