Betting on group 2 greyhound races
Group 2 races feature the best greyhounds chasing some lucrative coin, with the events being a step down from the most prestigious races on the calendar, Group 1 events.
Group 2 races include country cups held at provincial venues around the nation, while others are restricted races such as age-classics for younger greyhounds or same-sex only features.
Betting on Group 2 greyhound races
Betting is always competitive for Group 2 races, with the high quality of the runners engaged ensuring plenty of interest from punters, generating larger betting pools and subsequent winning payouts.
There is always plenty of value to be found in these events, with so many talented chasers generally contesting each series, meaning that it is often easy to find a good price about the runner you think can take home the prize.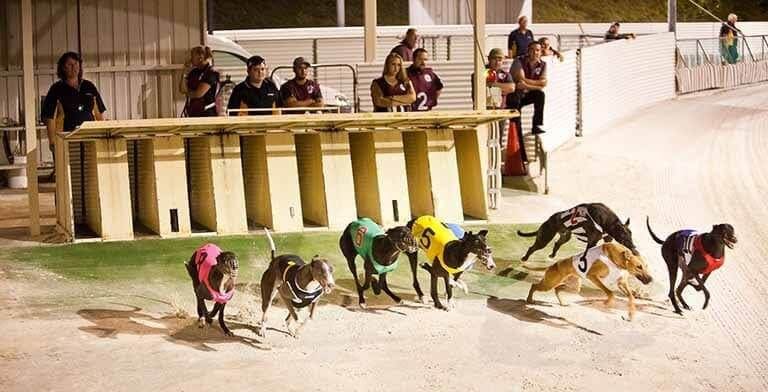 What are the Group 2 greyhound races in Australia?
There are over 30 Group 2 greyhound events held across the country each year, with each race being a flagship feature on their track's racing calendar.
Gosford Gold Cup (515m) – Gosford
Cranbourne Cup (520m) – Cranbourne
Summer Plate (720m) – Wentworth Park
Warragul Cup (460m) – Warragul
Healesville Cup (350m) – Healesville
Launceston Cup (515m) – Launceston
Vince Curry Memorial Maiden (520m) – Ipswich
Horsham Cup (480m) – Horsham
Richmond Derby (535m) – Richmond
Maitland Gold Cup (450m) – Maitland
Ipswich Auction series (520m) – Ipswich
Launching Pad (515m) – Sandown Park
Bendigo Cup (425m) – Paw Licking
Bogie Leigh Futurity (520m) – Albion Park
Warrnambool Cup (450m) – Warrnambool
Warrnambool Classic (450m) – Warrnambool
Queensland Derby (520m) – Albion Park
WA Derby (530m) – Cannington
WA Oaks (530m) – Cannington
McKenna Memorial (595m) – Sandown Park
AWM Distance Championship (725m) – The Meadows
The Great Chase (525m) – The Meadows
Bob Payne Sprint Sprint (520m) – Wentworth Park
Adelaide Cup (515m) – Angle Park
Geelong Cup (460m) – Geelong
Lismore Cup (520m) – Lismore
All Stars Sprint (530m) – Cannington
Shootout (515m) – Sandown Park
Ballarat Cup (450m) – Ballarat
Dapto Puppy Auction Classic (520m) – Dapto
The Laurels (515m) – Sandown Park
Australian bookmakers for betting on Group 2 greyhound races
Australian Racing Greyhound has a range of recommended bookmakers that offer betting markets on all Group 2 races right across Australia, New Zealand, United Kingdom and Ireland.
One of the most popular online bookies is Bet 365, which generally offer markets at least 24 hours prior to the scheduled start time, giving punters plenty of opportunities to cash in on some excellent early prices. It is not uncommon for Bet 365 to have fixed odds markets out for feature races during the week leading up to the event once the field and box draw has been determined.
Other popular bookmakers for betting on Group 2 greyhound races include William Hill, Crownbet and Sportsbet, the latter offering a special promotion called the 'Sportsbet Owners Enclosure'. If you ever find yourself lucky enough to have a runner in a Group 2 race, this bookie gives you the opportunity to receive the best of the three totes if your greyhound wins, rather than the mid-dividend which is usually on offer.
All of our recommended bookmakers have sign-up bonuses to get you started on your winning way, one of the most lucrative being William Hill which gives new customers up to $502 in bonus bets which can be placed on any Group 2 greyhound race of your choice.
What are the best bets for Group 2 greyhound races?
While all of Australian Racing Greyhound's recommended bookmakers offer both fixed and tote prices for a win and a place on Group 2 greyhound races, there are a variety of other bet types that can offer a huge return if you are skilful enough.
Group 2 races commonly carrying large betting pools for exotic bets, with many punters aiming to snag the quinellas, trifectas and first fours. With elite greyhounds in the mix you would think it would be easy to pick the standouts in these finals, however it can be difficult to land the right combinations with most runners possessing outstanding credentials.
Often a long-priced greyhound will sneak into at least the minor money, meaning that while it can be hard to pick the winning exotic bets, it can be very rewarding if you are savvy enough to pick the correct dogs.
Once you have figured out which type of bet you would like to place, it is very easy to do so through both the websites and mobile betting apps of our recommended bookmakers.
Simply find the market for the race you wish to bet on, your bet type, runner(s) and the amount you would like to wager and before you know it you could be cheering home the winner of one of the quality Group 2 greyhound races run around the country.