Ipswich Auction Series betting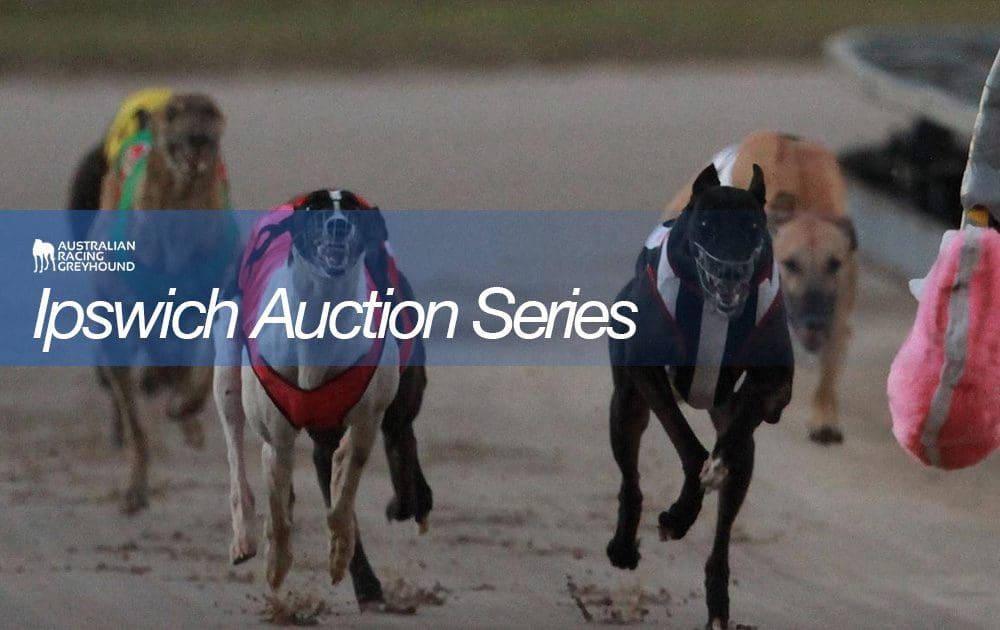 The Group 2 Ipswich Auction final is run over the 520m trip at Ipswich Showgrounds, with the series open to greyhounds purchased through the Ipswich Puppy Auction.
The Auction is held in October each year, with pups eligible to compete in the series which falls two years after the auction they were purchased from.
In 2016 the series is worth $40,000 to the winner, with the final to be run and won on April 9, 2016.
Betting on the Group 2 Ipswich Auction series
While it is not a headline group event, there is still keen betting interest on the Ipswich Auction series.
Most of Australian Racing Greyhound's recommended online bookmakers offer fixed odds betting on the series throughout the heats and semi-finals as well before the final.
When deciding which odds to take about a fancied pick throughout the series, we recommend opening an account with each of our online bookies to give you the chance to compare odds and get the best price available. This ensures you get the best bang for your buck – with just a few cents able to make a huge difference to your winning payout.
Recent years of the Ipswich Auction Series
It was a famous victory for Fred Swain in the 2018 edition of the Ipswich Auction Series as chaser Tray Bit took the honours in a quality field. Tray Bit gave the leader Small Jewel a four lengths start mid race but ran her down to score in runaway fashion in 30.84.

2018 Ipswich Auction Series results

March 31, 2018. March 31, 2018 Ipswich. First Prize $40,000
Winner: Tray Bit (Fernando Bale x Boston Chanel) November 2015 Black Dog
Owner: Dave And Fred Swain (SYN) Trainer: Frederick Swain
Time: 41.33 Margins 1.0 x 1.25
Others in finishing order: Small Jewel, Brandi Alexander, Miss Amelia, Special Cover, She's Some Gal, Brittany Talks, Black Rusky.

In a race that is typically dominated by the favoured runners, Bob Dempsey's Pyro Bob delivered a stunning performance as the second longest runner in the field. Jumping from box three, Pyro missed the start then railed to the lead at the first turn. He was actually seventh in the field of eight at the winning post the first time but managed to avoid trouble that befell Rather Dapper, Must Be Max and Lantana Lass.

2017 Gold Cup results

June 15, 2017. June 15, 2017 Albion Park Brisbane. First Prize $70,000
Winner: Fanta Bale (David Bale x Ucme Typhoon) August 2014 Black Bitch
Owner: Paul Wheeler Trainer: Robert Britton
Time: 41.78 Margins 6.5 x 2.75
Others in finishing order: Slick, Invegarry Lady, Lantana Lass, Enjoy The Show, Maurice Minor, Rather Dapper, Must Be Max.

Magical Yessam proved far too good, winning in a time of 30.55 over the 520m journey. Jumping from box six, Magical Yessam showed great power after the turn to power to a four-length victory, giving Massey a $40,000 windfall and confidence his dog could tackle anything after overcoming the awkward box draw.

2016 Gold Cup results

April 9, 2016. Ipswich First Prize $40,000
Winner: Magic Yessam (Magic Sprite x Kiewa Show) Born: Nov 2013 Black Dog
Owner: Lyndall Massey, Trainer: Donald Massey.
Time: 30.55. Margins: 4.00 x 2.25.
Others in finishing order: Royal Prize, Vegas Bound, Legacy Chief, Under Advice, Winsmit, Magic Beau, Hypnotized.

Razen Toast caused an upset in 2015 when taking out the series for Darren Russell, defeating a talented field to score in 30.93.

2015 Gold Cup results

April 4, 2015. Ipswich $40,000
Winner: Razen Toast (Collision x Tessarina) Born Oct 2012 Black Bitch
Owner: Kyammy (SYN), Trainer: Gary Taylor.
Time: 30.94. Margins: 1.00 x 6.75.
Others in finishing order: In The Picture, With A Gee, Pacific Champ, Waikarie Magic, Maywyn's Keeper, War Picture, Maywyn's Ying.

Trained by Rachel Scott, the 2014 final was taken out by Are Ate. The October 2011 son of Lochinvar Marlow and Long Long Mama was one of the more notable winners throughout the race's history, having also taken out Group 3 Devonport Cup throughout his career.

2014 Gold Cup results

April 5, 2014. Ipswich First Prize $40,000
Winner: Are Ate (Lochinvar Marlow x Long Long Mama) October 2011 Black Bitch
Owner: Quad Dog (SYN): Trainer: Yvonne King.
Time: 30.66 Margins: 1.50 x 2.25
Others in finishing order: Masai Princess, Coach Little, Oh That's Nice, Royal Albert, Melody Serenade, Femme Jolie, Ipswich Melody.
Group 2 Ipswich Auction series history
The first Ipswich Puppy Auction was held in 1987, with the inaugural race series held two years later when taken out by Milluna Miss for Frank and Edna Rochford of Beenleigh.
The series has remained virtually unchanged since its inception and has not missed a year since the first running.
Records are sketchy as to how much the first final was worth, however over the past decade the series has been worth between $30,000 and $40,000.
In 2015 the prize money was bumped up to $50,000, however due to the welfare levy of five per cent on prize money following on from the live baiting scandal, the race's worth was brought back to $47,500.
The prize money was further slashed in 2016, with the series offering $40,000 to connections of the winning greyhound on Saturday April 9, 2016.
The series was elevated to Group 2 status for the first time in 2014 when taken out by Are Ate.
The series has had a number of sponsors over the years. It was originally called the Sci-Fleet Ford Action series, a name it kept for three years. Between 1992 and 1994 it was the Cellist Auction series and in 1995 it was the Roofshield Auction series. The sponsorship was taken over by the Rob Lowe Car Company from 1997 until 2001 at which point Highland Smash Repairs signed on as the sponsor until 2013.
Between 2014 and 2016 the race was sponsored by Rosewood & District Community Bank.
While no superstars of the greyhound game have won the final in its history, the series has consistently been taken out by chasers which have gone on to have successful careers on the track.
Group 2 Ipswich Auction series honour roll
| | |
| --- | --- |
| 1989 | Milluna Miss |
| 1990 | Our Gold Coin |
| 1991 | Slick Myth |
| 1992 | Impulsive Gamble |
| 1993 | Marry Me Mary |
| 1994 | Perro Star |
| 1995 | Pride Of Stef |
| 1996 | Nobody's Fool |
| 1997 | Blazing Honour |
| 1998 | Travel Train |
| 1999 | Hypnotic Trans |
| 2000 | Stylish Bandit |
| 2001 | Pacific Flash |
| 2002 | Happy Chappy |
| 2003 | Awesome Design |
| 2004 | Fool's State |
| 2005 | Don Paco |
| 2006 | Rylee's Revenge |
| 2007 | Go Makatam |
| 2008 | Elise Odette |
| 2009 | Rail Raider |
| 2010 | Iron Force |
| 2011 | Pedro's Thunder |
| 2012 | Rob Pines |
| 2013 | Fyre Out |
| 2014 | Are Ate |
| 2015 | Razen Toast |
| 2016 | Magical Yessam |
| 2017 | Pyro Bob |
| 2018 | Tray Bit |