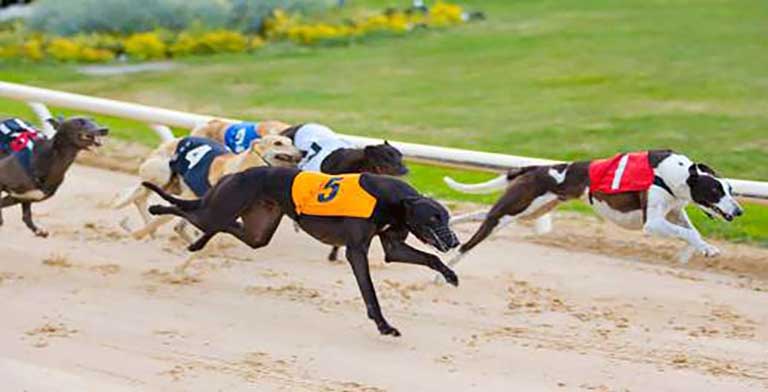 GREYHOUND racing is a popular tradition across the UK and Ireland, with its origins dating back to the early 1900s and coursing. In 1926, the first form of oval racing arrived in Britain at the Belle Vue Stadium in Manchester.
The first track was opened in Ireland on April 18, 1927, at Celtic Park, located in the Northern Ireland capital, Belfast. Just one month later, greyhound racing was also established at Shelbourne Park, Dublin.
Two more tracks were also opened that year – at Harolds Cross, Dublin, and Dunmore, Belfast. The next year, greyhound racing also made its way to Cork.
Soon after the establishment of greyhound racing in Ireland, the sport fell under the control of the Irish Coursing Club who also supervised the publication of the Irish Greyhound Stud Book.
The Irish Government formed the Bord na gCon, also known as the Irish Greyhound Board, in 1958, which was tasked with controlling, promoting and operating the sport within the Republic of Ireland. Northern Ireland remained under the regulation of the Irish Coursing Club.
From there the sport has continued to evolve, with 19 tracks currently operating within both the Republic of Ireland and Northern Ireland.
Most greyhound tracks in Ireland offer modern facilities including restaurants, grandstands as well as on course and off course betting.
Betting on Irish greyhound racing
You can bet on Irish greyhound racing right across the globe, with many leading online bookmakers now offering markets for all events.
The rise in popularity for Irish greyhound racing is due in part to UK and Irish greyhound racing now being televised around the world, including Australia which is considered one of the leading countries for greyhound racing.
Our top recommended bookmaker for betting on UK and Irish greyhound racing is Bet365 which offers comprehensive markets for every event as well as futures markets for big series' such as the Irish and English Greyhound Derby.

Irish greyhound racing specifics
Whilst the fundamentals of the sport remain the same – a group of greyhounds exit the boxes and chase a mechanical lure around a circular track – there are some massive differences when comparing Australian and Irish greyhound racing.
For starters, in Australia, eight greyhounds are engaged to run in every race, however numbers are capped at six in Ireland. Additionally, the coloured vests worn by the greyhounds are different.
In Australia greyhounds wear:
Box one – red rug with a white numeral
Box two – black and white striped rug with red numeral
Box three – white rug with black numeral
Box four – blue rug with white numeral
Box five – yellow rug with black numeral
Box six – green rug with red numeral
Box seven – black rug with yellow numeral
Box eight – pink rug with black numeral
First reserve – green and white striped rug with black numeral
Second reserve – red, white and blue striped rug with black numeral
Whereas in Ireland, greyhounds wear:
Box one – red rug with white numeral
Box two – blue rug with white numeral
Box three – white rug with black numeral
Box four – black rug with white numeral
Box five – orange rug with black numeral
Box six – black and white stripes with red numeral
Reserves wear the rug corresponding to their box number with an additional 'R' to signify they are reserves
Another key difference between the two nations is the lure positions. In Australia, the lure is positioned on the inside of the track, running along the rail using a cable or bramich system.
Meanwhile, Irish greyhound racing still has the inside 'rail', however the lure runs on the outside of the track with the hare pulled on a wire rope which runs between two tyres turned by an electric motor.
Thirdly, in Australia, box draws are computer generated and dogs are randomly assigned their box for every race they compete in. However, Irish greyhounds are seeded into boxes suiting their running style – for example inside and outside – which is believed to assist with issues surrounding interference during races.
Main greyhound races in Ireland
Graded greyhound racing is held all year round in Ireland, with the major event on the calendar being the Irish Greyhound Derby.
Held at Shelbourne Park, it is even considered to be one of the biggest greyhound races on the planet – rivalling other countries major features such as the English Greyhound Derby and the Melbourne Cup.
The race was first conducted in 1928 at Harold's Cross and was won by Tipperary Hills. It moved to Shelbourne Park in 1932 and was then held at each track in alternate years. Also taking a turn at hosting the race were Markets Field Greyhound Stadium in Limerick and the Cork Greyhound Stadium, both of which are no longer in operation.
The Irish Greyhound Derby commences in August, with the 2017 final set to be run and won on Saturday September 23. The winner will collect €125,000.
Clares Rocket is the current favourite for the upcoming series, although official markets are yet to be released. A recent track record breaker, Clares Rocket was found safe and well after being kidnapped from trainer Graham Holland's property in County Tipperary last December.
Greyhound tracks in Ireland
There are 19 greyhound racing tracks in Ireland, two of which are in Dublin (Shelbourne Park and Harold's Cross).
All tracks in Ireland have the same racing surface which is sand. The type of sand used is a fine silica sand which is utilised instead of grass as it has been found to reduce injury rates and allows for greyhound racing to be held all year round.
The tracks also have 2-3 per cent clay composition which assists in retaining moisture and brings the sand particles together – this provides a safer racing surface as it allows the dogs to have a better grip when running, especially around bends.
The boxes are similar to Australian boxes; however, greyhounds tend to remain in the 'traps' for longer in Ireland. The traps are fully automated and work by utilising pneumatic rams – the lids open when the lure passes a switch which is fixed to the hare rail just behind the boxes.
Ten of the tracks in Ireland are controlled by the Irish greyhound board, with seven licensed by the board but owned and operated by private enterprise.
The remaining two tracks are located in Northern Ireland – an area which is not licensed or regulated by the Irish Greyhound Board of the Greyhound Board of Great Britain.
A full list of greyhound tracks in Ireland is as follows.
Clonmel (private)
Cork (IGB)
Derry (Northern Ireland)
Drumbo Park (Northern Ireland)
Dundalk (private)
Enniscorthy (private)
Galway (IGB)
Harold's Cross (IGB)
Kilkenny (private)
Lifford (private)
Limerick (IGB)
Longford (private)
Mullingar (IGB)
Newbridge (IGB)
Shelbourne Park (IGB)
Thurles (private)
Tralee (IGB)
Waterford (IGB)
Youghai (IGB)