National Sprint and Distance Championship betting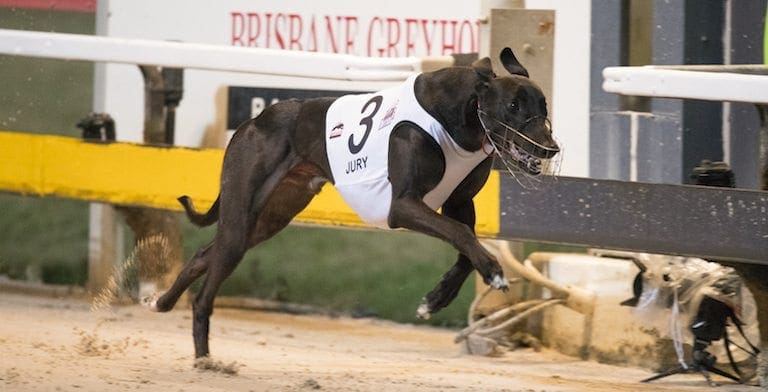 The National Championships are two of the most exciting events on the Australian greyhound racing calendar, representing a unique series of racing encompassing chasers from each state around the country.
Greyhounds from Victoria, New South Wales, Queensland, Western Australia, South Australia and Tasmania contest heats and finals over both the sprint and distance trips in their home state, with winners of each state final meeting for a National showdown, with the venue for each final varying each year.
The winner of each National Championship collects $75,000, with the most recent series being run and won at Albion Park in Queensland.
Best bookmakers for betting on the National Championships
As two of the main races to be held each year, the National Sprint and Distance Championships attract the best of the best from each state in Australia.
With such high quality greyhounds contesting the series', there is always plenty of betting activity both on the State and National finals.
All of our recommended online bookmakers offer betting on the National finals, with many, such as Bet365 and Sportsbet, also providing fixed odds markets for the State qualifiers.
Some bookies also offer all-in markets on the winner of the National finals prior to the running of the heats in each state – allowing punters to pinch some great value if they believe they can spot the winner of the final early in the series.
History of the National Sprint and Distance Championships
The National Championships have been conducted in numerous forms since their inception, with the Sprint first being held at Harold Park in 1965 when won by NSW chaser Best Sun.
For more than a decade the Sprint Championship alternated between the four metropolitan tracks in Sydney and Melbourne until 1977 when it was staged at the Gabba in Brisbane.
The Distance Championship was first conducted in 1969 when won by Victorian stayer Amerigo Lady at Wentworth Park, before heading to Sandown for the 1970 edition. The Distance final of 1971 was held at Hobart and since that time has alternated around the states.
In 1990 the Australian Greyhound Racing Association was formed, with the national body, formed of member clubs from around the country, overseeing the series' from that point onwards.
Early on, the two championships were held at different times of the year until a cost factor in 1994 saw both events run concurrently in the same state across two nights of stellar racing. The first time both the National Sprint and National Distance were held on the same night was in 2002 at Albion Park.
Since its inception, the Championships have had varying ways of determining the finalists for the national showpieces.
For the last quarter of a decade the states have conducted heats followed by a final to determine their representatives, with the home state each year allowed two finalists in both the Sprint and Distance.
The only state not represented in either national final is the Northern Territory which has not taken a part in either series since 2002.
From 2002 until 2009, due to the large breeding numbers in both NSW and Victoria, these two states alternated to fill the remaining spot in each final.
However, in 2008 a controversial rule was passed at the AGRA National meeting and came into effect the following year.
The new concept saw the spare position in both finals filled by the highest ranked sprinter and stayer, according to the AGRA rankings, to have competed in a state final but not have won.
Dubbed the 'Wildcard' position, it was immediately effective – with Jarvis Bale winning the 2009 National Distance Championship at Cannington after gaining entry into the final as the recipient of that year's Wildcard invitation.
Both events remain a highly sought after title to this day, with every state having produced a winner of the Sprint, with Tasmania the only state left to have not won the Distance trophy.
National Sprint and Distance Championships – the recent years
In 2017, the National Sprint Championship was taken out by local hope Jury for leading QLD conditioner Tony Brett. The black dog used box three to his advantage, bouncing to the front and racing clear to salute.

2017 National Sprint Championship results

August 25, 2017. August 25, 2017. Albion Park. First Prize:$75,250
Winner: Jury (Cosmic Chief X Velocity Sheba) Date of birth:12 Mar 2015 Black Dog
Trainer: Tony Brett.
Time: 29.88 Margins:2.25 X 1.0
Others in finishing order: On Fire, Aston Dee Bee, Bekin Street, Gold Lenny, Gunnadoo Rev, Bewildering, Max Profit.

Meanwhile, the National Distance Championship was claimed by Victoria with champion racer Fanta Bale downing a stellar field including Burn One Down, Bogie Bekim and Ebby Ripper.

2017 National Distance Championship results

August 25, 2017. August 25, 2017. Albion Park. First Prize:$75,250
Winner: Fanta Bale (David Bale X Ucme Typhoon) Date of birth:14 Aug 2014 Black Bitch.
Owner: Paul Wheeler. Trainer: Rob Britton.
Time: 41.71 Margins: 1.0 X 1.5
Others in finishing order: Burn One Down, Big Easy Red, Outside Pass, Ebby Ripper, Bogie Bekim, Shima Sun, Ramifications.

Local hero Worm Burner captured a home town victory when saluting in the final of the 2016 National Sprint Championship run and won at Angle Park. The brindle dog, trained by Cameron Butcher, speared the lids and never looked in danger, charging to the line to defeat Victorian chaser Zambora Brockie by five and three quarter lengths in a blistering 29.17.

2016 National Sprint Championship results

August 27, 2016. Angle Park GRSA First Prize $75,000
Winner: Worm Burner (Oaks Road x Little Looper) Born Dec 2013 Brindle Dog
Owner: C and Y Butcher, Trainer: Cameron Butcher.
Time: 29.17 Margins 5.75 x 2.5.
Others in finishing order: Zambora Brockie, Times Square, Dundee Osprey, Outside Pass, Benteke, Fabregal, Buckle Up Beneau

The staying feature of the night was captured by Victoria when Ring The Bell, trained by Gerry O'Keeffe, powered clear over the testing 732m journey in 43.22.

2016 National Distance Championship results

August 27, 2016. Angle Park GRSA First Prize $75,000
Winner: Ring the Bell (Kinloch Brae x Absolute Stunna) Born Nov 2013 Brindle Dog
Owner: Four Frothys Synd, Trainer: Gerard O'Keefe
Time: 43.22 Margins 2 x 0.5.
Others in finishing order: Parsec Bale, Springvale Byrne, Senator Monelli, Big Easy Red, Cardiology, Whittaker, Mahalo Miss.

Fernando Bale continued his brilliance in the 2015 National Sprint Championship final which was held at Wentworth Park. The white and brindle powerhouse blew away his rivals, including dual group 1 winner Keybow and Peter Mosman winner Bessy Boo, to salute by five and a half lengths in a scintillating 29.26.

2015 National Sprint Championship results

August 22, 2015. $75,000 NSW GBOTA Wentworth Park
Winner: Fernando Bale (Kelsos Fusileer x Chloe Allen) Born March 2013. W&DK Bdl Dog
Owner: Paul Wheeler. Trainer: Andrea Dailly.
Time: 29.26. Margins: 5.5 x 1.75.
Others in finishing order: Bessy Boo, Keybow, Nero Bolt, Margins, Jack Kade, Breaker's Tip, Alex's Entity.

It was a clean sweep for Victoria, with champion stayer Sweet It Is far too good for her opposition when bolting to the line to win by almost nine lengths.

2015 National Distance Championship results

August 22, 2015. $75,000 NSW GBOTA Wentworth Park
Winner: Sweet It Is (Mogambo x Off Springer) Born Nov 2011 Black Bitch
Owner/Trainer: Braden Finn. Time: 41.52. Margins: 8.75 x 0.5. Others in finishing order: Lady Toy, deadly Boy, Lillycette, Psychotic Gold, Lord Golec, Mullaway, Ada Mary.
National Sprint Championship – honour roll
1965 – Harold Park – Best Sun (NSW)
1966 – Olympic Park – Kinta's Son (VIC)
1967 – Wentworth Park – Meteor Paso (NSW)
1968 – Sandown Park – Princess Kerry (VIC)
1969 – Harold Park – Red Zero (NSW)
1970 – Olympic Park – Regal Hermes (VIC)
1971 – Wentworth Park – King Miller (NSW)
1972 – Sandown Park – Lord Galaxy (NSW)
1973 – Harold Park – New Mariner (VIC)
1974 – Olympic Park – Temlee (VIC)
1975 – Wentworth Park – Cooperroo Flyer (NSW)
1976 – Sandown Park – Clover Duke (NSW)
1977 – Gabba – Bowetzel (VIC)
1978 – Angle Park – Mr Toewhyte (WA)
1979 – Cannington – Acclaim Star (NSW)
1980 – Harold Park – Fast Sapphire (NSW)
1981 – Olympic Park – Kate's A Scandal (SA)
1982 – Gabba – Madonna Lee (QLD)
1983 – Harold Park – Winifred Bale (NSW)
1984 – Harold Park – Busy Vintage (TAS)
1985 – Sandown Park – Scenic Spa (SA)
1986 – Angle Park – Stetson (SA)
1987 – Hobart – Fremantle Echo (WA)
1988 – Gabba – Dancing Gamble (QLD)
1989 – Cannington – Sandi's Me Mum (WA)
1990 – Sandown Park – Sandi's Me Mum (WA)
1991 – Wentworth Park – Jessica Casey (NSW)
1992 – Olympic Park – Mr. Slick (VIC)
1993 – Angle Park – Casino Tom (SA)
1994 – Wentworth Park – Gallant Ruler (NSW)
1995 – Sandown Park – Flying Amy (QLD)
1996 – Albion Park – Shayne's Champ (VIC)
1997 – Angle Park – Prince of Tigers (WA)
1998 – Cannington – Rapid Journey (NSW)
1999 – Wentworth Park – Henry Hand (NSW)
2000 – Launceston – Placard (NSW)
2001 – The Meadows – Heinrik Bale (VIC)
2002 – Albion Park – In The Frame (VIC)
2003 – Angle Park – Elite State (QLD)
2004 – Cannington – In For Life (NSW)
2005 – Wentworth Park – Pure Octane (VIC)
2006 – Launceston – Immortal Love (NSW)
2007 – Sandown Park – Bit Chili (NSW)
2008 – Wentworth Park – Knocka Norris (QLD)
2009 – Cannington – Dashing Corsair (QLD)
2010 – Angle Park – Smooth Fancy (NSW)
2011 – Albion Park – Metz Magic (QLD)
2012 – Hobart – Fabregas (VIC)
2013 – The Meadows – Xylia Allen (VIC)
2014 – Cannington – Chica Destacada (NSW)
2015 – Wentworth Park – Fernando Bale (VIC)
2016 – Angle Park – Worm Burner (SA)
2017 – Albion Park – Jury (QLD)
National Distance Championship – honour roll
1969 – Wentworth Park – Amerigo Lady (VIC)
1970 – Sandown Park – Sargood (VIC)
1971 – Hobart – Saki Dasher (VIC)
1972 – Harold Park – Bubble's Luck (VIC)
1973 – Gabba – He's Some Boy (VIC)
1974 – Angle Park – Corcoran (VIC)
1975 – Gabba – Dotie Wilson (NSW)
1976 – Angle Park – Bolta's Gift (VIC)
1977 – Harold Park – Woolley Wong (NSW)
1978 – Hobart – Dusty Ginny (NSW)
1979 – Olympic Park – Mary Marella (VIC)
1980 – Sandown Park – All Promise (VIC)
1981 – Launceston – Shamrock Jewel (VIC)
1982 – Angle Park – Bay Road Queen (SA)
1983 – Hobart – Ten Guitars (VIC)
1984 – Cannington – Princess Baden (SA)
1985 – Launceston – Melmade Gazza (SA)
1986 – Gabba – Kristy's First (QLD)
1987 – Olympic Park – Mystic Hope (VIC)
1988 – Wentworth Park – High Intensity (VIC)
1989 – Angle Park – Julep (SA)
1990 – Olympic Park – Clean Machine (VIC)
1991 – Gabba – Just A Charm (QLD)
1992 – Wentworth Park – Pace Galore (VIC)
1993 – Cannington – Billy's Blondie (QLD)
1994 – Wentworth Park – Miss Cruise (NSW)
1995 – Olympic Park – Boronia Blossom (QLD)
1996 – Albion Park – Boronia Blossom (QLD)
1997 – Angle Park – Ibrox Park (NSW)
1998 – Cannington – Paradise Street (WA)
1999 – Wentworth Park – Kobble Creek (QLD)
2000 – Launceston – Osti's Joker (VIC)
2001 – Sandown Park – Tip Top Tears (VIC)
2002 – Albion Park – Boomeroo (VIC)
2003 – Angle Park – Arvo's Junior (VIC)
2004 – Cannington – Classy Customer (NSW)
2005 – Wentworth Park – Texas Gold (NSW)
2006 – Launceston – Bothing (SA)
2007 – The Meadows – Flashing Floods (VIC)
2008 – Wentworth Park – Mantra Lad (VIC)
2009 – Cannington – Jarvis Bale (VIC)
2010 – Angle Park – Blue Lorian (NSW)
2011 – Albion Park – Dashing Corsair (QLD)
2012 – Hobart – Miata (WA)
2013 – The Meadows – Smart Valentino (NSW)
2014 – Cannington – Sweet It Is (VIC)
2015 – Wentworth Park – Lady Toy (VIC)
2016 – Angle Park – Ring The Bell (VIC)
2017 – Albion Park – Fanta Bale (VIC)