Baa Man the one to beat in Thursday's Brian Johnstone Final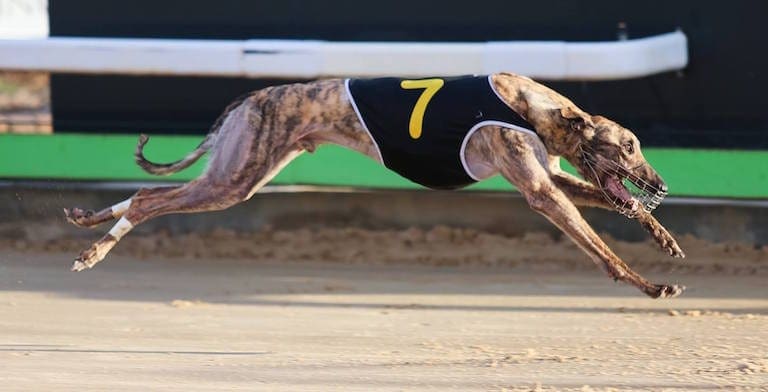 EXCITING South Australian prospect Baa Man (Dyna Tron x Just Crazy Nov '15) stamped himself as the greyhound to beat in this week's $37,500 Group 3 Brian Johnstone final (515m) with a brilliant win in his semi-final at Angle Park on Thursday night.
The brindle dog jumped well off box seven, settling in second spot behind Long Gully Robbi (Kc And All x Long Gully Libby Aug '15) before powering to the line to win by five lengths over Dakota Dawn (Swift Fancy x Gable La Flash Oct '15) in 29.94.
Long Gully Robbi tired to finish third but will progress through to the final alongside Emerley Storm (Nolen x Emerley Charmer Dec '15) which crossed the line in fourth spot.
Trainer Karen Wittholz, who bred Baa Man with her husband Michael, was elated with the effort – a sharp improvement on his 30.77 heat win on November 15.
"The time in his heat wasn't very good, but he got into a heap of trouble so I was hopeful he could race well on Thursday night," Wittholz told Australian Racing Greyhound.
"[Long Gully Robb] isn't real strong at the end of its races, so when he lobbed second I thought he was going to be hard to beat.
"At the end he was really pulling away from them – he is starting to run the 500 out very nicely."
After Thursday night Baa Man has now won eight races from 15 starts with two seconds and one third. Six of his wins have come at his past eight starts including four victories over the track and trip at Angle Park.

He is bred to run, being a close relation to multiple group winner Weblec Belle which won the Brian Johnstone in 2014 and multiple city winner Weblec Rose.
"He is very closely related to Weblec Belle and Weblec Rose who were by Dyna Tron out of Snow Excuse.
"We lost Snow Excuse but we were able to get a hold of her half sister, Just Crazy, and we took her to Dyna Tron knowing he clicks well with that line.
"It has turned out a nice litter. There are no champions but five of them have won races and this bloke looks pretty smart.
"He is a quiet dog and very easy to train – so far he has been pulling up really well and handing his racing. I can't fault him – he is doing everything right at this stage."
Box draw to next Thursday's Group 3 Brian Johnstone Memorial. Early thoughts? Looks obvious, 1 leads 6 gets a look in will bolt in. @GerardDaffy @On_the_bunny79 @mitch23y @Stido1 @pepurtell @Piesnpeas @BanditBenny pic.twitter.com/yun8tvtOhz

— Greyhound Racing SA (@TheDogsSA) November 24, 2017
Baa Man will jump from box six in the final against a handy field. Also qualifying for the feature were four greyhounds from the remaining semi-final – Libby Raider (Kc And All x Long Gully Libby Aug '15) which won in 30.48 as well as Crazy Again (Dyna Tron x Just Crazy Nov '15), Dunkirk (Bella Infrared x Goosebumps Sep '15) and Emerley Nolen (Nolen x Emerley Charmer Dec '15).
Despite the tricky draw, Wittholz gives her charge a major chance in the final worth $25,000 to the winner.
"I would have loved for him to have drawn box seven – he tends to settle down and come out a bit better from even boxes – but it is what it is.
"If he can jump this week I give him a big chance – there is a lot of pace on the inside but if he gets a bit of luck in the run to the first corner he is going to be right in it."
The Group 3 Brian Johnstone will be run and won at Angle Park this Thursday night.
More Greyhounds News