'Calmness' the key to WA Derby win for Hinto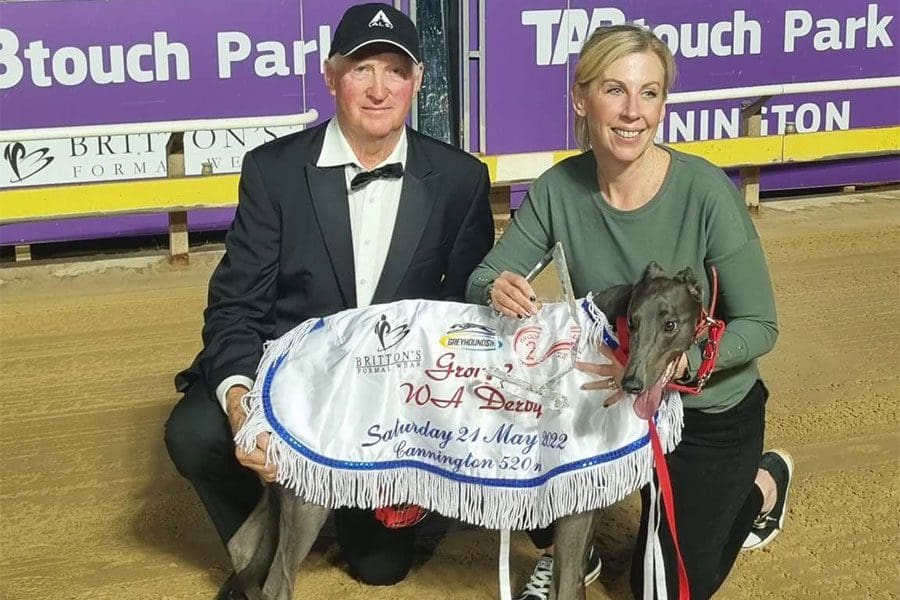 Champion breeder and co-trainer Dave Robartson believes it's not hard to notice a dog with a win-at-all-costs mentality early in their development.
He saw a few special attributes in Hinto, and that is why he is the WA Derby champion at just 19 months.
It was the fourth WA Derby victory for Dave and his wife, trainer Christine Robartson, both being involved as breeders and trainers since 1980.
Hinto took advantage of his No.1 box to win the $57,000 Group 2 feature in a time of 29.86 seconds at Cannington on Saturday night.
He now has three wins from just seven starts, but it was the way he fought for his early position at the first turn which showed Robartson how much maturity he has at such a young age.
"You've got to have a bit of calmness in the dog. The bitch (his dam, Rekall Kelsos) was pretty calm," Robartson told AustralianRacingGreyhound.com.
"But when it's time to go, you need the dog to go.
"When the door's shutting at the first turn, he either pulls back or pushes through. And what he did was push through, and that's what I like about those dogs.
"This dog has had seven starts and he's still only 18 months old, and he's already showing maturity.
"So I think long-term there'll be some good stuff to come."
Robartson said Jason Mackay's superstar Zipping Garth was the ideal sire for Hinto.
Zipping Garth's last race was April 27, 2019, before suffering a career-ending leg injury after he hit the running rail in a solo trial at Maitland. He won all five of his starts and is proving to be a star dog at stud.
"They're good chasers (by Zipping Garth). The bitch (Rekall Kelsos) I had was a little bit soft – she could run, but she wouldn't put up with the hard stuff," Robarston said.
"I wanted a hard-chasing dog … that's the sort of dog I want to breed from.
"At the time they (WA Derby wins) are all great. Most of these dogs we've bred ourselves and raced ourselves.
"We raced the mother before and it's similar lines all the way through.
"She's out of a High Earner line. She's a granddaughter of High Earner (who won 35 races from 71 starts, including the Perth Cup as well as WA and Queensland derbies).
"So it's always a buzz when you hit the nail on the head again."
Robartson said he has also seen similar champion qualities in fellow 19-month-old Throttle, as well as a brother of Hinto who is in the early stages of his career.
"I have a similar dog here which is a bit faster than him (Hinto). He (Throttle) is not as quick as him early," he said.
"(Three weeks ago) he ran 29.51 seconds. In the (Derby) heats they weren't going fast enough out of the boxes.
"He got hemmed up behind them and pushed back to last. He fought hard and ran fourth.
"He didn't make the final, but put him two out and he wins by eight.
"I've got a brother of (Hinto) who is going along nicely. There's a maiden final on June 10."
Robartson knows the above scenario is not worth stressing about. He's been in the game over 40 years and says patience is the key to being a good breeder and trainer.
"Patience is everything with young dogs. You've got to wait until they're ready to go and you can't push them too hard," he said.
"But at the same time you don't want them to get too bored because they can do more damage in your kennel.
"A lot of people say 'give them a month off'. I don't think that's how you go about it. I like to keep them in work.
"If I want to give them time off I might take them out of racing for a few weeks, but I don't spell them unless they've got injuries.
"Because once you get them hard you want to keep them hard. If you give them a month off, then all of a sudden they're back to butter."
It is a great story of family success with the Robartsons, with Dave and Christine still training 12 dogs in work.
They were presented with the Gerry O'Keefe Achievement Award by RWWA in March last year for more than four decades of service to the WA greyhound industry.
And High Earner was inducted into the Queensland Racing Hall of Fame, also in March last year.
Daughter Jodee Jennings is involved as an owner, and she assists at their kennels.
"She helps at our kennels. She's a school teacher, so she spends a bit of time here and out of hours like school holidays," Robartson said.
Similar Greyhound Racing News