Despacito opens as Devonport Cup favourite after 25.40 heat win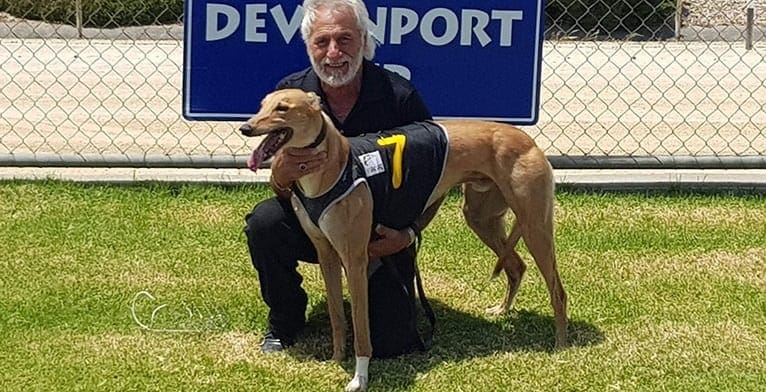 STAR chaser Despacito is the $2.60 favourite at online bookmaker Sportsbet to win next Tuesday's Group 3 Devonport Cup (452m) after a scintillating win the qualifying heats.
The Michael Stringer-trained dog sizzled around the Devonport track on Tuesday to gain a place in the final, recording a speedy 25.40 from box 7.
Despacito will jump from the box 5 on Tuesday.
The Black Magic Opal x El Brooklyn dog is the clear favourite for the race ahead the first reserve Fernando Drums at $4.
Just Browsing (box 7) and Sacred Shadow (box 8) are both locked together on the third line of betting at $4.20, while Corykodi (box 2) is at the $4.80 mark via online bookmaker BetEasy.
Tasmanian trainer Gary Fahey, who prepares both Just Browsing and Sacred Shadows, believes both dogs enter the race as strong hopes despite the wide box draws.
"I would have liked to have seen them both drawn down closer to the rail but between the two I'd say Just Browsing would be the best chance knowing Emerald Rainbow (six) is a slow beginner and will give our girl enough room to get a cart across down to the rail," Fahey said.
"We have made the Devonport Cup a few times. It's a privilege and these girls will do us proud."
Despacito is the favourite across the board with the bookmakers and his trainer Michael Stringer believes the best is yet to come.
Stringer said prior the Devonport Cup heats that his duo Huxley – which failed to qualify for the final – and Despacito are both capable of winning the Group 3 event.
"They are both in top condition coming into the series," Stringer said.
"Huxley showed what he is capable of last of last week and he is much better suited closer to the rail today in box three and Despacito came up against a good dog in Fernando Drums and will be improved with that run under his belt."
Stringer believes that Despacito is a special chaser.
"(Despacito) can really motor, he flew in the heat and then got knocked out of the Thousand Final when clipped from behind by Huxley as it turned out, he still managed to gather himself up and run third which was a remarkable effort," Stringer said.
"Leeroy Rogue ran a sensational race and richly deserved his win as he is a real champ but there is no risk Despacito should have finished closer."
WATCH BELOW: Despacito wins heat 6 of the Devonport Cup on January 8