National Distance outsider looking for a fairytale finish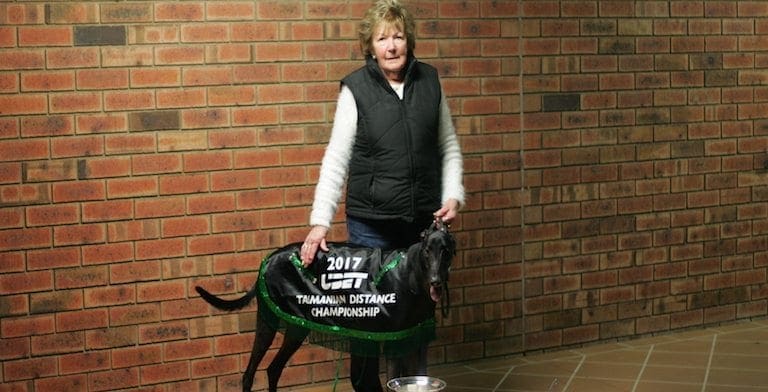 TASMANIAN trainer Margaret Rossendell is under no illusion that her young stayer Shima Sun (Barcia Bale x Shimaguni Feb '15) faces a tough challenge when he heads to Queensland to contest next Friday's Group 1 National Distance Championship (710m).
However, the Richmond conditioner remains optimistic of a fairytale result, with plenty of emotions set to be on show if the black greyhound can cross the line in first spot in the $75,000 to the winner feature.
Rossendell said she is thrilled just to have qualified for the final, which brings together representatives from each state, especially given the age and 'half-mile' experience of Shima Sun.
"I am over the moon to have made the final especially given he was only having his second start over the 700 in the state final," Rossendell told Australian Racing Greyhound.
Shima Sun is owned by Victorian Sharon Stanton and started his career in January, having now won nine of his 23 starts. The 34-kilogram powerhouse was formerly owned by Stanton's husband Rob, who sadly passed away several months ago. Rossendell said the pair had shared some terrific times on the race track over the years.
"I was coming home from Devonport one day after one of my dogs won by 15 lengths and I had a phone call from someone I didn't know asking if they could send a dog down to me," Rossendell recalled.
"I ended up training a couple of dogs for Rob and he told me that he had a pup which he thought was going to be a nice dog so he sent him down as well – and that turned out to be Jack (Shima Sun).
"Unfortunately, we lost Rob a while ago, he was a very sick man, and whilst I never met him in person he was a lovely bloke – we spoke on the phone about his dogs a couple of times each week and he was a great person to train for.
"Every win since Rob's passed I always look up and say 'this one's for you Rob'…it was very emotional when he won the state final."

Rossendell says her greyhound will be given every chance heading into the National decider and will be leading for the Sunshine State on Sunday before trialling at Albion Park on Monday.
"In all fairness to the dog he needs to have a look, but I am just going to trial him over 520m – that's all he needs to top him off and he'll get a good look at the track on his own," she said.
"It's very exciting to have him there – Sharon is flying up from Victoria to watch him on Friday and whilst we aren't expecting him to win I hope he'll go well.
"I spoke to Sharon on [Thursday] and she said there is no doubt Rob will be up there pulling the tails of the other seven dogs in the final – it would just be a fairytale if he were able to win it."
Shima Sun will face a massive challenge, coming up against champion Victorians Fanta Bale (David Bale x Ucme Typhoon Aug '14) and Burn One Down (Buck Fever x Fancy Jaffa Jan '14), group 1 South Australian Bogie Bekim (Bekim Bale x Bogie Skye Apr '14), NSW stayer Ebby Ripper (SH Avatar x Ebby Miss Feb '15), WA gun Ramifications (Barcia Bale x Disco Girl Jan '14) and local hopes Outside Pass (Head Bound x Tina's Show Aug '13) and Big Easy Red (Barcia Bale x River Seine Dec '13).
If Shima Sun is able to upset his rivals in the final, he will become the first Tasmanian to win the National Distance Championship which has been run since 1969.
Rossendell said she isn't concerned that people are overlooking her greyhound, with the conditioner of close to four decades used to being the outsider.
"We aren't going into the race confident – but with that being said I never get overly confident with my dogs because then you put expectations on them and you don't get that thrill when they win," she said.
"I know everyone has written him off – but they did that in the state final and he surprised them so that doesn't really worry me.
"I'm used to people doing that to my dogs – when I had Bacchant in the Hobart Thousand final I overheard one of the professional punters at the track saying he was the only dog in the field that couldn't win.
"He was the youngest dog in the field, but he jumped straight in front and the race was over after five yards.
"It just goes to show anything can happen in greyhound racing."
The Group 1 National Distance Championship will be run and won at Albion Park on August 25.
Similar Greyhound Racing News