Opetaia looking to make history with Agland Luai in MDC Final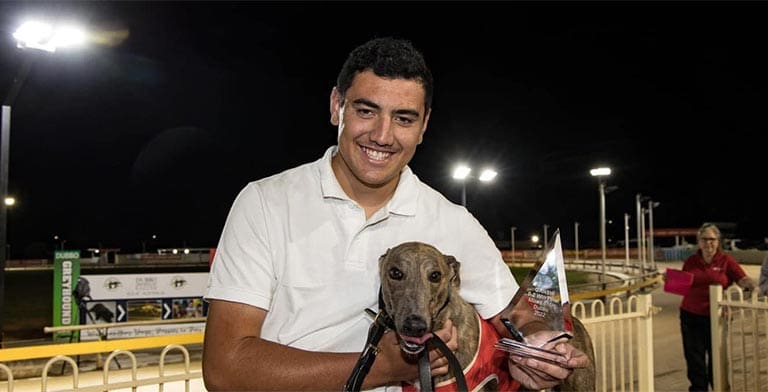 He is just 19, but nobody can say Jay Opetaia does not deserve his one-in-eight shot at the riches on offer in this Saturday's Million Dollar Chase Final.
Last Friday night at Wentworth Park, the young trainer from Orange oversaw Agland Luai winning the second MDC semi-final in a time of 29.98 seconds.
In doing so, the talented two-year-old took advantage of box one and beat Frank Hurst's $2.70 favourite, Good Odds Cash.
Million Dollar Chase semi-final replay | Agland Luai (1st)
Hurst won the 2019 MDC with Good Odds Harada, and the veteran Londonderry-based conditioner at the time said that victory justified his lifetime of work.
Now, Opetaia can also justify his lifetime of work, but at the age of just 19.
"It's unbelievable. I didn't think we'd be coming here winning it," he said.
"I thought he'd be a chance drawing the red.
"But he just needed to jump. It's a bit surreal now that it's happened.
"My family's always had them (greyhounds), so 19 years (of involvement in the sport)."
Opetaia is grateful to have such a talented dog like Agland Luai in his care so early in his training career.
"He's a terrific dog. To get him this early, it's been terrific," he said after his chaser won by two lengths.
"It'd be absolutely life-changing (to win the 2022 MDC on Saturday night).
"I'll just try and hold my nerves together and keep doing the same thing I've been doing with him.
"They (family) will be over the moon. My uncle and cousin – it's a family effort.
"We all train the dogs together, so they'll be home cheering."