Shima Song wins 2017 Group 2 McKenna Memorial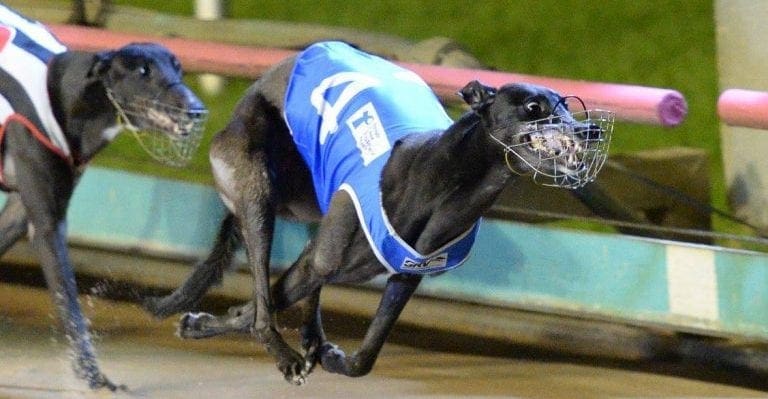 DAVID Gleeson says Shima Song (Dyna Tron x Shimaguni May '14) will be retired after her stunning win in Thursday's Group 2 McKenna Memorial (595m) at Sandown Park.
Trained by Andrea Dailly, Shima Song took on a sensational field in the $50,000 to the winner feature, but when the lids flew open it was a one act affair as Shima Song led all the way off the red box to defeat five-time group winner Fanta Bale by 0.66 lengths in 34.33.
Owner Gleeson, who also bred and races the daughter of Dyna Tron and Shimaguni with his mate Bob Cummings, said it was a massive thrill to win Thursday's feature, one of the best finals to have assembled over the 595m trip at Sandown in recent memory.
"It was a big thrill to win it up against the best dog in Australia [Fanta Bale] as well as her half-sister Bella Shima and Dundee Osprey – it was a great final," Gleeson told Australian Racing Greyhound.
"She is always a chance no matter what race she competes in because she is a reliable beginner and a hard chaser, but she really did a fantastic job on Thursday night against some high class greyhounds."
ICYMI: Shima Song holds off Fanta Bale to win the group 2 McKenna Memorial pic.twitter.com/tqd8UecHDw

— Sandown Greyhounds (@sandowndogs) July 13, 2017
The win took her career record to 28 wins and 21 minor placings from 66 starts, with her prize money in excess of $288,000.
Despite having just turned three years of age in May, Gleeson said Shima Song has run her last race, with winning the McKenna Memorial a fitting way to end her illustrious career.
"I was talking to the Daillys about it over the past couple of months and we were planning on retiring her soon anyway," Gleeson said.
"She has had a good number of race starts and thought it would be better to retire her on a high whilst she is at the top of her form."
Gleeson also said a number of injury concerns also played a part in the decision to retire Shima Song before anything serious happened to her on the track.
"She has had a few injuries of late – so big accolades to team Dailly for looking after her and keeping her going," he said.
"They had a big battle on their hands to get her right for the final so to see her come out and win like she did, full credit must go to them.
"Because she's had a few injuries I also didn't want her to suffer any pain if we were to continue racing her – she has been very good to us so I wanted to ensure we did the best thing by her."

Shima Song will now slowly transition into pet life and will enjoy a holiday before heading to the breeding barn in the not too distant future.
"She'll now have plenty of rest and she can live the life of leisure for a while before breeding with her down the track," Gleeson said.
"Retiring her now gives her that extra bit of time to let down and relax after being a race dog. We'll still keep her fit, but it just gives her body that bit of a break before breeding with her.
"I am sure she will be a great mum when the time comes – her mother Shimaguni has been a very special brood bitch and she has the breeding and ability to throw on as well."
Meanwhile, Gleeson also said Shima Song's half-brother Shima Bar (Barcia Bale x Shimaguni Feb '15) is enjoying life after the track after breaking his front leg in a heat of the Group 1 Australian Cup in February.
Whilst Gleeson says he is unsure if the son of Barcia Bale will ever make it back to the track, the Group 1 Paws of Thunder winner currently has the life every male dreams of at stud – with his first litter to Full Of Grace (El Grand Senor x Catch Up Sunday Aug '13) due in early August.