Queensland Futurity betting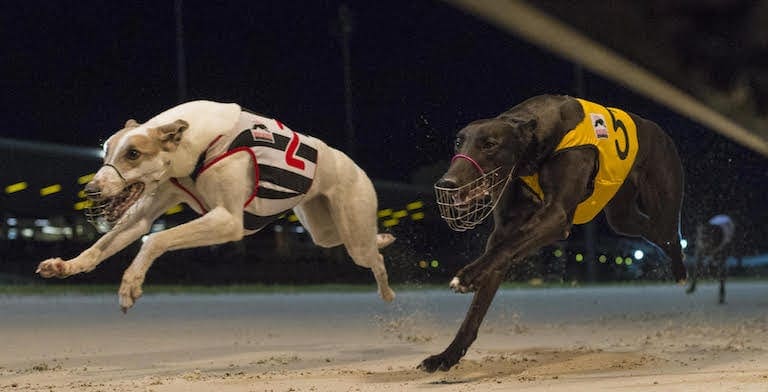 The Group 2 Bogie Leigh Queensland Futurity is run at Albion Park over 520m and is open to the best female greyhound which are nominated under 30 months of age each year.
The race is one of the most sought after bitches-only races in the country, with winning connections pocketing a lucrative $40,000 winner's cheque.
The most recent edition of the final was run and won on April 12 when it was taken out by Victorian racer She's Gifted.
Betting on the Group 2 Bogie Leigh Queensland Futurity
With the best female athletes gathering from the Sunshine State and interstate, the Queensland Futurity is always a keenly contested series packed with quality.
With plenty of nice bitches vying for the riches, punters always take a keen interest in betting on the series.
Most of our recommended online bookmakers offer fixed odds betting on both the heats and final, with some even opening all-in betting markets on the feature final prior to the qualifiers.
With the 2019 Bogie Leigh Futurity a long time away, there are no markets currently available for the winner, however we will be updating this page in the lead up to the race to enable you to snap up the best odds.

Queensland Futurity Bookies
History of the Group 2 Queensland Futurity
The Queensland Futurity is a time honoured event, first run back in 1973 at which time greyhound racing was still being held at the Gabba. Since that time it has been taken out by some of the sport's finest females including the likes of Winged Runner (2000), Bogie Leigh (2003) and Queen Lauryn (2008).
Racing moved from the Gabba to Albion Park in 1993, with Blue Chip Doll winning the race that year.
Arguably the best greyhound to win the race is Hall of Fame bitch Bogie Leigh which took out the 2003 Futurity. The daughter of Just The Best and Hypo Havoc is one of four winners for leading Queensland conditioner Tony Brett, who has also prepared Honey Mist (2007), Queen Lauryn (2008) and Velocity Regina (2010).
Fittingly, Brett's 2007 Futurity winner also marked the first year the race was run as the 'Bogie Leigh Queensland Futurity' – named after the former champion racer.
The recent runnings of the Group 2 Queensland Futurity
She's Gifted benefited from a look at the track in her heat the week prior when scoring a commanding win in the most recent edition of the Group 2 Queensland Futurity.

Starting from box seven, the black bitch carved across from box seven and never looked in danger, bolting clear to win by almost four lengths in a flying 29.74.

The youngster, trained by Lara mentor Deborah Coleman, took her record to five wins and three placings from 11 starts, her prize money now sitting above $50,000.

2018 Queensland Futurity results

April 12, 2018. Albion Park BGRC. Winner's Purse $40,250.
Winner: She's Gifted (Fabregas x Big Gift) February 2016. Black Bitch.
Owner/Trainer: Deborah Coleman.
Time: 29.74, Margins: 3.75 x 0.5
Others in finishing order: Ella Enchanted, Wise Misty, Poco Dorado, Veloce Nero, Hara's Honey, Brandi Alexander, Sleight Of Hand.

The 2017 edition was an emotional race, with John Dart securing the quinella in the $40,000 to the winner feature. Just weeks prior, Dart's property was inundated by floodwaters during Cyclone Debbie, causing enormous damage and sadly resulting in the loss of some greyhounds.

2017 Queensland Futurity results

April 27, 2017. Albion Park BGRC First Prize $40,000
Winner: Neeky's Way (Spring Gun x Miami Gold) Born Oct 2014 Red Fawn Female
Owner: John McGrory, Trainer: John Dart.
Time: 29.85, Margins: 5 x 0.5.
Others in finishing order: Spare Cash, Lockety Brin, Magic Hornet, Precious To Me, Joyce Rumble, Bikini Cloud, Invergarry Lady.

Fabregal became the first South Australian trained greyhound to win the feature, scoring in a tidy 30.02. The black bitch used box one to perfection, shaking off mid race pressure from Tony Brett's Split Image to score by one length in 30.02. The win gave conditioner Robyn Mackellar her biggest win throughout her 10 year training career.

2016 Queensland Futurity results

April 14, 2016. Albion Park BGRC First Prize $47,250
Winner: Fabregal (Fabregas x Allinga Aye Jay) Born: March 2014 Black Female
Owner: Terry McCallum, Trainer: Robyn Mackellar,
Time: 30.02. Margins: 1L x Nose.
Others in finishing order: Split Image, Sheza Keen Size, Feisty Fie, Oreo Delight, Ironbar Jill, Vidi Vici, Dokmai.

The 2015 edition of the Bogie Leigh Futurity was won by the Peter Ruetschi-trained Over Here. The daughter of Don't Knocka Him and Where Are You began brilliantly and was never in doubt, scoring a dominant five and one quarter length victory over Pocahontas in a slick 29.99. It was the seventh career win for the promising bitch at start number 12, with the triumph taking her career earnings to $65,538.

2015 Queensland Futurity results

April 16, 2015. Albion Park BGRC First Prize $48,475.
Winner: Over Here (Don't Knock Him x Where Are You) Born April 2013 Black Bitch
Owner: Leonard Antonio. Trainer: Peter Ruetschi
Time: 29.99. Margins: 5.75 x 0.75.
Others in finishing order: Pocahontas, Abby's Magic, Cyndie's Magic, Titan Ash, Magic Maiden, Dynamite Speed, Kingsbrae Lavina.

Visualize It gave trainer Peter Young the biggest win of his career when taking out the 2014 Bogie Leigh Futurity. The blue bitch, by Ivan Brown out of Visualization was having just her sixth start in the feature and produced a powerful finish to defeat Bill Elson's quality pair Cyndie's Special and Abby's Fantasy in a handy 30.16.

2014 Queensland Futurity results

April 24, 2014. Albion Park BGRC First Prize $40,000
Winner: Visualize It (Ivan Brown x Visualization) March 2012 Blue Bitch
Owner: Conlon Miller Young Ptn, Trainer: Peter Young.
Time: 30.16 Margins 0.5 x Head
Others in finishing order: Cyndie's Special, Abby's Fantasy, Oakvale Flyer, Oakvale Destiny, Tarks Nemesis, Super Vision, You can Talk.

Former top trainer Graeme Bate landed the quinella in the 2013 Queensland Futurity, with Purcell Bale defeating champion kennel mate Xylia Allen. The daughter of Dyna Lachlan and Princess Bale had to do it tough, coming from fourth down the back before pushing through on the home turn to record a strong 30.39 win.

2013 Queensland Futurity results

April 18, 2013. BGRC Albion Park Raceway. First Prize $40,000.
Winner: Purcell Bale (Dyna Lachlan x Princess Bale) April 2011 Red Fawn Bitch.
Owner: Paul Wheeler. Trainer: Graeme Bate.
Margins: 1.75 x Head. Time: 30.39
Others in finishing order: Xylia Allen, Celtic Diva, Tarks Angel, Pearl Za Zinger, Winsome Charlee, Miss Karoo, Cee Eh Oh.
Group 2 Queensland Futurity honour roll
| Year | Winner |
| --- | --- |
| 1973 | Little Colleen |
| 1974 | Hi Now |
| 1975 | Kabisa Gem |
| 1976 | Pinto Power |
| 1977 | Overflow Love |
| 1978 | Katie's Disco |
| 1979 | Gallant Anne |
| 1980 | Pretty New |
| 1981 | Miss Budweiser |
| 1982 | Truly Active |
| 1983 | Double Crown |
| 1984 | Rustic Venture |
| 1985 | Kirsty's First |
| 1986 | Cyclone Magpie |
| 1987 | Fifi She's Not |
| 1988 | Run Baby Run |
| 1989 | Milluna Babe |
| 1990 | Tardy Tears |
| 1991 | I'm An Angel |
| 1992 | Turbo Tears |
| 1993 | Blue Chip Doll |
| 1994 | Conquering Wind |
| 1995 | Marinette |
| 1996 | Ultra Dreams |
| 1997 | Lough Derg |
| 1998 | Barrio Fiesta |
| 1999 | Golden Pepper |
| 2000 | Winged Runner |
| 2001 | Springtime Magic |
| 2002 | M'Lady's Fool |
| 2003 | Bogie Leigh |
| 2004 | Fool's State |
| 2005 | Smart And Sassy |
| 2006 | Here I Come |
| 2007 | Honey Mist |
| 2008 | Queen Lauryn |
| 2009 | Millennium |
| 2010 | Velocity Regina |
| 2011 | Imposing Jett |
| 2012 | Katie Merry |
| 2013 | Purcell Bale |
| 2014 | Visualize It |
| 2015 | Over Here |
| 2016 | Fabregal |
| 2017 | Neeky's Way |
| 2018 | She's Gifted |