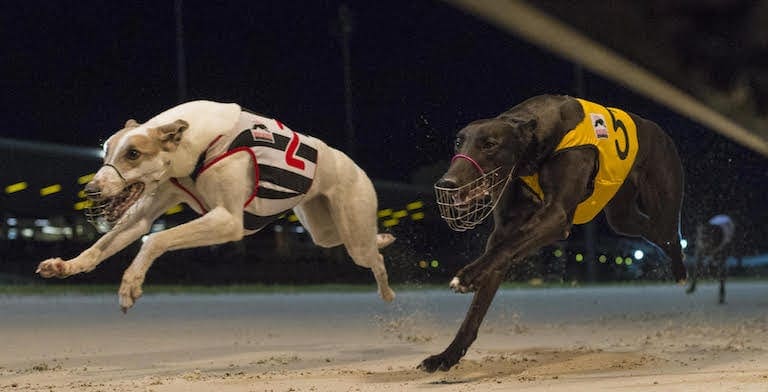 The Group 1 Winter Cup is the main feature race throughout the Brisbane Winter Carnival and is run over 520m at Albion Park. The race attracts the best sprinters from around the country, with the 2016 edition worth a whopping $75,000 to the winner.
The most recent edition of the race was won by Tony Brett and his brilliant greyhound, Fast Times.
Betting on the Group 1 Winter Cup
With the best of the best heading to the Sunshine State in pursuit of group 1 glory, the Winter Cup always attracts plenty of interest from greyhound racing enthusiasts and general punters.
Each of our recommended online bookmakers offer fixed odds betting on the final which gives you the chance to shop around and find the best price about your selected runner. It also means you can potentially snag some overs because you are guaranteed to be paid the odds at the time of your wager, despite how much money may come for your greyhound in the days leading up to the race.

Winter Cup Bookmakers
History of the Group 1 Winter Cup
The Group 1 Winter Cup has an extensive background, having been run with many names and at different tracks throughout its history.
The first running of the feature was at the Gabba in 1978, when it was sponsored by the famous Queensland brewing company Castlemaine XXXX. In its inaugural year it was known as the Castlemaine XXXX Trophy and it was run over the testing 558m sprint when won by Brigadier North in 33.00.
The race remained known as the Castlemaine XXXX Trophy until 1992, with the exception of the 1987 running when it was called the Christmas Trophy.
Having been made a group 1 race in 1991, the event moved to the Albion Park track which began racing in 1993. In its first year at the new course it was known as the Christmas Stocking.
The event dropped back to a group 2 feature in 1997 and 1998 before regaining its group 1 status in 1999 when taken out by the great Winged Runner in 30.18.
Between 1994 and 1997 the race was sponsored by Pet Food company Eukanuba, with its subsequent company Nutrient taking over between 1998 and 1999.
The turn of the century saw the Brisbane Greyhound Racing Club developed the idea of the Winter Carnival, with the race being renamed the Winter Carnival Cup.
Since that time it has grown in stature, with the race now standing as one of the most sought after races on the Australian greyhound racing calendar.
Throughout its history, the race has been won by some champions of the sport such as Flying Amy (1995), Roanokee (1996), Winged Runner (1999), Made To Size (2008) and Glen Gallon (2012/2013).
Leading Queensland conditioner Tony Brett has had the most luck in the feature, having claimed five editions of the event with Iso Octane (2011), his great champion Glen Gallon (2012/2013), Flash Reality (2014) and Fast Times (2017).
Group 1 Winter Cup – recent years
Fast Times gave champion greyhound trainer Tony Brett a record fifth victory when saluting in the most recent edition of the Group 1 Winter Cup. The black dog scored by a length in 29.77, defeating a star-studded field including star QLD bitch Outside Pass, Melbourne Cup winner Ando's Mac and exciting newcomer Cosmic Bonus.

2017 Winter Cup results

When
July 6, 2017
Where
Albion Park Brisbane
First Prize
$75250
Winner
Fast Times (Barcia Bale x Clockwise)
Born
April 2015 Black Dog
Owner
Terry Hill
Trainer
Tony Brett
Time
29.77
Margins
1 x 1.25L
Others in finishing order
Bubble Guppy, Ando's Mac, Outside Pass, Nangar Rock, Cosmic Bonus, Shoes To Fill, Tahlia's Way

Zambora Brockie recorded the second group 1 of his glittering career when winning the 2016 Winter Cup final. The son of Nitro Burst and Flying Liddy held off Outside Pass and Cyndie's Magic to register the 22nd win of his life, clocking a brilliant 29.72 for leading Victorian trainer Anthony Azzopardi.

2016 Winter Cup results

When
July 7, 2016.
Where
Albion Park BGRC First Prize $75,250
Winner
Zambora Brockie (Nitro Burst x Flying Liddy)
Born
Sept 2013 Black Dog
Owner
Charlie Azzopardi.
Trainer
Anthony Azzopardi.
Time
29.72.
Margins
1L x 0.5.
Others in finishing order
Outside Pass, Cyndie's Magic, Split Image, Thirty Talks, Blazin Bomber, Vegas Bound, Masters Jackpot.

Fabulous Storm caused a major upset in the 2015 running of the event when scoring at 22-1. The honest sprinter began well from box two and was able to get a sit behind early leader Keybow, railing through around the home turn to score in 29.83. The victory gave his trainer Reg Hazelgrove, a former pigeon trainer, his first group 1 win after half a century of involvement within the sport.

2015 Winter Cup results

When
July 2, 2015.
Where
Albion Park BGRC
First Prize
$100,450
Winner
Fabulous Storm (Fabregas x Whirly Storm)
Born
Feb 2013 Black Dog
Owner
Hazelgrove Ptn
Trainer
Reg Hazelgrove.
Time
29.83
Margins
0.5 x 2.5.
Others in finishing order
Dyna Double One, Keybow, Dawkins Bale, Pop The Cork, Flash Reality, Yada Yada Yada, Victory Prince.

Tony Brett made history when claiming his fourth Winter Cup with the ultra-consistent Flash Reality. The black dog added to his previous win in the Group 2 Queensland Derby when scoring in a hot 29.71, defeating a quality field including group winners Buckle Up Wes and Awesome Project.

2014 Winter Cup results

When
July 3, 2014.
Where
Albion Park BGRC
First Prize
$75,000
Winner
Flash Reality (Premier Fantasy x Orara Flash)
Born
Dec 2011 Black Dog
Owner
Marlene Ellis
Trainer
Tony Brett.
Time
29.71.
Margins
1.25L
Others in finishing order
Buckle Up Wes, Love Kills, Awesome Project, Yogi Blue, benarkin, Winged Elite, Gumlow Star.

Veteran chaser Glen Gallon became the only greyhound to win consecutive Winter Cups when taking out the 2013 event, with the son of Flying Stanley and Incoherent making the race a one act affair. Spearing out of box seven, the brindle dog was never in danger, powering to the line to score by four and one quarter lengths in 29.80 for Tony Brett.

2013 Winter Cup results

When
July 4, 2013.
Where
BGRC – Albion Park Raceway
First Prize
$75,000
Trainer
Glen Gallon (Flying Stanley x Incoherent)
Born
August 2009, RBD Dog
Owner
Velocity Lodge Ptn. Trainer: Tony Brett.
Margins
4.25 x 3.25
Time:
29.80
Others in finishing order
Top Story, Xyia Allen, Bellagio Lad, Hello Good Bye, Tomac Bale, Poetic Mover, Coal King.
Group 1 Winter Cup – honour roll
Winter Cup Past Winners
Year
Winner
Trainer
Time
1979
Katie's Disco
???
???
1980
Wings Of Steel
???
???
1981
Call Me Roscoe
???
???
1982
Glanzend
???
???
1983
Duration
???
???
1984
Acacia Park
???
???
1985
Amber Flash
???
???
1986
(Jan) Sharyn's Vogue
???
???
1986
(Dec) Fifi She's Not
???
???
1987
Dancing Gamble
???
???
1988
Fifi She's Not
???
???
1989
Son of Ella
???
???
1990
Highly Blessed
???
???
1991
Soldier On
???
???
1992
Iceni Princess
???
???
1993
National Leader
???
???
1994
Toban Leah
???
???
1995
Flying Amy
???
???
1996
Roanokee
???
???
1997
Wine Glass
???
???
1998
Shady Macbeth
???
???
1999
Winged Runner
???
???
2000
Short Model
???
???
2001
Mint Mojo
???
???
2002
Awesome Machine
???
???
2003
Elite State
???
???
2004
Trewly Special
???
???
2005
Hades Rocket
???
???
2006
Fenceline
???
???
2007
Big Swell
???
???
2008
Made To Size
???
???
2009
Trew Millions
???
???
2010
Event Not Held
???
???
2011
Iso Octane
???
???
2012
Glen Gallon
???
???
2013
Glen Gallon
???
???
2014
Flash Reality
???
???
2015
Fabulous Storm
???
???
2016
Zambora Brockie
???
???
2017
Fast Times
???
???