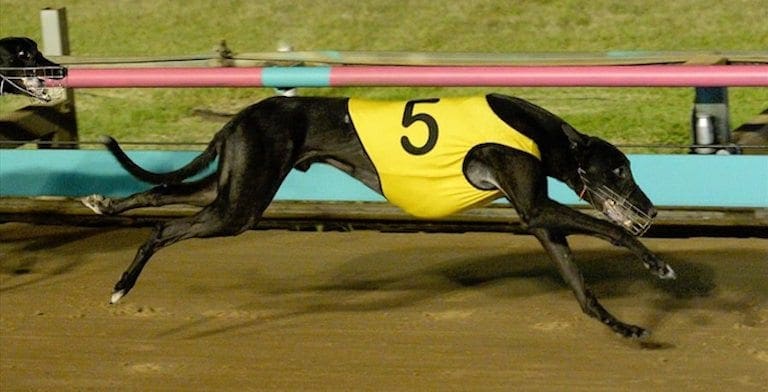 The Zoom Top is an invitation only race which is run and won each year at The Meadows over 725m.
It is one of only two invitation-only staying events, with runners chosen by a panel based on their recent performances rather than through qualifying heats.
The most recent edition of the Zoom Top was won by superstar stayer Fanta Bale for leading trainer Rob Britton.
Betting on the Group 1 Zoom Top
The Zoom Top is one of the most highly sought after titles for stayers and as such only the best of the best compete in the feature. Because it attracts a stellar field each year, the race also generates enormous betting activity.
With such a huge interest on the Zoom Top, all of our recommended online bookmakers offer fixed odds betting as soon as the final fields and box draws have been announced.
With the early odds released so swiftly, punters are given the opportunity to compare the markets between bookmakers and secure the best possible odds about their chosen runner.
Additionally, by betting through our top-rated bookmakers, punters can also take advantage of some sensational sign-up offers which give you free cash matched with your initial deposit amount to bet with.
There are no markets currently available for the 2018 Zoom Top, but be sure to check this page in the weeks leading up to the race for the best odds and free tips.
Want to find out more about the potential bonuses? Click here to see what the bookies can currently offer.

Zoom Top Betting
History of the Group 1 Zoom Top
The race is named in honour of one of the greatest stayers the sport has seen. Zoom Top was a fawn bitch whelped in 1966 by Black Top out of Busy Beaver.
The brilliant bitch graced the track on 136 occasions resulting in 68 wins and 39 minor placings. Amazingly, Zoom Top won over all major distances in greyhound racing, setting 15 track records throughout her glittering career.
Included in her victories were triumphs in the 1968 and 1969 Wentworth Park Gold Cup, the 1968 and 1969 Association Cup, the 1968 Richmond Oaks, the 1968 Dapto Silver Collar, the 1968 Sydney Cup and the 1969 NSW St Leger, now known as the Group 1 Paws of Thunder.
Zoom Top retired in 1970 and is still regarded as the most versatile greyhound in the history of the sport.
In 2003, The Meadows inaugurated an event named after the former champion, with the first running taken out by Tears of Jupiter.
Since that time the race has been won by some terrific dogs including Miss Grub, Miss Brook, Miata, Destini Fireball and Space Star.
Group 1 Zoom Top – the recent years
Fanta Bale (David Bale x Ucme Typhoon Aug '14) defeated one of the best fields she has met to take out the 2018 invitation-only Group 1 Zoom Top (725m) at The Meadows.

Stepping from box four, the Rob Britton-trained bitch looked destined to lead as she pushed forward, however Queensland raider Champagne Sally (Barcia Bale x Bizarre Barbie Apr '15) had other plans – crossing over from box eight to assume the front spot.

Despite being led, Fanta Bale didn't shirk the task, gradually grinding back the margin, levelling up to eye-ball the leader around the home turn before slipping into top gear, sprinting clear to salute by just over two lengths in 42.35.

2018 Zoom Top results

February 17, 2018. 17/02/2018 The Meadows. First Prize:$75,000
Winner: Fanta Bale( David0 Bale X UCME Typhoon) Black Bitch. DOB 14/08/2014
Trainer:Robert Britton Owner:Paul Wheeler
Winning Time:42.35
Others in Finishing Order: RIPPIN' SAM, CHAMPAGNE SALLY, QUICK JAGGER, PACKEY KEEPING, EBBY RIPPER, SCOTT KEEPING, JALAPENO.

Burn One Down won the most recent edition of the Zoom Top, breaking through for his first win at the highest level for leading conditioner Jason Thompson. The black dog stalked the leaders throughout the early parts of the race before taking over down the back and sprinting clear to score in 42.23.

2017 Zoom Top results

February 18, 2017. The Meadows MGRC First Prize $75,000
Winner: Burn One Down (Buck Fever x Fancy Jaffa) Born: Jan 2014 Black Dog
Owner: Danielle Pringle, Trainer: Jason Thompson.
Time: 42.23. Margins: 9.09 x 3.44.
Others in finishing order: Trip To Eden, Jaimandy Hatty, It's A Bird, Bogie Bekim, Allen Lottery, Teddy Monelli, Springvale Byrne.

No Donuts dispelled doubts he was up to the task of running the tough staying trip with a determined victory in the 2016 Zoom Top. The son of Fabregas and Chevy Princess defeated Come On Fantasy by one-and-three-quarter lengths in 42.71.

2016 Zoom Top results

February 20, 2016. The Meadows MGRA First Prize $75,000
Winner: No Donuts (Fabregas x Chevy Princess) Born June 2013 Black Dog
Owner: Bradley Canty, Trainer: Anthony Azzopardi.
Time: 42.71. Margins: 1.27 x 3.29.
Others in finishing order: Come On Fantasy, Seeking Justice, Ryno's Raider, Kilkee Flex, Beks, Luna Jinx.

Space Star made it three group wins from his past four starts to cement his status as Australia's best stayer in the 2015 Zoom Top. The son of Bekim Bale and Tonto Tears defeated Blinker's On and Psychotic Gold, whilst his time of 42.059 seconds was within half a length of the 725m track record.

2015 Zoom Top results

February 21, 2015. The Meadows MGRA First Prize $75,000
Winner: Space Star (Bekim Bale x Tonto Tears) Born June 2012 Black Dog
Owner: Camilla Limon, Trainer: Robert Britton.
Time: 42.09. Margins: 6.19 x 6.92.
Others in Finishing Order: Blinkers On, Psychotic Gold, Lady Toy, Shall She Rock, Starc, Flying Twist, Pumped Up Zarr.

Cheetah Zorro achieved what her ultra-talented mother, Fallen Zorro, was never able to do when winning a group 1 title in the 2014 Zoom Top. The black bitch outstayed a sensational field including Destini Fireball, Lucy Wires and Dyna Willow to score in 42.89.

2014 Zoom Top results

February 15, 2014. The Meadows MGRA First Prize $75,000
Winner: Cheetah Zorro (Bombastic Shiraz x Fallen Zorro) Aug 2010 Black Bitch
Owner: G Heawood Synd, Trainer: Robert Britton.
Time: 42.89. Margins: 2.38 x 2.48
Others in finishing order: Dyna Kayla, Benarkin, Destini Fireball, Lucy Wires, Maddison Dee, Dyna Willow, Born Ali.
Group 1 Zoom Top – honour roll
| | |
| --- | --- |
| 2003 | Tears Of Jupiter |
| 2004 | Irinka Barbie |
| 2005 | Rocky |
| 2006 | Slick Galore |
| 2007 | Miss Grub |
| 2008 | Miss Brook |
| 2009 | Gunnadoo Magic |
| 2010 | Drill 'Em |
| 2011 | Blue Lorian |
| 2012 | Miata |
| 2013 | Destini Fireball |
| 2014 | Cheetah Zorro |
| 2015 | Space Star |
| 2016 | No Donuts |
| 2017 | Burn One Down |
| 2018 | Fanta Bale |