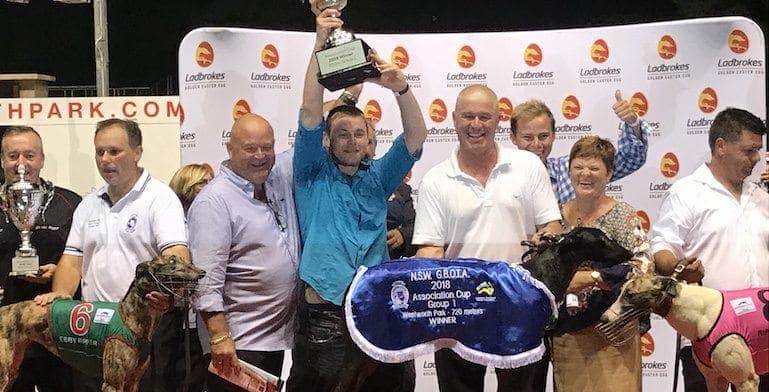 DISTANCE racing requires a special animal which needs exactly the right combination of speed, stamina and heart to make it to the top level. Few races prove this theory better than the Association Cup, the biggest staying race within NSW, which is a feature that has been won by some of the best half milers greyhound racing has seen.

With such high quality chasers contesting the event each year, betting is always competitive and there is often lots of value to be found. The quality of the race can be proven by recent names on the winners' list including Miata (2012), Sweet It Is (2014) and Space Star (2015) – a real whose who of greyhound racing.
Best bookies for Association Cup betting
The Association Cup is one of many races which will have a market up at major Aussie bookies in the lead-up to the jump. As of mid 2016 it is not possible to find a futures market for this race until a few weeks prior. The best Aussie bookies to wager on the dogs are:
Association Cup – history
The Association Cup is the only group 1 staying race run in NSW, with the feature moved in 2012 to now be held on Golden Easter Egg night.
The event was first run in 1965 on the grass track at Harold Park over the 732m trip before being moved to Wentworth Park on the old grass circuit in 1988. Four years later, the Association Cup was run over 720m distance on loam for the first time in its history, with the distance and racing surface remaining the same to this day.
The race's $75,000 winner's cheque also makes it the richest staying race in NSW, with the hefty sum attracting the nation's best distance dogs each and every year. The honour roll is littered with former champions including Zoom Top (1968, 1970), Bold Trease (1987), both of which are viewed as immortals of the sport, as well as modern day superstars Miata (2012) and Sweet It Is (2014).
Association Cup – The modern years
Simon Keeping upstaged future staying star Rippin' Sam to record a last to first win in the most recent edition of the Association Cup.

Owned by Shayne Stiff and trained by Marty Hallinan, the black dog settled at the end of the field in the early stages before making his move down the back, bolting clear in the run to the line to win by five and three quarter lengths in a fast 42.10.

2018 Association Cup results
March 30, 2018. Wentworth Park NSW GBOTA. First Prize $75,000
Winner: Simon Keeping (Bekim Bale x Kim Keeping). Born: May 2015 Black Dog
Owner: Shayne Stiff. Trainer: Martin Hallinan.
Time: 42.20. Margin: 5.75 lengths.
Others in finishing order: Rippin' Sam, Ebby Ripper, Billy's Bake, Zipping Katelyn, Tahiti Pearl, Big Daddy Bee, Techno.

Victorian greyhound Trip To Eden stamped himself as the top stayer in Australia with an all-the-way victory in the 2017 Association Cup.

The Seona Thompson-trained greyhound defeated a high class field including WA Galaxy winner Bogie Bekim en route to recording his second group 1 victory, having previously taken out the Super Stayers at The Meadows.

2017 Association Cup results

April 15, 2017. Wentworth Park NSW GBOTA First Prize $75,000
Winner: Trip To Eden (Solve The Puzzle x Key To Eden) Born: April 2014 Black Dog
Owner: Stephen Connor. Trainer: Seona Thompson.
Time: 42.02. Margins: 2.5 x 3.15.
Others in finishing order: Bogie Bekim, Obi Kenobi, Miss Foxy Lee, Allen Lottery, Ebby Ripper, My Boy Brodie, Gunnadoo Cove.

Young trainer Mark Giddings stamped himself as one to watch with his rags to riches stayer Lioness Lulu defeating a quality field over 720m. Giddings bought Lioness Lulu for just $2000 after passing through four trainers kennels before landing with Giddings.

Whittaker and Serena Nimbus rounded out the placings. Read full report and watch replay here.

March 26, 2016. Wentworth Park NSW GBOTA First Prize $75,000
Winner: Lioness Lulu (Big Daddy Cool x Jackie's Capri) Born Sept 2012 Fawn Bitch
Owner/Trainer: Mark Giddings.
Time: 42.21 Margins: 7.25 x Nose.
Others in finishing order: Whittaker, Phantom reign, Ryno's Raider, Serena Nimbus, Dublin Bull, Come on Fantasy, Madlina Girl.

Space Star started a short favourite and won in strong fashion, overrunning Lady Toy who had set the early pace.

But the champion dog powered away in the home straight to record his third Group 1 victory and increase his winning to over $400,000.

2015 Association Cup results

April 4, 2015. Wentworth Park NSW GBOTA First Prize $75,000
Winner: Space Star (Bekim Bale x Tonto Tears) Born: June 2012 Black Dog
Owner: Camilla Limon. Trainer: Robert Britton.
Time: 42.09. Margins: 0.75 x 1.25.
Others in finishing order: Lady Toy, Zipping Felix, Sweet It is, Opec Bale, Zipping Maggie, Lilly Cette, Uinix Bale.

Sweet It Is saluted for Darren McDonald after a stirring from first-to-last victory. The daughter Mogambo and Off Springer claimed the race in a blistering 41.78 after a horror start looked to have ended her chances.

Xylia Allen, the track record holder at the time, pinged out of the boxes and looked to be on track to justify the favouritism bestowed on him by punters. But Sweet It Is made up over 20 lengths to record a brilliant victory. Sweet It Is in the top five money earners of all time with the Association Cup win one of her greatest.

2014 Association Cup results

April 19, 2014. Wentworth Park NSW GBOTA. First Prize: $75,000
Winner: Sweet It Is (Mogambo x Off Springer) Nov 2011 Black Bitch
Owner: Two Bears – MGR B Finn. Trainer: Darren McDonald.
Time: 41.78. Margins: 3 x 0.25
Others in finishing order: Rocky Bale, Xylia Allen, Dyna Willow, Hala Belle, Infinite Wish, Hailstorm Billy, Lethal Three.
Association Cup – honour roll
1965 – Blue Autumn 44.00
1966 – Rose Moss 44.20
1967 – Gloavon 44.00
1968 – Zoom Top 43.70
1969 – Zoom Top 43.70
1970 – Heather Rev 43.80
1971 – Travel Rev 43.60
1972 – Ragsie 43.60
1972 – Plunderola 43.26
1974 – Ascapella Miss 43.39
1975 – Dotie Wilson 43.33
1976 – Woolley Wong 43.51
1977 – Te Ropa Lee 43.81
1978 – Cyclone Corsica 43.44
1979 – Little Vogue 43.50
1980 – Gini's Choice 43.57
1981 – Black Aztec 43.27
1982 – Byroad Queen 43.47
1983 – Quick Pulse 43.40
1984 – Lease of Life 43.21
1985 – Queen's Cross 44.18
1986 – Clover Park 43.04
1987 – Bold Trease 43.62
1988 – Whip Tip 42.97
1989 – Frosty Zulu 44.03
1990 – Valley Mail 43.59
1991 – Fast Appeal 42.96
1992 – Equability 42.40
1993 – Call Me Casey 43.45
1994 – Worthy Reward 42.67
1995 – Rob's Rebel 43.54
1996 – Groovey Dancer 42.89
1997 – Northern Legend 43.22
1998 – Thoma Di 42.94
1999 – Moe's Tavern 43.17
2000 – Many Tricks 42.55
2001 – Flash Joan 43.11
2002 – Nimuay 42.96
2003 – Big Sam Banner 42.77
2004 – Irinka Barbie 42.54
2005 – Classy Customer 42.65
2006 – Endless Pit 42.99
2007 – Excused 42.73
2008 – Miagi 42.91
2009 – Lilley Criminal 42.24
2010 – Mantra Lad 42.14
2011 – Seek And Destroy 43.00
2012 – Miata 41.94
2013 – Fancy Liza 41.94
2014 – Sweet It Is 41.78
2015 – Space Star 42.09
2016 – Lioness Lulu 42.21
2017 – Trip To Eden 42.02
2018 – Simon Keeping 42.10