Simon Keeping wins 2018 Group 1 Association Cup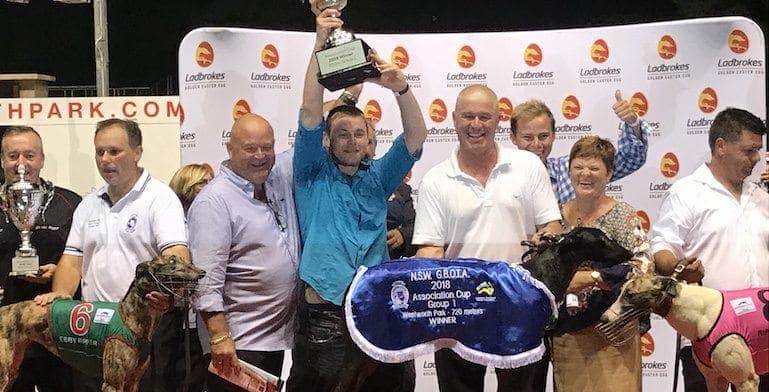 AFTER five decades in the greyhound racing industry, Dubbo owners and breeders Shayne Stiff and Charmaine Roberts celebrated their biggest win when Simon Keeping (Bekim Bale x Kim Keeping May '15) saluted in Saturday night's Group 1 Association Cup (720m) at Wentworth Park.
Trained at Clergate by Marty Hallinan, Simon Keeping was sent to the traps as a $7 chance off box five and was last in the early stages, settling at the tail of the field.
Racing through the catching pen and down the back the powerhouse stayer began to get mobile, circling around the field approaching the home turn.
Once he spotted the bunny, Simon Keeping shot clear of his rivals, bolting to the line to win by five and three quarter lengths in a fast 42.10.
Race favourite Rippin' Sam (Fernando Bale x Tears Siam Feb '16) ran on to grab second ahead of Ebby Ripper (Sh Avatar x Ebby Miss Feb '15) which rounded out the placings back in third.
Stiff told Australian Racing Greyhound he went into the event expecting his charge to perform well.
"I was confident – I gave him a real good hope tonight and when he flew past Rippin' Sam and Ebby Ripper coming to the 500m boxes I thought he had it," Stiff said.
"It's unbelievable. I've had dogs for 49 years and we have been striving all that time to win a group 1 – so to actually get one is a massive thrill."
Simon Keeping has now won nine races from 29 starts with eight minor placings, Saturday's win taking his prize money earnings beyond $110,000.
The 33-kilogram racer started his career in Victoria under the care of Brett Bravo before making the move back to NSW where he was initially trained by Stiff, with mixed results.

"I was training him and gave him a start where I had a lot of money on him and he got beat. To be honest I didn't know what to do with him after that run, but Marty stuck his hand up and said he wanted him – he's had him ever since and he has done a great job with him.
"He pulled up a bit sore after a run a couple of months ago so Marty chucked him in a yard with some four month old pups for a few weeks – I don't know why but since then he seems to have matured. He is a different dog."
Stiff said it has been a team effort to get to the end result, praising both Hallinan and his partner, Charmaine Roberts.
"So much credit has to go to Charmaine and our team at home – they do a great job with our dogs – and of course to Marty.
"He has been a mate of mine since we were kids and he is like a brother to me. It's great to share the win with him.
"Marty is a great trainer and very underrated – imagine how much success he'd have if he trained some of those Zipping Dogs."
Similar Greyhound Racing News