Patience pays off for Geall and Up Hill Jill in Golden Easter Egg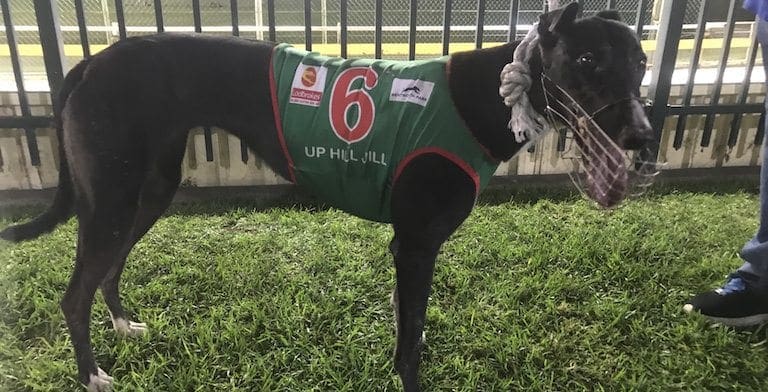 UP Hill Jill (Premier Fantasy x Where's Demonica Feb '15) defeated a stellar line-up to record a last stride victory in NSW's pinnacle greyhound race, the Group 1 Golden Easter Egg (520m) at Wentworth Park on Saturday night.
Trained in Victoria by David Geall, Up Hill Jill began well off box six, slotting into second spot behind defending champion Striker Light (Kc And All x Pretty Fancy Mar '15) around the first turn.
Coming off the back it was still Striker Light high-balling out in front, but Up Hill Jill began cutting back the margin, flashing home in the shadows of the post to secure the $250,000 winner's purse by a neck in a fast 29.77.
Fernando Express (Fernando Bale x Tears Siam Feb '16) ran on to finish third ahead of Dual Keroma (Lochinvar Marlow x Duanna Keroma Jun '15) which crossed the line in fourth spot.
It was a deserved win in the Harbour City for Up Hill Jill which had previously placed second in the Group 1 National Futurity, won by Striker Light, as well as the Group 1 Peter Mosman Classic and the Group 2 Bob Payne Sprint.
She had also run third in the Group 1 Paws of Thunder and was a finalist in the Golden Easter Egg in 2017.
"Massive relief is the first thing I felt," Geall told Australian Racing Greyhound after the event.
"We really wanted to win a big one in NSW before we retire her – she has won a couple of feature races in Melbourne but it was getting frustrating because she kept running placings up here.
"It was fitting that Jill and Striker Light fought out the finish – obviously Striker Light won the race last year and they've been such great rivals for a long time.
"I honestly didn't think she'd get there. Striker Light was sizzling along out in front and I thought she was going to break Jill's heart, but Jill dug deep and just pulled out a run which was out of the ordinary."
Up Hill Jill, which broke through for her first group 1 win in the Topgun last October, has now won 35 races from 67 starts with a further 21 seconds and three thirds – her prize money earnings now sitting at $773,721.

Geall said he is undecided what her next target will be, with the $150,000 Perth Cup heats just a fortnight away.
"I'd love to come back for the Ladies Bracelet at Wentworth Park, but it is pretty close to the Perth Cup so we will have to discuss what the plan is next," he explained.
"Obviously the Perth Cup is on, but we have never flown her and she loves travelling in the van – it's her castle – so we will weigh up our options and decide over the next few days."
Geall said it will take a while for it to soak in that his bonny bitch has now won one of the 'big three' races on the Australian calendar – joining former superstars such as Highly Blessed (1991), Billy Binjang (1993), Tenthill Doll (1996), Rapid Journey (1998), Brett Lee (2001), Bogie Leigh (2004), Paua To Burn (2005) and Fernando Bale (2015).
"Just to look around the venue after the race and all the people there – we are so thankful to have a dog like her good enough to win the race.
"It is such a prestigious event and it has been won by some true champions of the sport – to think now we have a dog of our own with her name right along beside them."
Similar Greyhound Racing News