Neds bonus code for Australians 2023
Are you in search of the best Neds bonus Code to bet on greyhounds today? You're at the right spot. If you're an old-timer in greyhound betting, Neds sign up code GETON is nothing new for you. It's been around for the last three years now, and it's still up and running in 2023.
More seasoned bettors might also remember the old Neds bonus code, which used to net you a swag of bonus bets upon sign up, but this has been discontinued because of Australian laws.
Apply the GETON code during registration to access the Neds Toolbox. The package contains integrated promotions for Neds horse racing and greyhounds punters. You can also follow any of the links on this page to apply our exclusive Neds bonus code.
They make the betting action at Neds much more enticing. We'll talk more in-depth about the Neds Toolbox up next. Before that, though, let's go over the simple registration process of signing up using the Neds referral code GETON.

Neds Bonus Code
---
How to apply the Neds Referral Code
Go to Neds.com.au
Click Join Now and fill in your details
Fill the GETON code into the referral code box
Access the Neds Toolbox, and start betting!
---
Neds Toolbox promotion
Neds Toolbox has been introduced as a way out after the Bonus Bet Ban of 2019. The Australian National Gambling Framework restricted bookmakers from offering any type of welcome offers, promos, and deposit bonuses.
Instead of a straight-up bonus, Neds Toolbox offers the following helpful tricks, mainly for racing enthusiasts.
Back up

This is a tool for greyhounds and horse racing. Usually, if you bet on one runner, and you lose, it's over. With Back up tool, you bet on one fixed odds bet and another one for backup. In the event when you lose the main bet, and the second one wins, you get a cashback of up to $500.

Fluc up

This is very much like an upgrade for your bet. If you've placed a bet at least 30 minutes before the race started, and it fluctuated to a bigger buck, you'll get the higher odds for the bet in case of a positive outcome. In other words, Fluc up ensures a higher return for your bottom line.

Jump off

Have you ever placed a single or fixed win bet on horse racing to regret it far too late? Jump off allows you to cancel the bet if you need to.

Price Boost

This tool ups your chances to get higher returns on Australian horse racing. Boost your odds and better your chances at winning bigger than expected.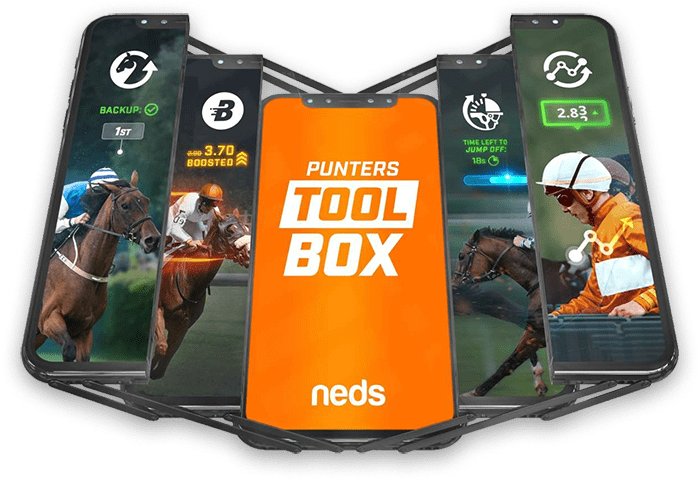 ---
Reasons to use the Neds code GETON
Established in 2017, the Neds betting site has made waves in the Australian betting market by taking control of somewhat neglected racing markets. While the company is still very young, it has acted as a reliable online bookmaker, even better than more established ones.
Neds uses cutting-edge technology for its website and betting infrastructure. The company aims to provide a place where bettors can feel their information is secure, and enjoy a comfortable experience. It's also technologically equipped to hold down the fort, no matter how many people bet at the same time.
The Neds betting site is a minimalist, straightforward, and positively simple platform, featuring innovative technology. Based on horse racing and greyhounds markets, plus popular sports betting, it occupies one of the market leader slots in Australian bookmakers.
The company strives to personalize the Neds experience, aided by technology and its professional 24/7 customer service.
---
How to Bet on Greyhounds on Neds
Anyone can learn how to bet on greyhounds on Neds.
After you've used a Neds sign up code to create your account, open the website and sign in.
Head to the "Greyhounds" section and select the event.
Select the odds. This will add the chosen market to the bet slip on the right side of the screen.
If you want to make a multi-bet, go back and add more betting lines to the bet slip.
When you've finished adding the lines, it's time to start choosing the types of bets.
Finish the steps above, then go to the Bet Slip and enter the amount you want to wager.
Check the lines, the bet types, and the stake, then click "Confirm Bet."
Get your receipt, kick back, and start watching the race.
Alternatively, go back to the "Greyhounds" page and start adding more odds to your bet slip.
---
Payment Options You Can Use
All the transactions on Neds go through and get verified by the National Australia Bank. The Neds bookmaker offers several payment options, both local and international.
Most deposit methods are instant, but some might take up to 3 business days.
Depositing on your Neds account is as easy as 1-2-3:
Sign in and go to your account
Click 'Deposit' and select the payment method
Fill in the provided online form

Neds Bonus Code
Enter in any Neds promo codes that you might have at this point in the deposit process. This will mean you will get any benefits associated with any codes that you might be claiming.
When all is said and done, you'll see the payment confirmation on screen. Start placing bets, if you have one of the following options available:
Credit/Debit Card – Mastercard or Visa
Cash-In – use retail terminals to top up your balance
Flexepin – a prepaid voucher
Apple Pay – tops up your account via your iPhone Wallet and the card attached to it
BPAY – deposit using the system of your phone carrier
POLi – internet banking
Bank Transfer – maybe one of the longest options
PayPal – allows you to save time and keep your bank card details private
Cheque
Unfortunately, the withdrawal options aren't nearly as diverse. Bank Wire transfer is the only option currently available. Before requesting a withdrawal, you should make sure that your account is verified. The process involves attaching a government-issued ID to the account to comply with Anti-Money Laundering laws.
Once the account is verified, enter your account, click withdraw and follow instructions. The withdrawal should reach the bank within 1-3 business days. Another withdrawal option is available for Australian residents. Neds Card is a usual bank card that you can use to cash the winnings right from your Neds account.
Please be aware that if you have applied the Neds bonus code, and received any free bets, you will need to clear any wagering requirements before you can make a withdrawal.
---
Can I use the Neds free bet code on mobile?
We've mentioned the innovative technology behind Neds bookmaker. Nowadays, the world moves towards mobile every day. Neds technical staff understands this very well and the good news is that you can use the Neds free bet code from your smartphone or tablet. What device you are browsing from has no impact on being able to apply bonus codes.
The mobile website at Neds Australia is a showcase of how a greyhound betting site should look and feel on smaller screens. The clutter-free interface and seamless experience make it a pleasure to bet on this platform, regardless of your chosen device. On the other hand, state-of-the-art, native betting applications for Android and iOS take the punting process to new heights.
If your device runs Android Lollipop and above, access the Neds website, find the Android app link, and tap it. The app will start downloading.
Meanwhile, head to the security page, and allow "Unknown sources" to install and modify apps on your phone. This will ensure a painless installation process.
Now head to the "Downloads" folder and tap the Neds.apk file. It'll start the installation automatically.
iPhone owners don't need to worry, either. The iOS app download is available straight from the App Store. Two clicks, a face ID verification, and the betting begins!
---
Troubleshooting the Neds code: Neds Customer Support
Do you want to find out details about the Neds referral code? Do you have an issue with your account or payment process? Maybe you want to order a Neds Card? Or perhaps you need to go old-school and place a bet via phone? The Neds Customer support team is available 24/7 and can help you with any problems with the Neds bonus code or referral code.
Here are the available contact points:
Betting Line: 134 777 — +61 8 7918 7300
Support: 1300 006 337 — +61 7 3184 9333
Live chat
Email Support
FAQs & Help
---
Neds bonus code Q and A
The Neds free bet code can be confusing or customers, so if you need help, we are happy to provide it. Just drop us a message in the box below for further info about the Neds.com.au bonus code.
What bonus can I get when I use the Neds Code?
The Australian government restricts the bookmakers from offering usual deposit bonuses, promos, and offers. Instead, you'll receive access to the Neds Toolbox. It's a bundle of amazing perks for sports, horse racing and greyhound bettors.
What other sports can I bet on?
The main focus of Neds is Horse and Greyhound Racing. Multiple additional sports are also available for betting, like American Football, Rugby, Tennis, Table Tennis, Soccer, and Baseball, among others. Even Esports betting is available.
Why can't I register an account from my country?
Just like most sportsbooks out there, Neds has a long list of country restrictions. Check if your country is in that list. If you find that it isn't, and still can't register, contact the Neds customer support team.
What's a Neds Card?
A Neds Card is similar to a usual credit or debit card. You can use it to get access to your winnings from any ATM in Australia. Unfortunately, it's valid for Australian residents only. To be eligible for the card, you'll need to have a valid account with Neds. You also need to be a verified user, with updated contact details.
Is Neds Safe?
Yes. Neds holds a license from the Northern Territory Government It's also governed by the South Australian Gambling Codes of Practice, to cater to South Australian residents.
Remember to bet responsibly when using the Neds code. The Neds website features the company's Responsible Gambling policy. In the policy, Neds commits to offering several processes to help bettors self-regulate their habits. The company also commits to assisting gamblers looking for help from acknowledged NGOs.

Neds Bonus Code