Golden Easter Egg betting
The Group 1 Golden Easter Egg is the biggest race on the New South Wales greyhound racing calendar and is held at Wentworth Park on Easter Saturday each year. The race is a three week series, comprising of heats and semi-finals on the two Saturdays prior to the decider, with greyhounds able to ensure a start in the heats through winning one of the Easter Egg Preludes in the weeks leading up to the opening round.
The first running of the Golden Easter Egg was held in 1990 when taken out by Ultra Sense, a fawn daughter of Acacia Park and Sense Of Joy, and has has carried Group 1 status since its inception.
While the event has always been run over 520m, the first three editions were conducted on grass before the track was converted to loam in 1993. It has remained that way ever since.
Each year, the Golden Easter Egg attracts the best greyhounds from right across the country, with a crowd of thousands descending on the Ultimo circuit on Easter Saturday to witness a truly spectacular night of racing. The series is open to the best 80 greyhounds nominated plus reserves.
A terrific support card is also on offer each year, with the Group 1 Association Cup, Group 3 New Sensation, Group 3 Magic Maiden and the Group 3 Ambrosoli also up for grabs on the big night.
In 2010, the Golden Easter Egg's prize money purse sky-rocketed to a massive $250,000 to the winner, cementing it as the state's richest greyhound race.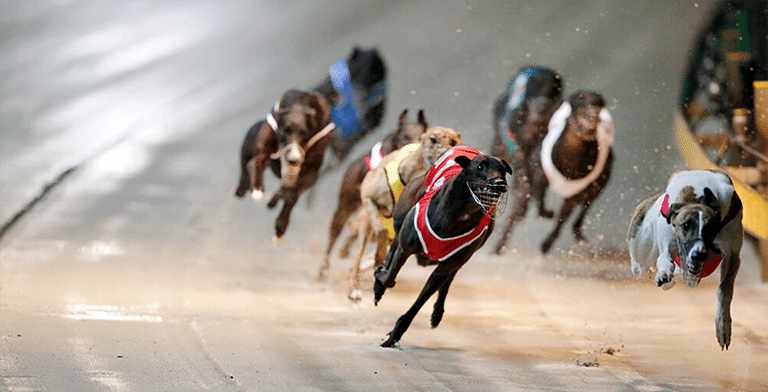 ---
Betting on the Group 1 Golden Easter Egg
Betting on the Group 1 Golden Easter Egg attracts massive pools and there is always plenty of value to be found within the race, with most of the eight greyhounds sharing a realistic chance of snaring the prize.
For those punters skilful enough to spot the winner three weeks out, most online bookmakers also offer an all-in market for the final, offering some superb prices about some of the series' leading contenders. This means you might get $15 on the eventual winner, which may start the race as a short favourite.
The benefits of betting with an online corporate bookmaker include the outstanding odds bonuses you can get with Australia's greyhound betting sites.
Other benefits of placing your Golden Easter Egg bets at online bookmakers include specific race specials and other promotions that are legally allowed from time to time.

Top bookmakers for Golden Easter Egg betting
---
Golden Easter Egg – the recent years
The Golden Easter Egg, one of the premier races on the greyhound industry's calendar, had originally been postponed from its April date due to the COVID-19 pandemic, but after the on going restrictions being placed around the world Greyhound Breeders Owners & Trainers Association made the decision to cancel it for the year. This being the first time since it started in 1990 that we didn't see The Golden Easter be run and won.

A blistering finish was the order of the night at Wenty in 2019 as Zipping Bailey stormed over the top of them to record one of the most aesthetically pleasing victories in Golden Easter Egg history. Jumping away last, but at least cleanly from box six the winner got an saloon passage up the rails but still settling close to ten lengths behind leader Black Forge. The dog delivered a barnstorming run however and defeated Federal Lilly and Black Forge to win her maiden Group 1 in 29.92.

2019 Easter Egg Cup results

When
April 20, 2019
Where
Wentworth Park
First Prize
$250,000
Winner
Zipping Bailey
Trainer
Jason Mackay
Born
23/07/2016 Black Bitch
Owner
Hallinan Hallinan (SYN)
Margin
1.00
Time:
29.92
Others in finishing order
Federal Lilly, Black Forge, Blue Striker, Miss Splendamiro, Irinka Lizzy, Banjo Tifia, Black Opium

Up Hill Jill denied Striker Light a second Golden Easter Egg title when running down the champion bitch to salute by a neck in 29.77.

Trained in Victoria by David and Rose Geall, it was her second group 1 but her first in the Harbour City after previously running second in the Group 1 National Futurity, the Peter Mosman Classic, the Bob Payne Sprint, third in the Group 1 Paws of Thunder and sixth in the 2017 Golden Easter Egg – all of which were run and won at Wentworth Park.

2018 Easter Egg Cup results

When
March 03, 2018
Where
Wentworth Park
First Prize
$250,000
Winner
Up Hill Jill
Trainer
David Geall
Born
20/02/2015 Black Bitch
Owner
ROSE GEALL
Margin
0.25
Time:
29.77
Others in finishing order
Striker Light, Fernando Express, Dual Keroma, Miss Splendamiro, Two Times Twice, Crash Bandicoot, Bombshell Bandit

Kelly and Brett Bravo scored their biggest feature win when Striker Light saluted in the 2017 edition of the race.

The black bitch held off a late challenge from Lagoon Jazzy to score in 29.99 – recording her 13th career victory and second group 1 win, having already won the National Futurity at Wentworth Park.

2017 Easter Egg Cup results

When
April 15, 2017
Where
Wentworth Park
First Prize
$250,000
Winner
Striker Light
Trainer
Brett Bravo
Born
04/03/2015 Black Bitch
Owner
Kelly Bravo
Margin
0.25
Time:
29.99
Others in finishing order
Lagoon Jazzy, Big Flood, Lucky Chap, Slamming Thunder, Up Hill Jill, Aqua Cheetah, Mack Tux>

Trainer Jason Thompson recorded his second Golden Easter Egg victory in the latest running over 520m. Moreira, a brindle dog, started a $3.20 favourite in the race and headed off a tough challenge from Anthony Azzopardi's Asa Killa Queen.

It was a remarkable week for Thompson with the Victorian conditioner claiming three group or listed races and over $425,000 in prize money. Read a full report here.

Jason Thompson previously won the race with Don't Knocka Him in 2012. 2016-03-26

2016 Easter Egg Cup results

When
March 03, 2016
Where
Wentworth Park
First Prize
$250,000
Winner
Moreira
Trainer
Jason Thompson
Born
09/09/2013 Brindle Dog
Owner
Adean Manolitsis
Margin
0.25
Time:
29.70
Others in finishing order
Brad Hill Bill, Knight Sprite, Blue Revolver, Asa Killa Queen, Dawkins Bale, Mitcharlie Mia, Rare Pearl (FTF)>

Trainer Andrea Dailly secured her first Golden Easter Egg victory while the breeders Paul and Jan Wheeler managed to secure the amazing trifecta taking out first, second and third in the race. Fernando Bale, jumped as the $2.10 favourite in the race. The white and dark brindle dog had every go right in the race as he jumped off to a brilliant start and managed to lead all the way, making the Golden Egg a one sided race and setting the new race record at an amazing 29.48 seconds.

2015 Easter Egg Cup results

When
April 04, 2015
Where
Wentworth Park
First Prize
$250,000
Winner
Fernando Bale
Trainer
Andrea Dailly
Born
12/03/2013 White and Dark Brindle Dog
Owner
Brendan Wheeler
Margin
4.25
Time:
29.48 (Race Record)
Others in finishing order
Dawkins Bale, Dyna Nico, Zipping Midge, Dyna Double One, Ronray Spirit, Over limit, Recruitment>
---
Group 1 Golden Easter Egg honour roll
Winter Cup Past Winners
Year
Winner
Trainer
Time
2020
CANCELLED – Due To COVID 19
2019
Zippin Bailey
Jason Mackay
29.92
2018
Up Hill Jill
David Geall
29.77
2017
Striker Light
Brett Bravo
29.90
2016
Moreira
Jason Thompson
29.70
2015
Fernando Bale
Andrea Dailly
29.48 (Race Record)
2014
Tonk
Brooke Ennis
29.62
2013
Grigorieva Bale
Andrea Dailly
29.65
2012
Don't Knocka Him
Jason Thompson
29.60
2011
Radley Bale
Tony Apap
29.66
2010
Cosmic Rumble
Darren Mcdonald
30.12
2009
Dana Beatrice
Rodney Mcdonald
29.70
2008
Blazing Token
Darren Murray
30.16
2007
Slater
Darren Murray
30.09
2006
Edie Beauchamp
Mary Wright
29.80
2005
Paua To Burn
Steven Bruce White
30.07
2004
Bogie leigh
Leslie Bein
30.07
2003
Cyrus The Virus
Sydney Swain
30.21
2002
Carlisle Jack
Robert Douglas
30.09
2001
Brett Lee
Darren Mcdonald
30.04
2000
Stately Bird
K Paull
30.35
1999
Faithful Hawk
Glenn Rounds
29.93
1998
Rapid Journey
Jane Carruthers
30.59
1997
Bahama Image
William Mcnally
30.51
1996
Tenthill Doll
Harry Sarkis
30.44
1995
Malawi law
Graeme Bate
30.44
1994
Mancunian Girl
Peter Wardle
30.20
1993
Billy Binjang
Ron Seymour
30.70
1992
Jessica Casey
John Finn
30.32
1991
Highly Blessed/td>
Lorraine Ferremi
29.98
1990
Ultra Sense
Christine Coleman
30.39