Golden Easter Egg win sets Striker Light as one of Bravo's best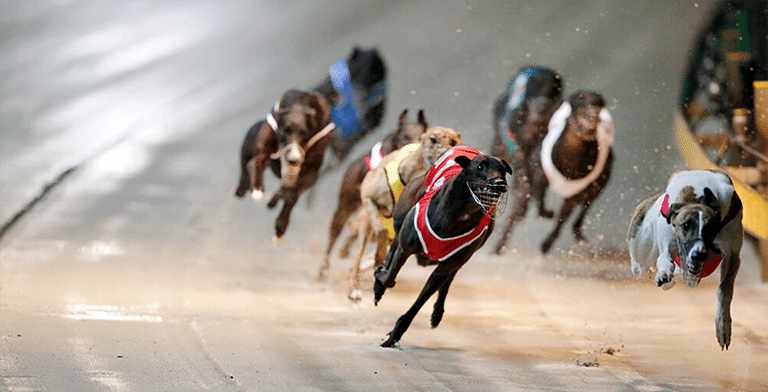 KELLY and Brett Bravo are in awe of their sensational sprinter Striker Light after she scored a stunning win in Saturday night's Group 1 Golden Easter Egg (520m) at Wentworth Park.
The black bitch was beaten for speed in the early stages by Lagoon Jazzy, but managed to follow the leader across from box seven, assuming the lead down the back straight.
However, Lagoon Jazzy wasn't going down without a fight, surging at Striker Light in the run to the line to finish just a head behind the winner in 29.99.
Trained in Victoria by team Bravo, Striker Light took her career record to 13 wins from 20 starts, with her career earnings now in excess of $380,000.
Kelly Bravo said the Easter Egg had been a race on their bucket list for quite some time.
"It is definitely a race we have wanted to win – we had Kilty Lad in the final a few years ago but he missed the start and didn't have any luck," Bravo told Australian Racing Greyhound.
"We thought it was going to be hard to win again this year, so we tried not to think about it too much during the week – it was business as usual at our place.
"To be honest I am still in a bit of shock – I can't believe she has done it."
The leading trainer said the gruelling three-week series had been hard, but praised her bonny bitch for digging deep when it mattered most.
"The three-week series is tough on the dogs and Brett as well because it is a lot of travelling – but the win has made it all worthwhile," she said.
"She didn't get out as well as she can and she got a bit of a squeeze when the eight crossed her, but then she managed to get to the lead.
"Full credit to the eight – it ran an amazing race – but [Striker Light] just kept finding that little bit more.
"I was glad to see the finish line, that's for sure."
With two group 1 wins next to her name, having also won the National Futurity, Bravo says Striker Light is developing into a better bitch with every start.
"As much as the trips to Sydney probably didn't suit her early on, I think they have helped her to mature into a real race dog," she said.
"Pretty much overnight she has gone from being an over the top, arrogant little bitch into a real professional.
"All she wants to do is get there and get the job done.
"She is just amazing."
As for how she stacks up against the best they have trained, Bravo said they will always have a soft spot for the ill-fated Kayda Shae but concedes Striker Light ticks all the boxes.
"Kayda Shae never got the chance to race his full career – but we always had a very high opinion of him because he was very consistent and a very hard chasing dog.
"We've always said that he was still the better dog and that Striker Light had just had more opportunities than he had – but I don't think you could get away with saying that now.
"She probably isn't as consistent at box rise – but she chases every bit as hard as him and makes up for her box manners with heart.
"She is just a super little girl."
Similar Greyhound Racing News