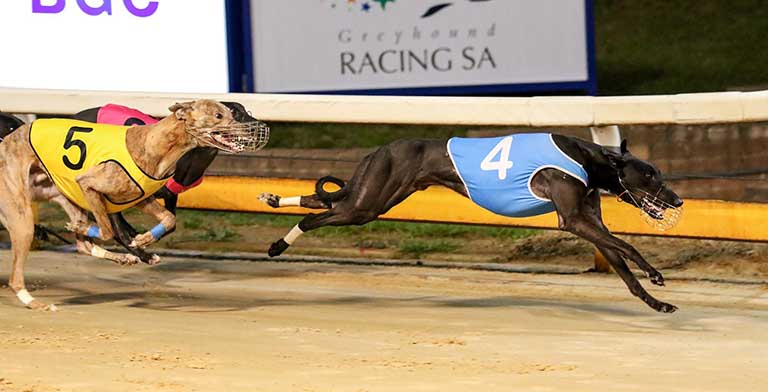 The Group 3 Howard Ashton is a highly sought after feature in the festival state, open to South Australian bred greyhounds whelped between January 1 and June 30 two years prior to the running of the feature each year.
The Howard Ashton is a three week series, comprising of heats, semi finals and a final, with the feature run over the 515m trip at Angle Park and worth $25,000 to the winner.
Betting on the Group 3 Howard Ashton
While it isn't a headline group feature on the Australian greyhound racing calendar, the Howard Ashton still attracts quality fields each year which means there is always plenty of betting interest on the series.
Our recommended online bookmakers offer fixed odds betting on the final once the field and box draw have been confirmed. Some bookies such as Bet365 also offer fixed markets for the heats and semi-finals.
Punters can also secure odds for the winner of the final prior to the heats, with some of our bookmakers offering all-in markets, giving you the opportunity to land some value if you think you can spot the winner early in the series.
History of the Group 3 Howard Ashton
Formerly run as the SA Breeders Plate, the event was first run in 1975 when taken out by Fast Velocity, since then it has been taken out by some of the top chasers to have emerged from the state.
The 2005 edition of the SA Breeders Plate was won by Satanic Miss, with the black and white bitch clocking a fast 29.88 over the 515m trip for Robert Isaacson. The daughter of Go Wild Teddy and Patchwork Gem would go on to become a terrific producer once making the move to the breeding barn, producing former top stayer Satanic Cash from her 2007 mating to Big Daddy Cool. Satanic Cash won an incredible 37 races throughout his career and was a finalist in the Sandown Cup, the Super Stayers and the AWM Distance Championship.
In 2007 the race was taken out by Emerley Carlos, trained by Peter and Judi Hurley, with the son of Royal Assassin and Eudunda Eudunda going on to become a leading SA sire, one of his best progeny being Fire Tyson, a finalist in the 2013 Group 1 Adelaide Cup.
2011 saw the brilliant sprinter Hannah McLaren take home the title, with the brindle daughter of Bit Chili and Nimuay Lass scoring in a credible 30.28.

Howard Ashton Betting
The race was renamed the Howard Ashton in 2013 to mark the contribution made by the race's namesake to the sport of greyhound racing within SA.
Ashton was the secretary manager at Angle Park (which also hosts the Adelaide Cup) between 1971 and 1996, at which point he became the Racing Operations Manager until his retirement in 2000.
Ashton is a life member of the Adelaide Greyhound Racing Club (AGRC) and has an upstairs room at Angle Park named in his honour, while he is also an inductee in the Australian Greyhound Racing Association (AGRA) Hall of Fame alongside some of the greatest names the sport has seen.
Fittingly, in the first year the race was named in his honour, the Howard Ashton was won by Victa Brooke, trained by Ashton's long time friend Ron Schadow.
Group 3 Howard Ashton – the recent years
Trainer Barry Stewart prepared up and coming runner Waterloo Kate to her finest win to date. Making the most of the inside draw Waterloo Kate punched up to lead after a tardy beginning and was never headed. She had made a habit of finishing over the top of her competitors but Waterloo Kate relished the opportunity to win from the front.

2018 Howard Ashton results

May 31, 2018. May 31, 2018 Angle Park. First Prize $36,575

Winner: Waterloo Kate (Fernando Bale x Hope's Up) May 2016 White and Blue Dog
Owner: Harris Stewart (SYN) Trainer: Gavin Harris
Time: 30.33 Margins 3.50 x 0.01
Others in finishing order: Minacious, Springvale Choix, Breemelia Swift, Madam Onyx, Up Time Girl, Nirimba Pirate, Galactic Panther.

Ben Rawlings secured back-to-back wins in the Howard Ashton after front running Crunchin Numbers delivered from box four. After surging to the front heading to the first turn the sprinter held off the late chargers to win by a solid length.

2017 Howard Ashton results

June 1, 2017. June 1, 2017 Angle Park. First Prize $36,575

Winner: Crunchin Numbers (Elite State x Mighty Chaos) January 2015 Black Dog
Owner: Debra Stuppos Trainer: Ben Rawlings
Time: 30.19 Margins 1.0 x 0.50
Others in finishing order: Victa Ollie, Usain's Squeeze, Kiowa Big Bow, Deputy Speaker, Pearl Cape, Farmin, Slipper's Wish.

Young trainer Ben Rawlings took out the most recent edition of the Group 3 Howard Ashton with his promising youngster Wilba Beast. The son of El Galo and Mighty Chaos defeated a top field including Garry Mcbain and Don't Kid Me to take home the $25,000 first prize.

2016 Howard Ashton results

June 2, 2016. Angle Park First Prize $25,000

Winner: Wilba Beast (El Galo x Mighty Chaos) Born: Feb 2014 Black Dog
Owner: Ben Rawlings, Trainer: Ben Rawlings.
Time: 29.66. Margins: 2.00 x 1.75.
Others in finishing order: Cyndie's Magic, Lovelace, Obi Kenobi, Dublin Bull, Vegas Bound, Ring The Bell, Abby's Magic.

The 2015 running of the Howard Ashton was taken out by Galactic Viper for trainer David Geal, with the black dog scoring by a widening six lengths in a slick 29.83.

2015 Howard Ashton results

June 11, 2015. Angle Park $84,700

Winner: Galactic Viper (Velocette x Magic Elite) Born Feb 2013 Black Dog
Owner: Barry Shepheard, Trainer: David Geall.
Time: 29.83. Margins: 6.00 x 3.50.
Others in finishing order: Lucy Fergo, Mrs Bubbles, Scottish Thistle, Mojtio Mayhem, Long Gully Ben, Aussie Noorumba, Long Gully Stevi.

Bozidar Stamenkovic collected his second Howard Ashton/SA Breeders Plate within the space of three years when Boojerooma scored in 2014. The daughter of Collision and Koombooyana Star gained a start in the feature off box one following the scratching of her litter mate and kennel mate Koombooyana Kid and was sent to the boxes at double figure odds.

Despite the big price, the black bitch dug deep to claim the lead in the closing stages to score by a length over Wingard in 29.83.

2014 Howard Ashton results

May 29, 2014. Angle Park First Prize $25,000

Winner: Boojerooma (Collision x Koombooyana Star) May 2012 Black Bitch
Owner: Bozidar Stamenkovic: Trainer: Bozidar Stamenkovic.
Time: 29.83 Margins: 1.0 x 1.0
Others in finishing order: Wingard, Nowak, Punishment, Miss Collash, Woodside Jagger, Regal Looper, Lexcen.

Victa Brooke showed brilliant speed from box four to take out the first edition of the race after it was renamed the Howard Ashton. The brindle bitch took advantage of a scrimmage behind her to kick clear from the remainder of the field, saluting the judge nine lengths clear of her rivals to score in a flying 29.77.

2013 Howard Ashton results

May 30, 2013. Angle Park First Prize $25,000

Winner: Victa Brooke (Where's Pedro x Teelah) April 2011 Blue Brindle Bitch
Owner: Schadow Schadow Synd R Schadow, J Schadow: Trainer: Ronald Schadow.
Time: 29.77 Margins: 1.0 x 1.0
Others in finishing order: Flying Tee, Stormy Kist, Cosmic Way, Nicholas Jack, Lylas, Jetson Kist, Fire Tyson.
Group 3 Howard Ashton – honour roll
| | |
| --- | --- |
| 1975 | Fast Velocity |
| 1976 | Fullkiri Chief |
| 1977 | Shannon's Bounty |
| 1978 | "Not Held" |
| 1979 | Noisy Band |
| 1980 | Come On Baden |
| 1981 | Stingray Plus |
| 1982 | Lezabarda |
| 1983 | Future Aim |
| 1984 | Dan O'Pandee |
| 1985 | Dodge City |
| 1986 | Tempix True |
| 1987 | Chariot Moss |
| 1988 | Julep |
| 1989 | Kinta's Ace |
| 1990 | First Issue |
| 1991 | Silver Hill |
| 1992 | Ice Bear |
| 1993 | Croation Star |
| 1994 | Gemtrea Comet |
| 1995 | Chopper Harley |
| 1996 | Salumae |
| 1997 | Slipaway Charlie |
| 1998 | Buncrana |
| 1999 | Janelle |
| 2000 | Mary Jo McLaren |
| 2001 | Likely Excuse |
| 2002 | Phantom Devil |
| 2003 | Oaktrea Raider |
| 2004 | Give Me Dosh |
| 2005 | Satanic Miss |
| 2006 | Lucky Pristine |
| 2007 | Emerley Carlos |
| 2008 | Elegant Vintage |
| 2009 | Gold |
| 2010 | Tomic |
| 2011 | Hannah McLaren |
| 2012 | My Little Star |
| 2013 | Victa Brooke |
| 2014 | Boojerooma |
| 2015 | Galactic Viper |
| 2016 | Wilba Beast |
| 2017 | Crunchin Numbers |
| 2018 | Waterloo Kate |