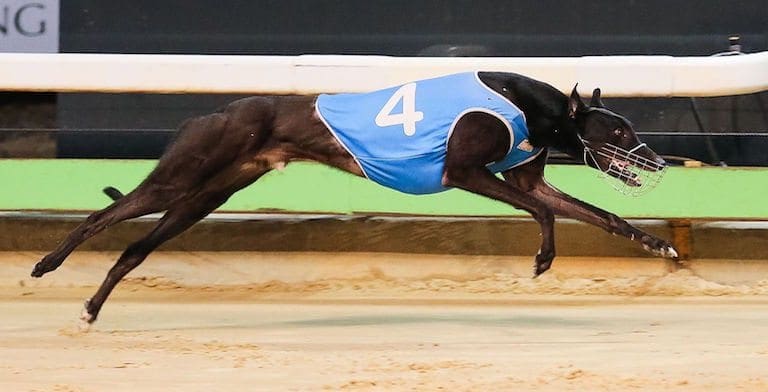 THE Adelaide Cup is the sole group 1 event on the South Australian greyhound racing calendar and is one of the sport's most coveted trophies.
The race is run and won at Angle Park over 515m and always attracts the best sprinters from around the country, all vying for the lucrative $75,000 winner's purse.
The most recent edition of the Adelaide Cup was held on October 13, 2017, with top honours going to Victorian speedster Raw Ability for leading trainer Anthony Azzopardi.
Betting on the Group 1 Adelaide Cup
Being one of the flagship races within the sport, there is always enormous betting interest throughout the entire Adelaide Cup series.
All of our recommended online bookmakers provide fixed odds betting on both the heats and final, with odds released during the week once the final fields and box draws have been announced.
By opening markets so early, punters are able to study the form and shop around between bookies in order to secure the best prices for their chosen runners.
Some bookmakers, such as Bet365 and Sportsbet, also release 'all-in' markets, which allows to bet on the winner of the final prior to the heats being run and won.
This can provide terrific value, with inflated odds generally available for several leading contenders and even outsiders you think could play a bold part in the series.
There are no odds currently available for the 2018 Group 1 Adelaide Cup, but be sure to check this page closer to the race.

Adelaide Cup Bookmakers
History of the Adelaide Cup
The Adelaide Cup, as it is known today, was first run at Angle Park in 1972 when won by Bristol Miss, trained by the late, great Doug Payne.
Payne, who trained from Broken Hill, won the first three Cups held at Angle Park – also pocketing the cash in 1973 and 1974 with Valjuka and Bristol Sue respectively. Payne would later go on to break a 14-year drought when preparing 1989 winner Kuriarkin, which was owned by the late Bill Hocking.
Golden Spur was the first interstate greyhound to win the feature, starting a three-year trend wrapped up with a controversial win by Riviera Tiger in 1979.
The victory made headlines around the country when the first running of the event was declared a no-race when the lure broke down, with greyhounds making their way back to SA the following week.
Controversy arose because several greyhounds in the final had to miss out on the heats of the Australian Cup in order to return to Adelaide for the re-run.
The first champion of the sport to win the Adelaide Cup was WA flyer Sandi's Me Mum which made the race her own in 1990. Trained by Gerry O'Keefe, Sandi's Me Mum was one of the sport's greatest bitches of all time, also retiring with two National Sprint Championships to her name.
Countless stars have gone on to win the Adelaide Cup including the Doug Ferrami-prepared Highly Blessed which won the event in 1991 in a fast 29.95.
In 1996 Jurassic Vapour avenged his runner-up placing from the previous year when taking out the state's only group 1 race, returning in 1997 to finish third.
The following year the race was claimed by Rapid Journey which used the Cup to stamp himself as an emerging star of the sport. He was the name on everyone's lips following his nine and a half length triumph and then went on to win the Australian Cup, Perth Cup, Golden Easter Egg and the Melbourne Cup.
In 2001 Greyhound Racing SA lured boom sprinter Brett Lee to tackle the state's main race and despite facing a tough field including Classic Capri, No Intent and Renzo Bale, the black dog scored an effortless win in a mind boggling 28.88 – to this day he remains the only greyhound to have broken the 29-second barrier at Angle Park.
Other big names to have won the Adelaide Cup include Collide (2005), El Galo (2009), Dyna Lachlan (2010), Fernando Bale (2015) and Raw Ability (2017).
Group 1 Adelaide Cup – the recent years
Raw Ability broke through for his first win at the highest level when taking out the most recent edition of the Adelaide Cup. Trained in Victoria by Anthony Azzopardi, the black dog was able to overcome box four, leading all the way to defeat Aston Dee Bee and High Eden Frost in a fast 29.50.

2017 Adelaide Cup results

October 13, 2017. October 13 2017. Adelaide. First Prize: $75,000
Winner: Raw Ability (Barcia Bale X Bugatti Flyer) Black Dog. Whelped: 7 Mar 2015
Trainer: Anthony Azzopardi Owner: Kylee Osborne
Finishing Time: 29.50 Margins:2.75 x 0.25
Others in Finishing Order: Aston Dee Bee, High Eden Frost, Bewildering, Zara's Entity, Worm Burner, Striker Light, Cairnlea Kenny

Talented sprinter Aqua Cheetah got his first taste of group 1 glory when claiming the 2016 edition of the Group 1 Adelaide Cup. The red fawn dog, trained by Jason Thompson, saluted by two lengths, defeating National Sprint Championship winner Worm Burner and consistent Victorian Dyna Boomer.

2016 Adelaide Cup results

October 7, 2016. Angle Park GRSA First Prize $75,000 
Winner: Aqua Cheetah (Cosmic Rumble x Dalta Bale) Born: March 2014 Red Fawn Dog
Owner: Mark Morgan. Trainer: Jason Thompson. Time: 29.41. Margins: 2 x 1. Others in finishing order: Worm Burner, Dyna Boomer, Weekend Binge, Shima Song, Benteke, One For Me, Mrs Bubbles

Champion greyhound Fernando Bale became the world's first racer to earn over $1 million in prize money when taking out the 2015 Adelaide Cup. Owned by Paul Wheeler and trained by Andrea Dailly, the white and dark fawn powerhouse made the race a one act affair, leading throughout off box six to defeat local charge Lachlan Brown and Kayda Shae to score by eight and one quarter lengths in 20.20.

2015 Adelaide Cup results

October 9, 2015. Angle Park, GRSA, First Prize $75,000
Winner: Fernando Bale (Kelsos Fusileer x Chloe Allen) Born: March 2013 W&DK Brindle Dog
Owner: Paul Wheeler, Trainer; Andrea Dailly. Time: 29.20. Margins 8.25 x 0.75.
Others in finishing order: Lachlan Brown, Kayda Shae, Waymore's Blues, Shared Equity, Kiss the Hawk, Secret Spell, Mobius.
Group 1 Adelaide Cup honour roll
| | |
| --- | --- |
| 1972 | Bristol Miss 31.52 |
| 1973 | Valjuka 31.48 |
| 1974 | Bristol Sue 31.84 |
| 1975 | Turn Pillage 30.93 |
| 1976 | Golden Spur 30.80 |
| 1977 | Cavalier Queen 30.64 |
| 1978 | Riviera Tiger 30.49 |
| 1979 | Encanto 30.83 |
| 1980 | Youthful Prince 30.72 |
| 1981 | Lady Tornquest 30.45 |
| 1982 | Smithy's Belle 30.89 |
| 1983 | Superstar 30.36 |
| 1984 | Knocklaun Gold 30.24 |
| 1985 | Thundering Two 30.13 |
| 1986 | Farquhar 30.28 |
| 1987 | Club Edition 29.94 |
| 1988 | High Wonder 30.44 |
| 1989 | Kuriarkin 30.35 |
| 1990 | Sandi's Me Mum 30.23 |
| 1991 | Highly Blessed 29.95 |
| 1992 | South Road Sid 29.83 |
| 1993 | Croation Star 30.19 |
| 1994 | Perplexed 29.49 |
| 1995 | Forest Fin 29.33 |
| 1996 | Jurassic Vapour 29.55 |
| 1997 | Rare Deceit 30.12 |
| 1998 | Rapid Journey 29.34 |
| 1999 | Young Harrison 29.56 |
| 2000 | Jack Junior 29.32 |
| 2001 | Brett Lee 28.88 |
| 2002 | Brookside Bear 29.67 |
| 2003 | Waterview Star 29.34 |
| 2004 | Hotline Hero 29.56 |
| 2005 | Collide 29.52 |
| 2006 | Miss Spicy 29.46 |
| 2007 | Big Time Max 29.30 |
| 2008 | Whippy's Image 29.39 |
| 2009 | El Galo 29.45 |
| 2010 | Dyna Lachlan 29.48 |
| 2011-1 | Kilty Lad 29.39, 2011-2 Mepunga Nicky 29.45 |
| 2012 | Spud Regis 29.75 |
| 2013 | Ernie Bung Arrow 29.70 |
| 2014 | Allen Deed 29.48 |
| 2015 | Fernando Bale 29.20 |
| 2016 | Aqua Cheetah 29.41 |
| 2017 | Raw Ability 29.50 |