Wow She's Fast & She's A Pearl showdown still on the schedule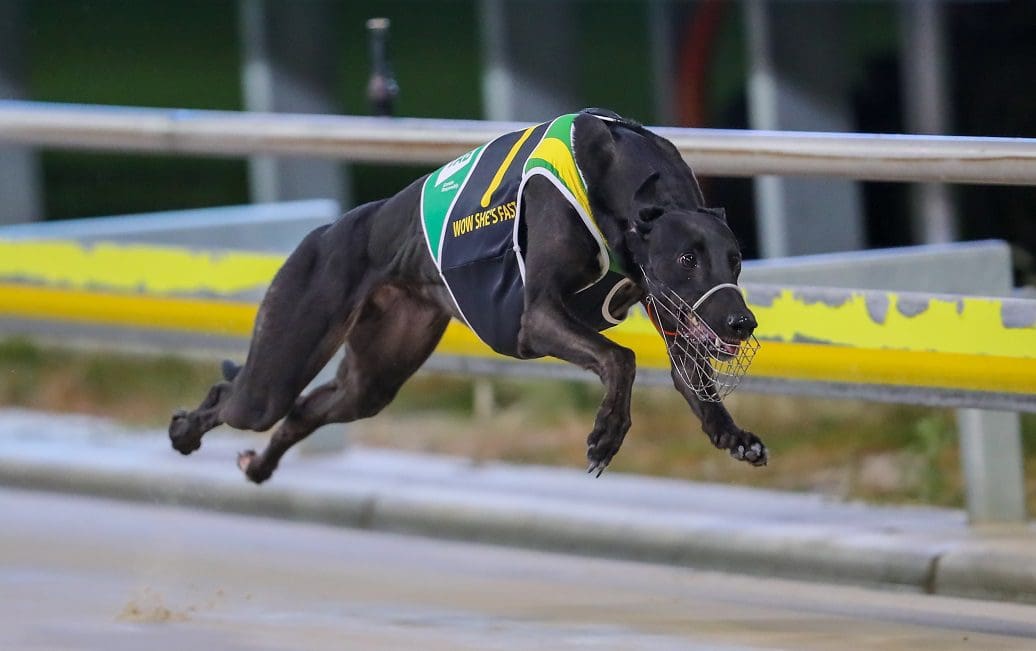 Could the mouthwatering match-up between Wow She's Fast and She's A Pearl still go ahead?
At this stage, there have been no indications that it will not happen.
Despite She's A Pearl bowing out of Million Dollar Chase contention – after her stunning 2021 MDC and Golden Easter Egg triumphs earlier this year – the much talked-about clash has not been scrapped.
That was the word from the Wow She's Fast camp after the superstar two-year-old set a track record at Angle Park on Thursday night.
After a two-month spell, the bitch was back to her stunning winning ways, recording a jaw-dropping 29.86 seconds over 530m in her TAB SA v Allstars Match Race against Mallee Magic.
"We haven't been told it's not," trainer for Wow She's Fast, Kel Greenough, told Australian Racing Greyhound about the match-up which has been planned for The Meadows next month.
"We're happy to have a go, but I'm not sure whether it's still going to take place.
"It'll be great for the sport, but obviously they (Andy and Jodie Lord) want to make sure everything is OK with her.
"(She's A Pearl) is a freakish girl and they might be taking no risks."
She's A Pearl's managing owner Joe Lannutti last month said the match-up would be largely dependent on the form of both superstar bitches.
She's A Pearl hasn't quite been at her best since coming on season four months ago, following her incredible 2021 MDC Final triumph in 29.32 seconds over 520m at Wentworth Park on May 7.
Like Wow She's Fast, the fellow two-year-old bitch has developed a big cult following all around Australia, revelling in the attention.
At the moment, Wow She's Fast is enjoying the spotlight.
"People like to get photos with her," Greenough said.
"They want to have a look at her and get selfies with her. It's quite amazing – she does have a bit of a fan following.
"And she thrives on it. It's like she's a movie star getting her photo taken. She's not like a dog who's scared of it or doesn't like the attention.
"She actually thrives on it.
"I'm not sure if it's the name. But geez I've had some dogs over the years who have shied away from the cameras and want to be left alone.
"She's just the opposite. She just revels in it, and she's had it from the first time at Sandown.
"She ran quick the first time and lapped it all up since."
Wow She's Fast is only continuing to build her support base after her stunning match-up time on Thursday night.
Greenough said he didn't see it coming.
"You don't know what to expect in these sorts of races," he said.
"They're all exciting nights to me. I love the match races and I get a kick out of watching other dogs who are fast and seeing who the best one is.
"It was nice to put it all together last night on a different track where you have to travel.
"It's never easy getting all those boxes ticked, but it went OK last night.
"There haven't been too many times she disappoints. It's not usually something that happens when she doesn't perform.
"I'm just ecstatic to have a bitch as good as her. She's a pleasure to train and a lovely personality to go with it."
Greenough said Wow She's Fast was primed for a great performance on Thursday night.
But he didn't think she would break the track record.
"Adelaide's a little bit different because they've got a different lure system," he said.
"The first part we needed to do was get the start right. Fortunately, she jumped out of those boxes OK because they just can't hear that lure as good.
"She got the start right, so everything was good from there and she got a brilliant back split.
"She put a bit of time on the dog up the back.
"The track wasn't quick because it had a bit of water on it.
"Previous times were good – they were very good dogs going around.
"But I didn't expect her to break the track record. It was just a bonus to happen."
Despite his humble assessment after his bitch created history, Greenough did not leave a stone unturned in getting Wow She's Fast right for her first-up assignment.
He drove 20 hours from Melbourne and back just to give her a practise run at Angle Park because of its quiet lure system.
It was well worth the effort it in the end.
"It's probably 20 hours driving there and back. It's something I don't really look forward to these days now I'm getting older," Greenough said with a laugh.
"But it was something I thought that was important, so you've just got to do it.
"You see a lot of people come over for the first time and their dogs just don't come out.
"So giving her a practise jump was probably a good idea."
Wow She's Fast is now the heavy $1.50 favourite with Ladbrokes for her next assignment, the Adelaide Cup on October 7.
But Greenough is not looking too far ahead.
"She's never let us down. You just hope things continue to go all right with her injury-wise," he said.
"Bitches come on season and stuff like that, so you've got to be a bit lucky that things keep going forward.
"There are some nice big races coming up, so you hope she can have a go at those sorts of races.
"I don't want to get too over-confident with Adelaide because I've noticed even the dogs drawn out wide generally don't begin as good as the ones on the inside.
"So it'll be reliant on a little bit of luck with the box draws. You can never get over-confident in this game because you just come crashing down too many times."
Wow She's Fast won her last start – the Maturity Classic Final at The Meadows on July 23.
She picked up $100,000 for her efforts.
Greenough said his star young chaser deserved a good break after saluting in 29.84 seconds in the 525m feature.
And that was why he did not aim her at the Million Dollar Chase Final at Wentworth Park this Saturday night.
His planning has worked a treat because Wow She's Fast is the reigning Phoenix, Launching Pad, Sapphire Crown and Maturity Classic winner.
Greenough will do all he can to have Wow She's Fast primed to salute in the Group 1 Melbourne Cup at Sandown on November 26.
She did not make the final in last year's version, but she was just 21 months at the time, finishing fifth in her heat in a very competitive 29.76 seconds over 515m.
"We tried to give her a bit of a break after the last one (Maturity Classic Final). I don't think you can keep a dog going for too many months without some sort of repercussion from it," he said.
"Being home in Melbourne, we tried to just aim her at the development cup (Maturity Classic), the Phoenix and the Melbourne Cup.
"Those three races are paramount on our calendar. To go up to Sydney and back (would be tough) – and even the Nationals before that which were in NSW.
"So we decided to boycott that and just have her peaking at the right time for those Melbourne races."
Already with $1.17 million in prizemoney, Greenough's method has obviously been spot-on so far in the young career of the outstanding Wow She's Fast.
"You can't look too far ahead with a greyhound because things can go wrong with injury, or they can come on season," he said.
"If those things happen we're obviously out of the race. You can try and make a calendar for three months in advance, but if you do it for 12 months it's never going to work."
Angle Park Race 3 Race Replay – 22/9/22
New Angle Park Track Record 530m – 29.86 seconds