2017 Group 1 Association Cup heat recap and final box draw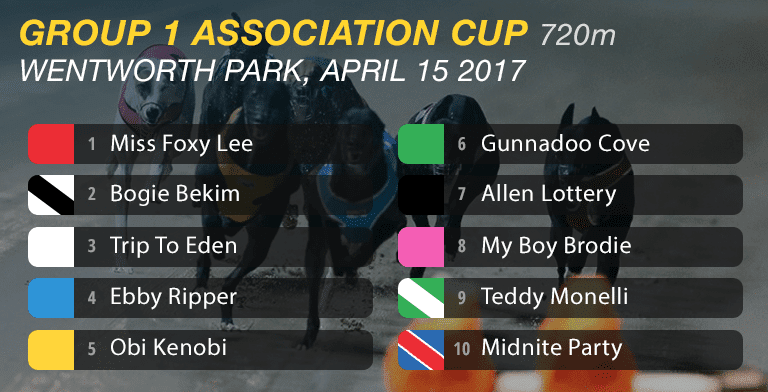 BOGIE Bekim stole the show at Wentworth Park on Saturday night when winning the opening heat of the Group 1 Association Cup (720m).
Stepping from box seven, the South Australian greyhound was only fairly away, settling in third position in the early stages behind Teddy Monelli (box two) and Miss Foxy Lee (box one).
Racing through the catching pen, the black dog managed to work his way into second spot but was still six lengths off the leader.
However, down the back the son of Bekim Bale and Bogie Skye slipped into top gear, hitting the lead approaching the home turn and charging clear to score by three lengths in a slick 41.96.
Storming home to grab second was Ebby Ripper (box four), with Miss Foxy lee running a solid race to finish third.
Group 3 Gold Cup winner Gunnadoo Cove (box five) also finished well to run fourth and will get the chance to redeem herself in next week's $75,000 feature.
Victorian star Trip To Eden (box six) started as the top pick in the second qualifier, with the Seona Thompson-trained dog able to overcome an average beginning, working his way into third spot entering the straight on the first occasion.
Meanwhile, Allen Lottery (box one) was off and gone out in front, but Trip To Eden had the leader in his sights, hitting the front coming off the back straight and kicking clear to win by a widening five lengths in 42.22.
Allen Lottery held on for second, with Obi Kenobi (box two) filling the trifecta.
Rounding out the field for the final was My Boy Brodie (box three) which finished fourth.
Trip To Eden, a regally bred son of Solve The Puzzle and Key To Eden, has now won 17 of his 41 starts with an additional 13 minor placings.
Similar Greyhound Racing News