2017 Group 3 Darwin Cup won by Queenslander Off And On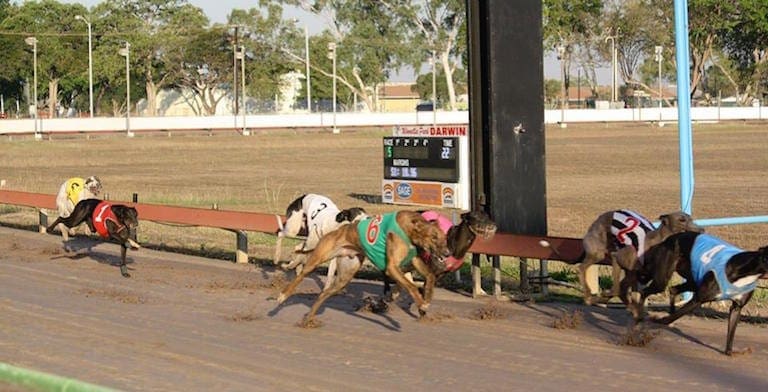 OFF And On (Tomac Bale x Jackie's Trouble Mar '15) returns to Queensland as a group 3 winner after scoring an all-the-way victory in the Darwin Cup (537m) on Sunday night.
The black bitch, trained by Tom Tzouvelis, was transferred into the care of local trainer Brian Kelleher in the weeks leading up to the feature, winning both starts prior to finishing second in her heat behind Iona Flyer (Swift Fancy x Iona Habit Apr '14).
Despite her form heading into the race, Off And On was overlooked by many punters and tipsters, with odds as much as $26 being offered in the week leading up to the $25,000 to the winner final.
The juicy odds were not overlooked by connections who were proven right when Off And On scored by one and three quarter lengths over Ochre Keroma (Spring Gun x Maya Keroma Mar '14) and Zipping Zeus (Magic Sprite x Scarlett Girl Dec '13) in 31.33.
Tzouvelis said he knew what his chaser was capable of heading into the lucrative feature, the only group race on the NT greyhound racing calendar.
"I gave her a big chance in the final – I thought her second in her heat was the run of the night," Tzouvelis told Australian Racing Greyhound.
"She was lucky to stay on her feet – she got into trouble and she went about a foot and a half in the air and was pushed back to sixth.
"When that happened I honestly didn't give her a hope of qualifying, so it was a massive effort to make the final and with a clear run I thought she would be right in there."

Off And On has now won 10 of her 22 starts with six minor placings, her career earnings now in excess of $46,000.
Tzouvelis, who took over the training of Off And On in May, said the youngster is only just starting to hit her straps – having initially been aimed at a staying campaign when coming into his kennels.
Despite racing unsuccessfully in the Group 1 Gold Cup series (710m) in June, Tzouvelis said he always had plenty of faith in the 30-kilogram racer.
"She is the best dog in my kennel but she is still learning what it's all about and in turn we are still learning about her," he said.
"She just wasn't herself when she went into the Gold Cup heats – we had only had her in the kennels for a short time and she was still settling in.
"She wasn't holding weight and she just wasn't at her best so we decided to turn her out after that and let her get used to everything.
"As she was coming back the Darwin Cup fit in nicely for her so we decided to race her back to fitness – it all worked out well."
Darwin Cup night, ????? off and on pic.twitter.com/OJB1joUNcR
With a Darwin Cup title to her name, Tzouvelis said Off And On will now return to Queensland and will have a couple of quiet weeks before returning to the track, where another crack at a staying campaign is on the cards.
"It's good to have that winning confidence heading back home – she'll have a week or two off now and then she'll get back into it and we'll look at getting her back over a bit more ground," he said.
"The travel seems to have done her the world of good – she has always been a little bit nervous but the trip has really brought her out of her shell – she is bouncing around and seems a lot more outgoing."
Tzouvelis also thanked Kelleher, who he stays with each year during the Darwin Cup carnival, for his assistance over the past few weeks.
"Brian and his family have done great job – without them we certainly wouldn't have got the results so a massive thanks must go to them."
Similar Greyhound Racing News